Advertisement

This morning, Del. Sam Rasoul (D-Roanoke) introduced HB1937, the "Green New Deal Act." Last year, Del. Rasoul also introduced a "Green New Deal Act," with the bill passing the House Labor and Commerce Committee, before being left to die in the House Appropriations Committee. We'll see if it has any better luck this year, perhaps making it to the floor of the House of Delegates for a vote?  Anyway, see below for the text of HB1937. A few highlights include:
"Establishes a moratorium, effective January 1, 2022, on approval by any state agency or political subdivision of any approval required for (i) electric generating facilities that generate fossil fuel energy through the combustion of a fossil fuel resource; (ii) import or export terminals for fossil fuel resources; (iii) certain maintenance activities relating to an import or export terminal for a fossil fuel resource; (iv) gathering lines or pipelines for the transport of any fossil fuel resource that  require the use of eminent domain on private property; (v) certain maintenance activities relating to such gathering lines or pipelines; (vi) refineries of a fossil fuel resource; and (vii) exploration for any type of fossil fuel, unless preempted by applicable federal law." (I strongly agree with this, for a combination of environmental and economic reasons. On the first point, the science is very clear that we can't be building any new fossil fuel projects, while we also need to be moving quickly to shut down existing fossil fuel facilities and transitioning to a 100% clean energy economy. On the second point – economics – the good news is that clean energy keeps getting cheaper and cheaper, to the point that there's really no good excuse to build fossil fuel facilities anymore, purely from an economic point of view.)
"The measure also requires that at least 80 percent of the electricity sold by a retail electric supplier in calendar years 2028 through 2035 be generated from clean energy resources. In calendar year 2036 and every calendar year thereafter, 100 percent of the electricity sold by a retail electric supplier is required to be generated from clean energy resources." (This is very ambitious to put it mildly. Personally, I'd guess that the mid 2030s is probably an achievable, albeit ambitious, objective for 80% or even 100% clean energy – see here for more on this subject.)
"The measure provides that it is the goal of the Commonwealth to achieve a 36 percent reduction in electric energy consumption in buildings by 2036" (It is VERY important that Virginia crank up its energy efficiency goals BIG TIME, whether in the transportation sector or the buildings sector. And given that energy efficiency is the cheapest "form of energy" – the energy you never have to produce in the first place – this should be a no brainer.)
"The measure requires the Department, in coordination with the Virginia Council on Environmental Justice (Council) to establish performance benchmarks for environmental justice communities and to establish programs for jobs for people in environmental justice communities." (Absolutely – this is essential…as well as the right thing to do morally.)
"The measure requires the Department to establish the Transitioning Workers Program (the Program) to provide support for workers in the fossil fuel industry and affected communities and provide such workers job training, relocation support, income and benefit support, and early retirement benefits." (Yes, this is also essential – and the right thing to do, morally speaking.)
So all of this is excellent stuff, but I wonder if it has the votes – even among Democrats – to pass the Virginia General Assembly, particularly in a short session and less than a year since the landmark – but far less ambitious than the Green New Deal – Virginia Clean Economy Act was passed and signed into law. For my part, I always said that the Virginia Clean Economy Act was the starting point, NOT the ending point, and that we needed to use that as a floor on which we should build and improve in years to come. Well…now we're in 2021, and it's time to start doing that building/improving!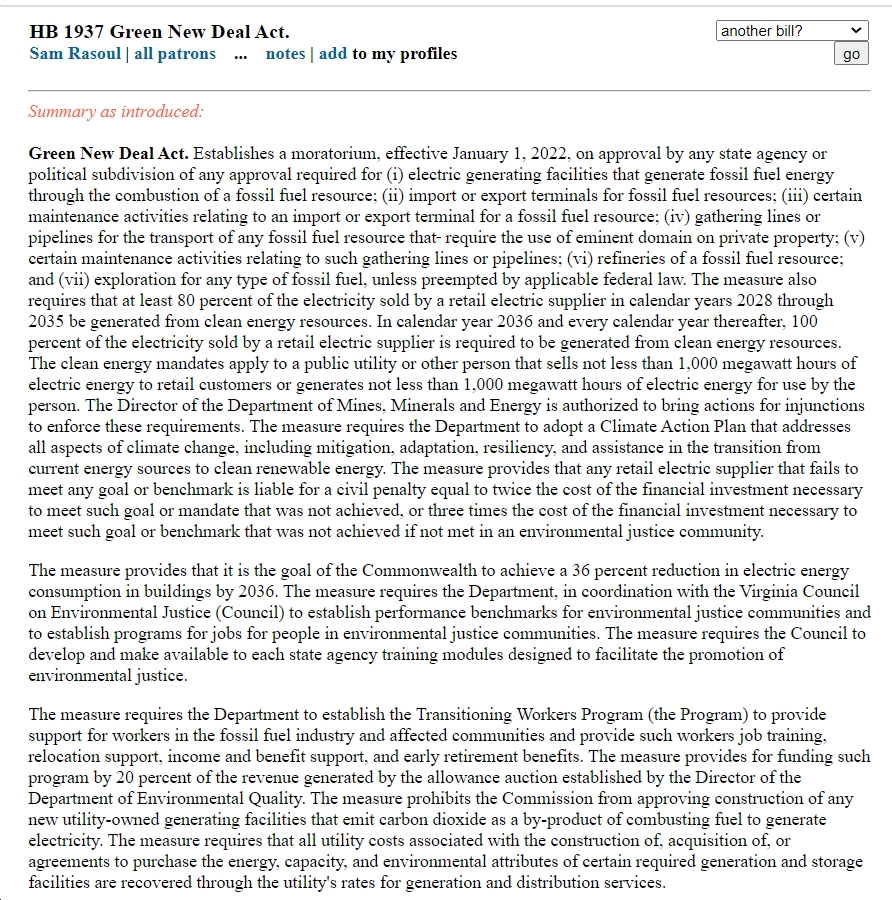 There's no paywall on Blue Virginia, and we definitely want to keep it that way! If you want to help support our work, you can donate here - thanks!
Also, you can
sign up for our weekly email list here
.