Advertisement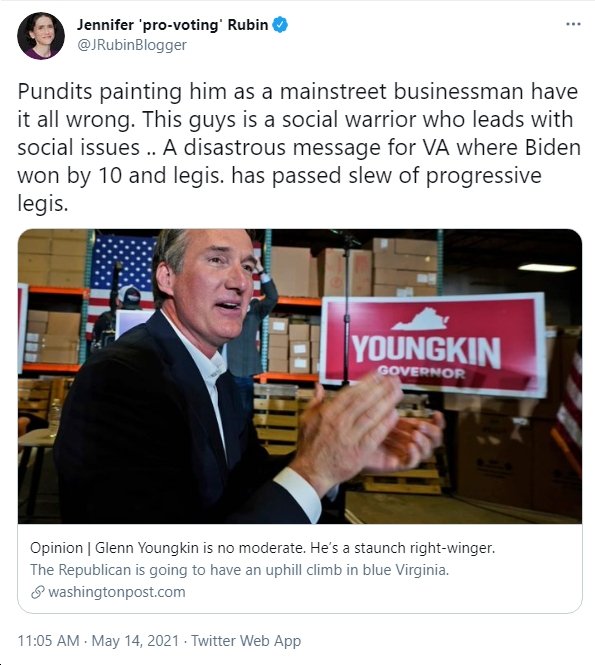 Glenn Youngkin hasn't even been the VA GOP's gubernatorial nominee for a week, and there's already been a lot of nonsense written about the Republicans' statewide ticket in general, and Youngkin specifically. For the most part, it's along the lines of arguing that the ticket isn't as extreme as it could have been, which is like saying it's super-hot in the seventh of seventh circle of hell, but hey, it's even hotter (less "moderate?") in the eighth circle! LOL
So sure, Republicans could have nominated the super-extreme Chuck Smith for Attorney General instead of the merely hard-right Jason Miyares. Of they could have nominated… actually, they DID nominate their most extreme candidate for Lt. Governor (Winsome Sears), it appears. And for governor, they could have nominated Amanda Chase instead of Glenn Youngkin, and no doubt there are significant stylistic differences between the two, but in terms of policy and ideology, how different are Chase and Youngkin, really?

Of course, Youngkin has never been elected to anything in his life, so he's never cast any votes or had to take any positions previously. Which means he's *somewhat* of a blank slate. But, having said that, all you had to do was watch and listen to the guy during his campaign for the VA GOP gubernatorial nomination the past few months, and about the last word you could apply to him would be "moderate."
For a sample of who Youngkin actually is, see the screen shots, below – his support from the likes of Donald Trump, Ted Cruz, Rand Paul, neo-Confederate Corey Stewart and other extremists/seditionists; his appearance on Tucker Carlson's TV show; his opposition to the American Rescue Plan; his frantic attempts to hide videos containing some of his extreme views; his focus on the "election integrity" dog whistle for voter suppression and the "STOP THE STEAL" Big Lie; his bizarre claim that Dominion voting machines are "the most important issue we're going to talk about" (WTF?!?); etc.
Also check out Jennifer Rubin's latest excellent new piece in the Washington Post, which nails the main point that every journalist should be writing about, namely that: "Glenn Youngkin is no moderate. He is a staunch right winger." Here are a few highlights:
"Youngkin has made clear he is four-square behind the absolutism of the National Rifle Association, of which he is a lifetime member."
"He also advertised himself as a staunch opponent of abortion"
"And he voiced his hostility toward transgender youth participation in sports:  'Biological males should not be allowed to play sports in girls sports.'"
"Youngkin has been stressing the need for greater ballot security on the campaign trail and this month sent out a text message inviting 'concerned, law-abiding citizens' to join him in forming an 'election integrity task force.' Asked at a campaign appearance in Lynchburg this month if that policy focus stems from a belief that Biden stole the election, Youngkin answered, 'No.'  But he declined to say if he believes Biden was legitimately elected."
"The disgraced former president has enthusiastically backed Youngkin."
"All of these positions may put Youngkin in good company with the right-wing Freedom Caucus in Congress, but they are utterly at odds with the Virginia of 2021."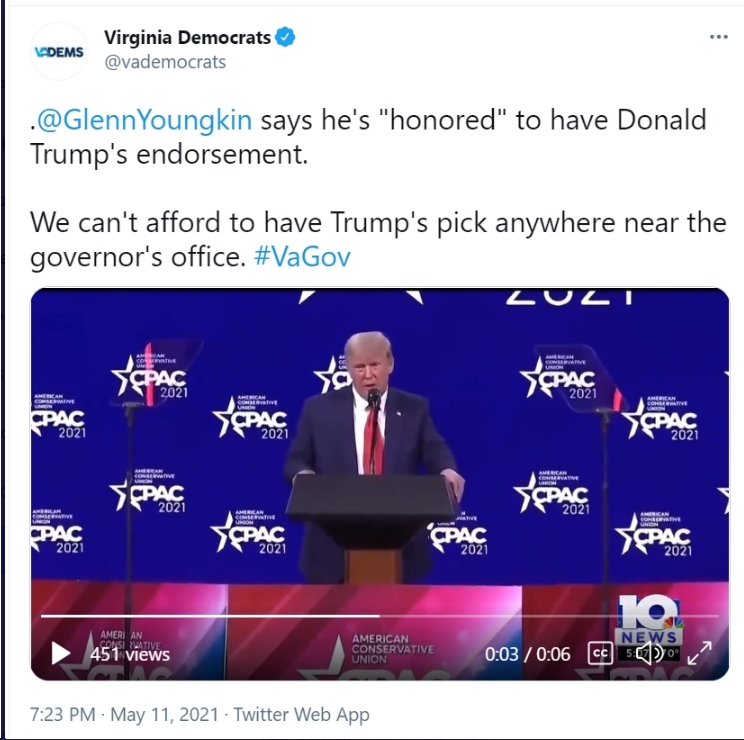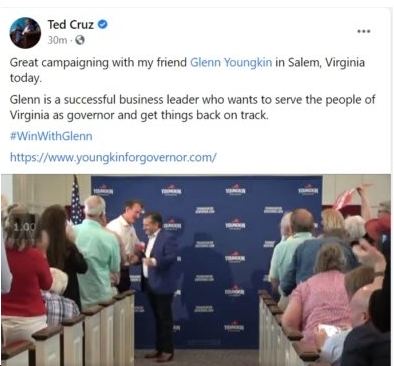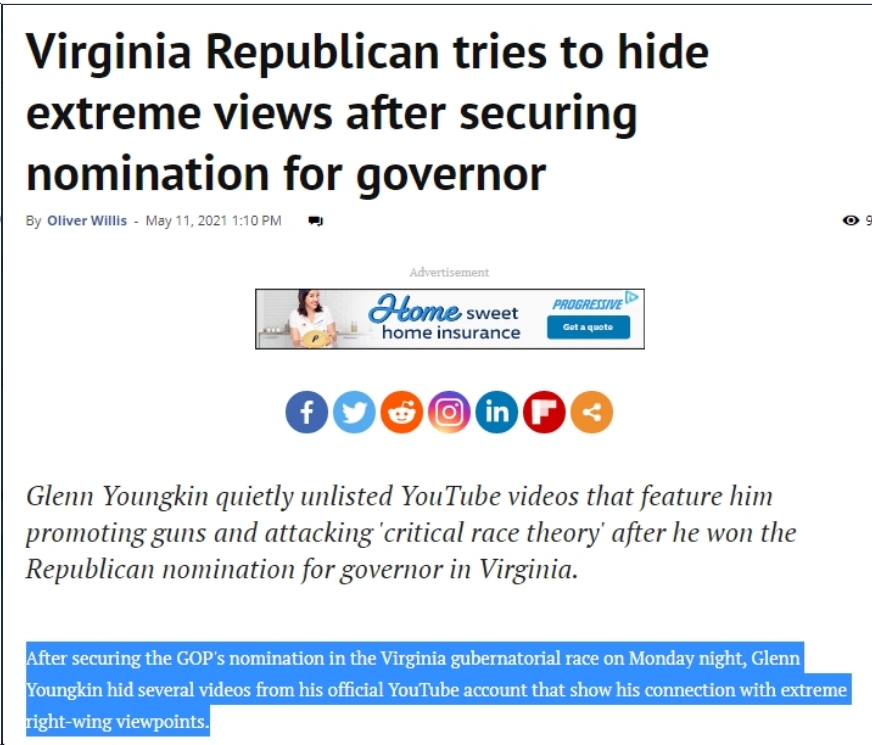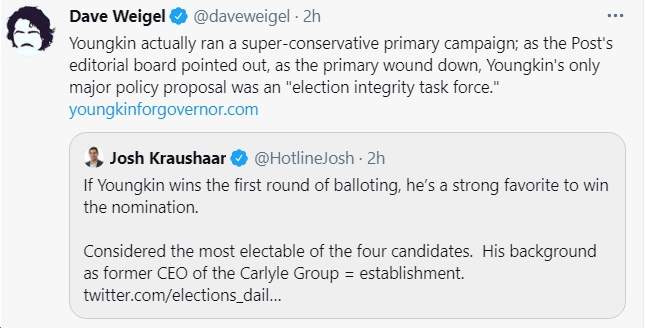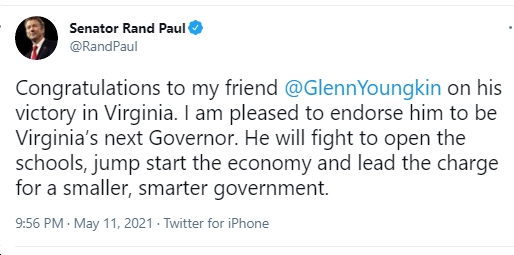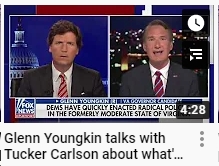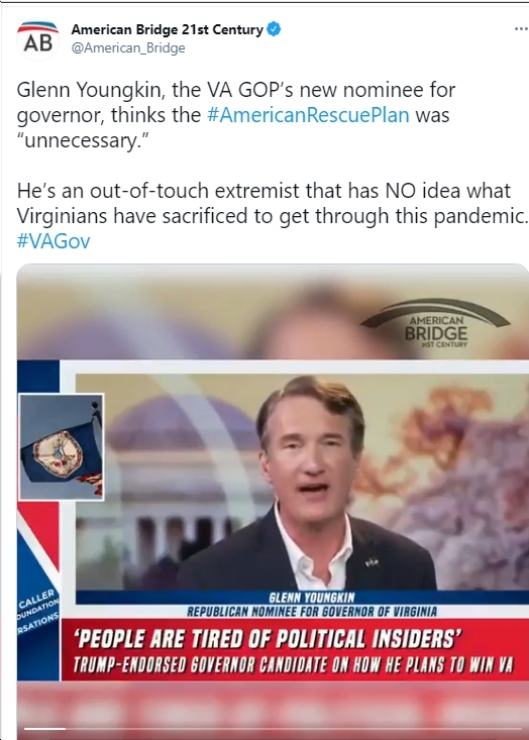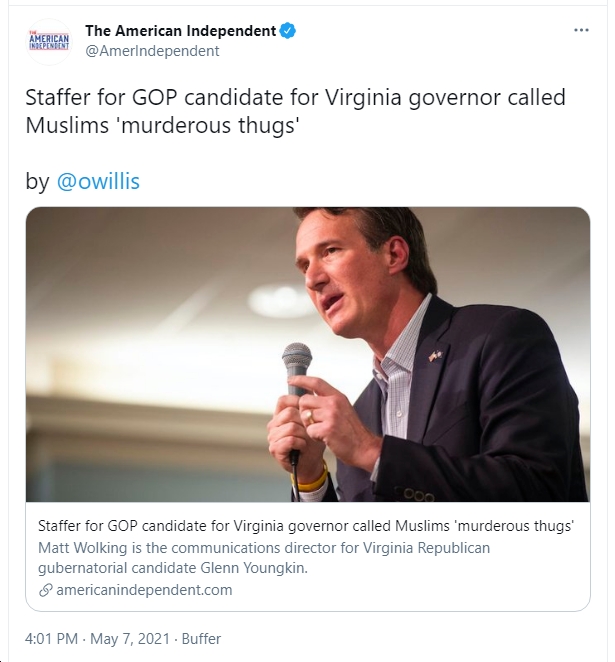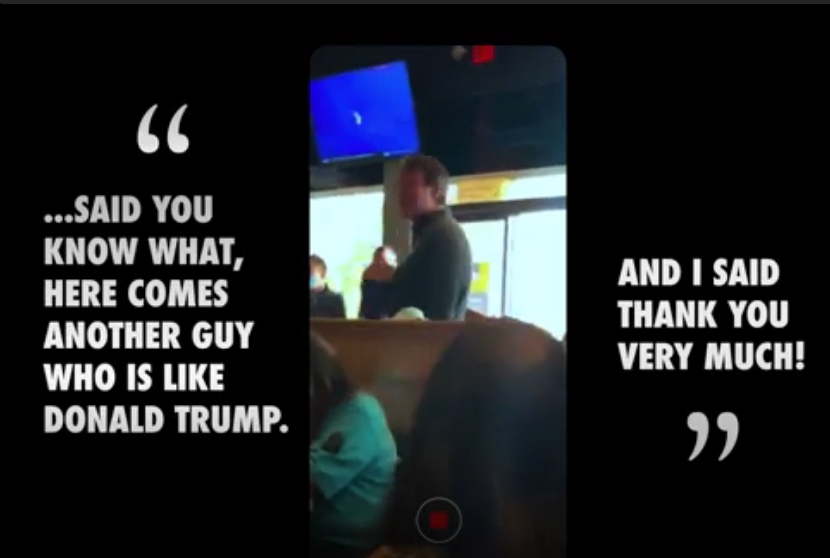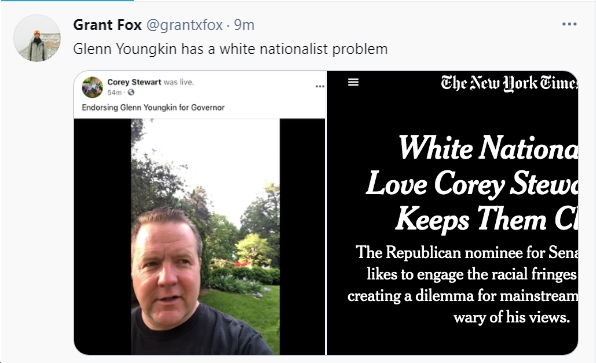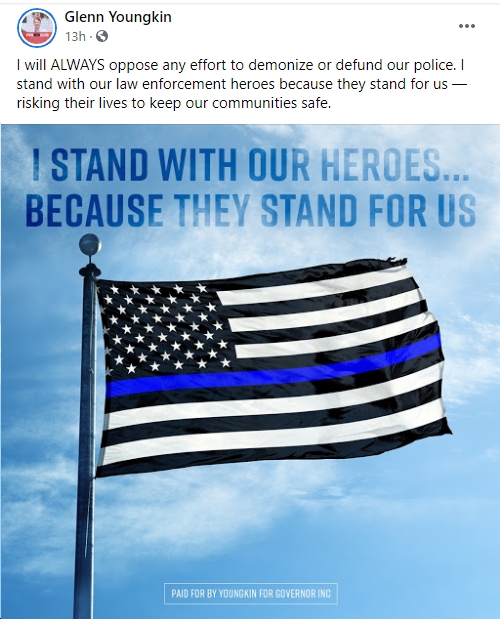 There's no paywall on Blue Virginia, and we definitely want to keep it that way! If you want to help support our work, you can donate here - thanks!
Also, you can
sign up for our weekly email list here
.