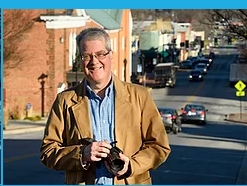 From the Randall Wolf for Delegate (HD-20) campaign:
Randall Wolf to Challenge Republican John Avoli in District 20
[Staunton, Jun. 15, 2021] Stuarts Draft-based activist Randall Wolf has launched a campaign to unseat Republican incumbent John Avoli in the 20th district in Virginia's House of Delegates. Wolf is a journalist, photographer, and biking/outdoor advocate based in the Staunton area. Wolf is advocating for greater transparency in local government, criminal justice reform, and the expansion of broadband into more rural areas of the state. 
Wolf was encouraged to run for the seat by former candidate Jennifer Lewis, who introduced Wolf at his campaign kickoff in late March. Wolf believes the district has not been adequately served by the current delegate, who has neglected to focus on economic equality in the area. 
"Stewardship for rural rights to me means respecting that family farming is the bedrock of the district. I will work to maintain open space, expand  broadband and cell phone coverage, and protect our environment. Creating greater opportunities for technical training and quality careers will be the focus of my economic development goals." 
Avoli won the position in the 2019 election that saw Democrats take control of both chambers. While Avoli has kept a relatively low profile, he has walked a delicate line regarding his support of former president Donald Trump, failing to explicitly call Trump responsible for the deadly January 6 riot at the Capitol.  
Although the district is considered fairly safe for Republicans, Wolf had committed himself to challenging Avoli on local issues to ensure that Democratic voters have a strong choice on the November ballot. To read more about Wolf and his campaign, visit his website. 
"Common ground provides stronger footing and I hope to have the opportunity to serve the people Highland, Nelson, and Augusta Counties, and Staunton, and Waynesboro as your Delegate in District 20"