Earlier this evening, as the Loudoun Times-Mirror reports, "The Loudoun County School Board voted unanimously to prematurely end the public comment portion of its Tuesday meeting after a capacity crowd descended into shouting and after numerous requests that attendees remain silent were not heeded." This, after former State Senator Dick Black (R) – who is virulently anti-LGBT among his other far-right stances (for more on Black, see Photos: Far-Right Republican Virginia State Sen. Dick Black Travels to Syria to Praise War Criminal Assad, Blame U.S. for Destroying Middle East, etc., Del. John Bell Announces Candidacy to Take On Extremely Anti-LGBT, Anti-Choice, Pro-Assad State Sen. Dick Black (R-SD13), Video: Far-Right Virginia Republican Rants About Long-Acting Contraceptives "Rendering" Women Infertile, Targeting "the Wrong KIND of Children", What Is It With Loudoun Republicans?!? Dick Black on Spousal Rape, "Nighties," etc., Republican Loudoun-sanity Continues: Dick Black Rails Against Gays in the Military, etc. – did this:
"It's absurd and immoral for teachers to call boys girls, and girls boys," Black said. He also accused LCPS of "teaching children to hate others because of their skin color" by adopting critical race theory in its curriculum, an allegation LCPS has repeatedly denied.
Some attendees responded with boos, jeers and obscene gestures after the board's nine members voted in favor of [School Board Vice Chairwoman Atoosa] Reaser's motion to end public comment.
The rapturous response to Black's comments was not the first to warrant a reprimand from the School Board on Tuesday. About 10 minutes of public comment had transpired when the crowd attempted to drown out commenter Kellie Herring, leading School Board Chairwoman Brenda Sheridan (Sterling District) to trigger a roughly 10-minute recess.
Herring, who said her transgender son attends LCPS, said, "hate … seems to be dripping off the followers of Jesus in [the] room." Angry cries arose from attendees, as well as calls to eject Herring from the meeting.
Lovely, eh? See below for video of this nastiness, ignorance and bigotry; some background from State Sen. Jennifer Boysko (D-Fairfax/Loudoun); a statement by the Loudoun County School Board; predictable spin from far-right State Senator Amanda Chase (R-Chesterfield); reaction by the Democratic Party of Virginia to Republican gubernatorial nominee Glenn Youngkin "egging…on" the protesters; and also some reaction and signs of support for an inclusive Loudoun County (which, by the way, has been moving strongly in a diverse and "blue" political direction in recent years…much to the chagrin of people like this evening's anti-CRT, anti-transgender-inclusion-policy protesters). [UPDATED: Added video of the entire meeting]
Our school boards are adopting the Virginia Department of Education Model Policies for the Treatment of Transgender Students in Virginia's Public Schools ( or "Policies") as required by legislation that I passed with bipartisan support. @VDOE_News @fcpsnews @LCPSOfficial pic.twitter.com/t3P5Rf0RYl

— Jennifer Boysko (@JenniferBoysko) June 22, 2021

Great to see @LoudounDems & friends at the #LoudounForAll rally today. All students deserve to feel safe, valued & respected 🏳️‍🌈❤️🏳️‍⚧️ bigotry & hate have no home in our community. pic.twitter.com/UoWT2WlTAT

— irene shin (@ireneshintweets) June 23, 2021

THANK GOODNESS voters replaced state senator Dick Black with @SenatorJohnBell. But I see Black continues to spread hate. https://t.co/pmL0nq8DeZ

— Jamie Lockhart (@jlock) June 22, 2021
NEW VIDEO from inside the chaotic Loudoun school board meeting. 1/3 pic.twitter.com/tHDyzCz7KE

— Drew Wilder (@DrewWilderTV) June 22, 2021
2/3 pic.twitter.com/lVZlxLU22k

— Drew Wilder (@DrewWilderTV) June 22, 2021
3/3 pic.twitter.com/PZXNAriiza

— Drew Wilder (@DrewWilderTV) June 22, 2021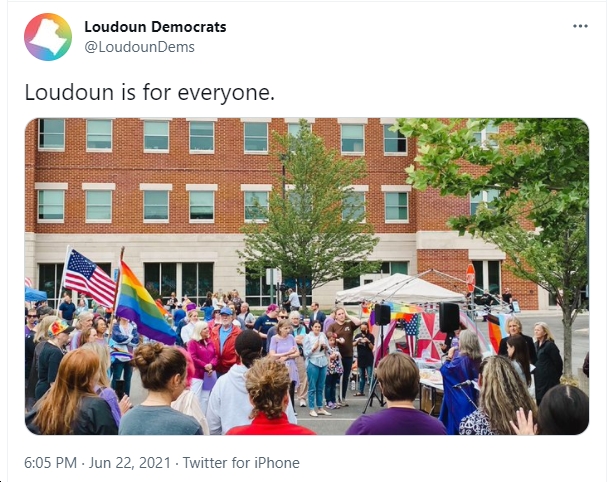 Our school boards are adopting the Virginia Department of Education Model Policies for the Treatment of Transgender Students in Virginia's Public Schools ( or "Policies") as required by legislation that I passed with bipartisan support. @VDOE_News @fcpsnews @LCPSOfficial pic.twitter.com/t3P5Rf0RYl

— Jennifer Boysko (@JenniferBoysko) June 22, 2021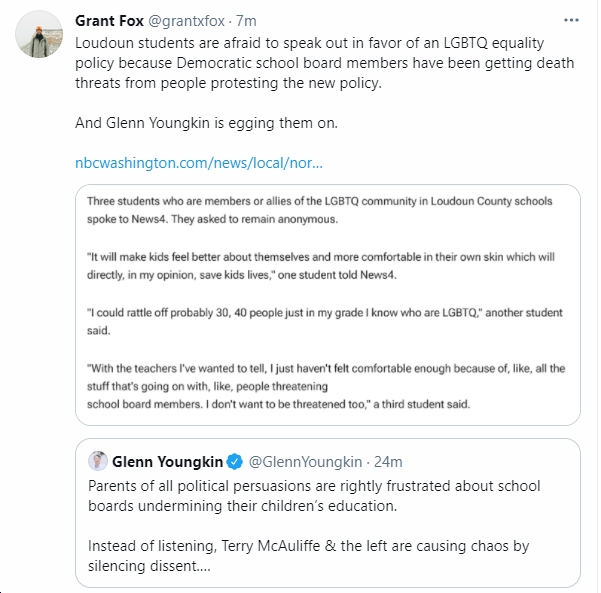 Hey, @LCPSOfficial: Trans Rights are Human Rights. 🏳️‍⚧️ @EqualityLoCo @PPAVirginia pic.twitter.com/ELwC1MEAE7

— Jamie Lockhart (@jlock) June 22, 2021
Two arrests made at the Loudoun County, Virginia school board meeting after it was declared an unlawful assembly and some parents here to protest against critical race theory and a transgender policy refused to leave right away #CriticalRaceTheory pic.twitter.com/dsZDrqJ0Gp

— Gabriella Borter (@gabriellaborter) June 22, 2021
The Loudoun County sheriff's office declared the school board meeting an unlawful assembly. Everyone told to get out or will be trespassing. Two arrests made #CriticalRaceTheory pic.twitter.com/23Cojtczvy

— Gabriella Borter (@gabriellaborter) June 22, 2021
Parents protesting against critical race theory broke into the national anthem when the Loudoun Co., Virginia school board ended public comment because the crowd got too out of hand pic.twitter.com/qms00grIIj

— Gabriella Borter (@gabriellaborter) June 22, 2021
Here's the scene in Ashburn, VA this afternoon as parents protest against critical race theory before the Loudoun County school board meets. Scott Mineo, founder of Parents Against CRT, talking to a crowd of about 200: pic.twitter.com/DZLo7beTx4

— Gabriella Borter (@gabriellaborter) June 22, 2021
Update: former VA state senator Dick Black spoke out against critical race theory in the board meeting and crowd couldn't stay silent. The Loudoun Co school board said if there were eruptions like this they'd end public comment pic.twitter.com/dx0oMAy1Fu

— Gabriella Borter (@gabriellaborter) June 22, 2021
Loudoun County school board ended public comment. Anti-critical race theory protesters react: pic.twitter.com/QpdVoiAksl

— Gabriella Borter (@gabriellaborter) June 22, 2021
Loudoun County School Board— at the center of controversy surrounding CRT— just silenced parents delivering scathing speeches against them by suddenly ending the public comment portion of the meeting set to continue for hours.

— Benny (@bennyjohnson) June 22, 2021
And here's far-right State Senator Amanda Chase (R-Chesterfield)'s predictable take: