Yet another piece of evidence that Glenn Youngkin is an extremist…the fact that he believes Stephen Moore (!) of all people is "the best senior economic advisor on the planet."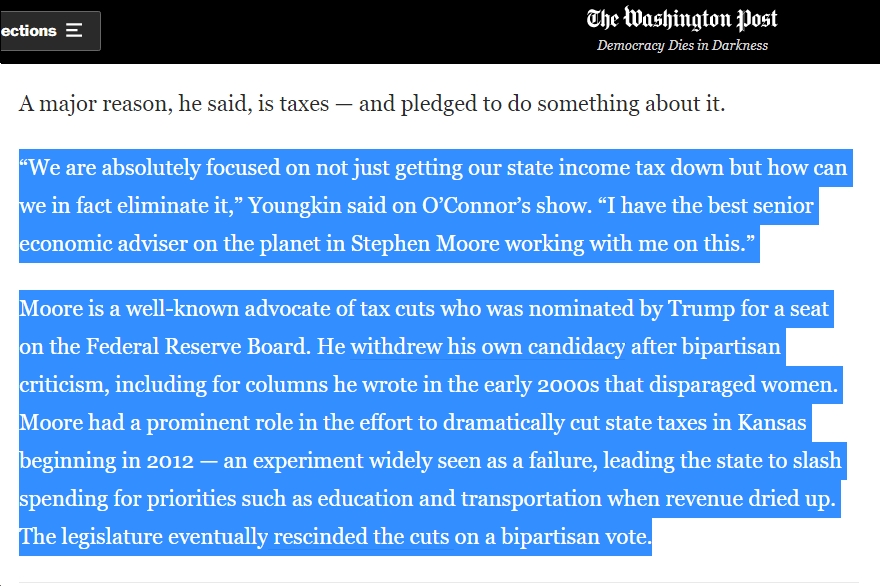 Here's some more background on Stephen Moore:
"Moore is a climate change skeptic. In 2009, he described climate change as "the biggest scam of the last two decades."[26] In columns and op-eds, Moore called those with concerns about climate change 'Stalinistic' and has accused climate scientists as being part of a global conspiracy to obtain money via research grants,[27] asserting that a "tidal wave of funding" revealed 'a powerful financial motive for scientists to conclude that the apocalypse is upon us."[28] In an April 2019 interview, Moore said that the Federal Reserve should not consider the economic impacts of climate change in decision making.[29]"
"During a 2016 debate on the minimum wage, Moore stated, 'I'm a radical on this. I'd get rid of a lot of these child labor laws. I want people starting to work at 11, 12.'"
"Moore served as one of the top economic advisers to Donald Trump's 2016 presidential campaign.[40] Moore is known to be a strong supporter of President Trump.[41] In 2018, Moore and Laffer wrote the book Trumponomics, in which they lauded the Trump administration's economic policies[19][42]"
"In April 2020, Moore referred to individuals who protested stay-at-home orders during the coronavirus pandemic as 'the modern-day Rosa Parks — they are protesting against injustice and a loss of liberties.'[56] He ran a group named Save Our Country, which argued for the reopening of the economy amid the coronavirus pandemic.[57]"
"In April 2019, CNN and The New York Times reported on several articles Moore had written in the National Review in the early 2000s that denigrated women, which Moore dismissed as spoofs or jokes."
"In 2012, a Virginia court held Moore in contempt of court for failing to pay his ex-wife $300,000 in spousal support, child support and other obligations in his divorce settlement.[72] Moore did not respond to repeated court requests to make payments and failed to appear for a deposition before the court threatened to have him arrested and ordered him to sell his home to make the payments; the court revoked the order at Moore's request after he made a $217,000 payment.[82][34] In January 2018, the IRS obtained a tax lien against Moore for $75,328 in unpaid federal taxes, interest and penalties, alleging Moore had filed a 'fraudulent' tax return in 2014. Moore contended that his accountant made an error in improperly deducting child support payments and that the lien was the result of an IRS miscalculation,[62] though Moore claims to have paid the lien and Montgomery County, Maryland Circuit Court records show the case is closed.[83] In addition to the child support payments, the IRS also disallowed other deductions Moore had claimed.[82]"
Also, re: Moore's role in the Kansas budgetary disaster, see Trump's pick for Federal Reserve had hand in creation of Brownback tax 'experiment', which explains, "President Trump's likely nominee for the Federal Reserve's board of governors helped shape the deep tax cuts that were blamed for years of budget shortfalls under former Gov. Sam Brownback." The result?
Kansas consistently lagged the national average in job growth after implementing the tax cuts. When Kansas lawmakers overrode Brownback's veto to repeal the policy in 2017, Kansas was one of only four states that had lost private sector jobs over the previous 12 months
The bipartisan override came after four straight years of budget shortfalls that required cuts to higher education, Medicaid, and other state services.
In short, Moore's economic plan for Kansas led to budgetary and economic disaster. Needless to say, this is literally the LAST thing we need here in Virginia!