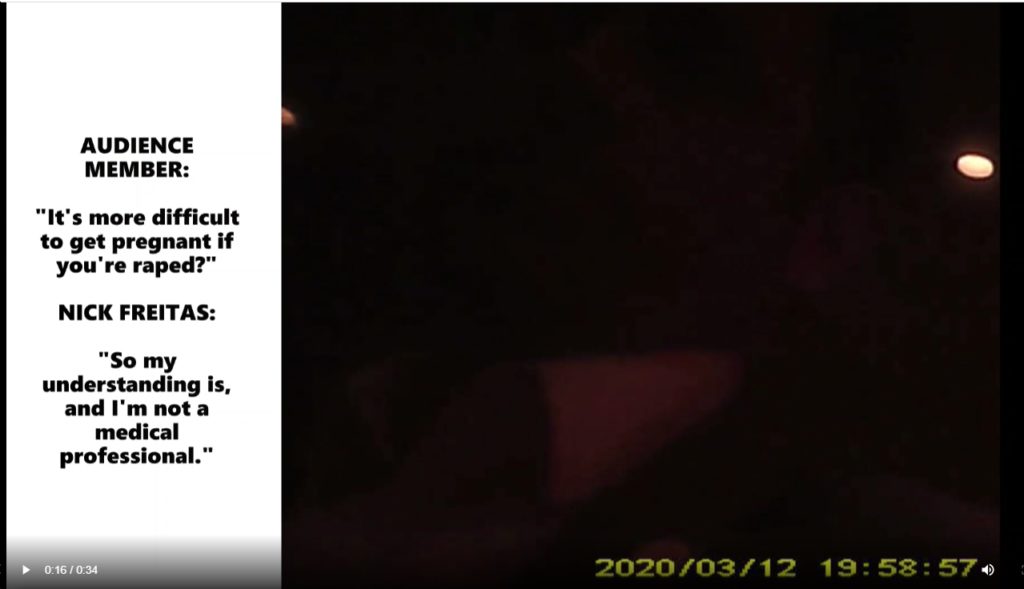 You might recall that in August 2012, Republican U.S. Senate candidate (in Missouri) Todd Akin made a bonkers, now infamous comment that, at the time, shocked the nation and changed the trajectory of that race. Here's what happened.
In a local news interview, on August 19, 2012, discussing abortion, Akin claimed that victims of what he described as "legitimate rape" very rarely become pregnant. Airing on St. Louis television station KTVI, his response to a question on rape exceptions for abortion was:
Well you know, people always want to try to make that as one of those things, well how do you, how do you slice this particularly tough sort of ethical question. First of all, from what I understand from doctors, that's really rare. If it's a legitimate rape, the female body has ways to try to shut that whole thing down. But let's assume that maybe that didn't work or something. I think there should be some punishment, but the punishment ought to be on the rapist and not attacking the child.
The comments from Akin, which came as he ran for the U.S. Senate seat held by Claire McCaskill, almost immediately led to widespread uproar. The term "legitimate rape" was called "loathsome" because it suggests that "there are different categories of rape — some real and awful and others that are not"…
The comment was widely characterized as misogynistic and recklessly inaccurate, with many commentators remarking on the use of the words "legitimate rape". Related news articles cited a 1996 article in an obstetrics and gynecology journal, which found that 5% of women who were raped became pregnant, which equaled about 32,000 pregnancies each year in the US alone. A separate 2003 article in the journal Human Nature estimated that rapes are twice as likely to result in pregnancies as consensual sex.
[…]
Before the comments, Akin had been favored to win his race against McCaskill, but he lost in November, 54.7 percent to 39.2 percent. His loss was attributed to backlash from women voters.
So you'd think that since this happened in 2012, nobody in their right mind – and certainly not anyone running for office! – would ever say such a thing again. But, believe it or not, right here in Virginia, Del. Nick Freitas – the 2020 Republican nominee for Congress in VA07 against Rep. Abigail Spanberger (D) – did just that. Check out the video, below, which was taken at the Goochland Tea Party's forum for the GOP VA 7th candidates on March 12, 2020 (note: I don't recall ever hearing of this video previously):
Nick Freitas: "98% of abortions are abortions of convenience, and so I think we need to hammer them on that." In fact, the reasons why women seek abortions include "financial reasons (40%), timing (36%), partner related reasons (31%), and the need to focus on other children (29%). Most women reported multiple reasons for seeking an abortion crossing over several themes (64%)."
Audience Member: "Most women under the stress of rape do not get pregnant." (In fact, as noted above, that is completely, wildly untrue.)
Nick Freitas: "I mean, it's definitely more difficult. They can, but it's definitely more difficult." (Again, this is completely, wildly untrue.)
Audience Member: "It's more difficult to get pregnant if you're raped?"
Nick Freitas: "So, my understanding is, and I'm not a medical professional." (THAT's for sure! LOL)
*********************
As if that all wasn't bad enough, Freitas also compared abortion to slavery, and advocated defunding what he calls "pro-abortion groups" (presumably Planned Parenthood, NARAL, etc.).
Nick Freitas: "The number one battle we have to fight now on that if we're going to be successful is the funding. That's how Wilberforce got rid of slavery in England…he dried up the funding of political campaigns for pro-slavery groups like we'll dry up for pro-abortion groups." (Note: see here for how Wilberforce and others actually did successfully campaign – using a variety of tactics and strategies – to get rid of the British slave trade.)
*************
Anyway, let's all just be grateful that this guy never made it to the U.S. House – and remember, Rep. Spanberger won by only 8,000 votes out of 454k cast!) and make damned sure he never does (and it's certainly possible he'll run again, whether in 2022 or another year, because clearly this guy has ZERO interest in staying in the Virginia House of Delegates, having now run, unsuccessfully, for both the U.S. Senate and U.S. House). Also, if you want to support his Democratic opponent, Annette Hyde, for Virginia House of Delegates this election, click here. Thanks.