by Cindy
Tim Anderson, far-right Republican candidate for Virginia House District 83, wants you to know what a gosh-darn good guy he is. In fact, he's such a good guy he won an award for doing pro bono work, serving his community for free!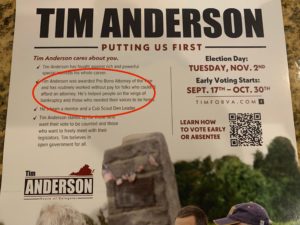 What he does not want you to know is that the court ORDERED HIM to do that pro bono work. Why? It was in exchange for dismissing the charges against him for IMPERSONATING A JUDGE. Yes, that's correct. He made a phone call impersonating a local judge, and when he got caught, he was ordered to do pro bono work (and take continuing education to learn some ethics).
You might wonder why Tim Anderson impersonated a judge? Apparently, according to the court transcripts, it was so he could "intimidate" his employees, to see how they would respond on the phone. Sounds like a great guy to work for, right? The judge in the case pointed out his "lack of discretion and judgment" and said his impersonation was "disrespectful, offensive and contemptuous." Just the kind of gosh-darn good guy you'd want to send to Richmond to represent you, right?
This is the same Tim Anderson who sued Mamie Locke, sued Speaker Filler-Corn, and tried to recall Senate Majority Leader Saslaw and President Pro-Tem Louise Lucas.
He was right when he said "you would not want to vote for me." Vote for Democrat Nancy Guy, instead, who's done a spectacular job in her first term and deserves another.