Seriously, is this more "The Handmaid's Tale," "Fahrenheit 451," "1984," or what? Ugh. By the way, note what really set these School Board members off:
Monday evening's discussion was spurred by parents of a Riverbend student, who brought their concerns to the meeting.
The mother said during public comments that she was initially alarmed by "LGBTQIA" fiction that she said was immediately made available upon accessing the library app. After doing more research, she discovered a book in the collection that she found more upsetting.
The book, "33 Snowfish" by Adam Rapp, concerns three homeless teenagers attempting to escape from pasts that include sexual abuse, prostitution and drug addiction.
Publisher's Weekly described "33 Snowfish," which the American Library Association named a Best Book for Young Adults in 2004, as a "dark tale about three runaways who understand hatred and violence better than love" and noted "readers may have trouble stomaching the language" and the subject matter.
The review recommends the book for ages 15 and up.
Very, very disturbing times in this country right now, with some seriously dark forces running amok…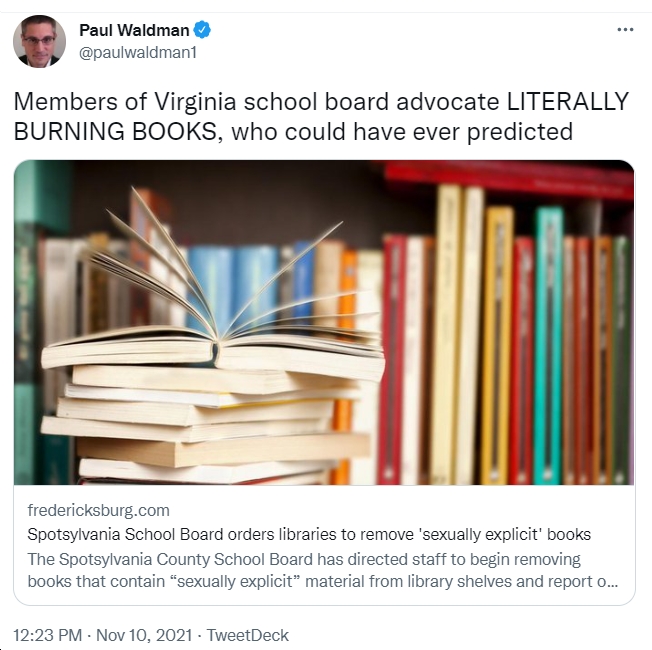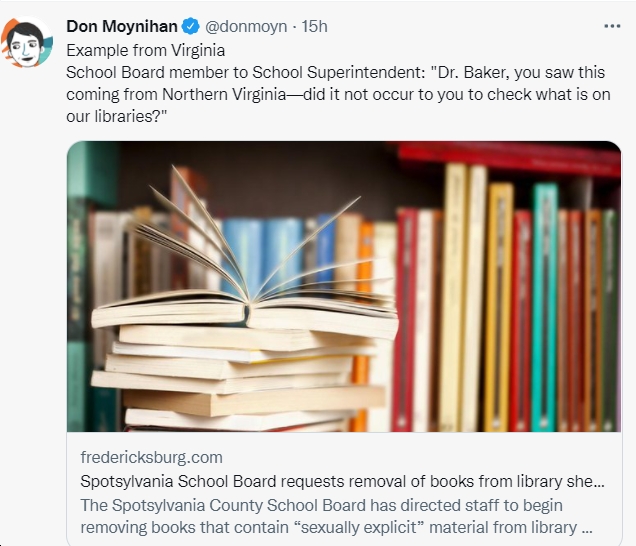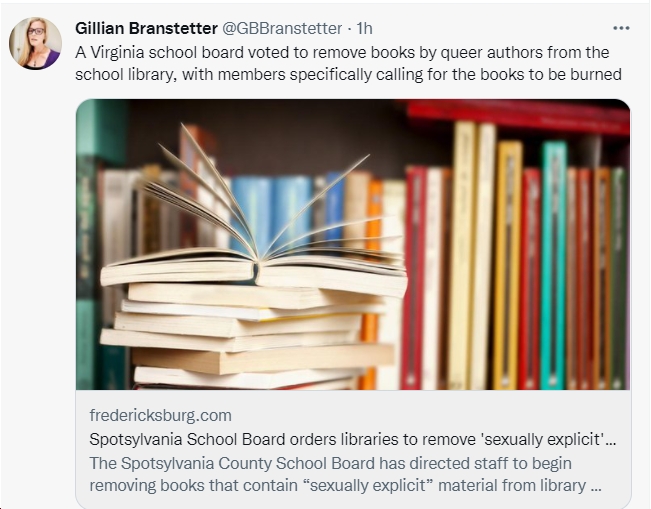 Republicans are literally urging the burning of books in school libraries.👇

"Two board members, Courtland representative Rabih Abuismail and Livingston representative Kirk Twigg, said they would like to see the removed books burned."https://t.co/UlJB5S37zq

— Marc E. Elias (@marceelias) November 10, 2021
"Two board members, Courtland representative Rabih Abuismail and Livingston representative Kirk Twigg, said they would like to see the removed books burned."
https://t.co/kQGIpfjg04

— Kevin Hickerson (@KevinHickerson1) November 10, 2021
Remember when the right was extremely concerned about "academic freedom" and "free speech"? https://t.co/wVOBXzZlZO

— Judd Legum (@JuddLegum) November 10, 2021
but WP just told me GOP is now the "education" party https://t.co/zQs9zHoxOq

— Eric Boehlert (@EricBoehlert) November 10, 2021
An ongoing attempt to legislate or harass queer people to to disappear; the efforts around the last campaign to manipulate masses of white people to think "we are the vicims" https://t.co/ULfEPlLF8b

— FCPS Pride (@FCPSPride) November 10, 2021