by A Siegel
Governor-Elect Glenn Youngkin has announced his intention to appoint former Trump EPA Director Andrew Wheeler as the Commonwealth's next Secretary of Natural and Historic Resources. From his climate-denial (predatory delay posturing) to his dirty-energy lobbying to the devastating havoc he created while heading EPA, Wheeler's history and priorities should concern all who value good governance and a resilient, prosperous, climate-friendly future.
We can expect Wheeler, who served in Youngkin's transition team, to work his hardest to throw sand in the gears/reverse the clean-energy and climate action progress initiated by the Virginia Democratic "trifecta" over the past two years. Based on Wheeler's pathetic track record, we can also be confident that he will put the interests of those who have paid him above the interests of Virginia and Virginians.
Wheeler Lobbying Clients Won Big When He Ran EPA
The following are just three examples of Wheeler EPA proposed or enacted anti-environmental rules that Wheeler clients pushed for and benefited from.
Xcel Energy and Coal Ash Rules Rollback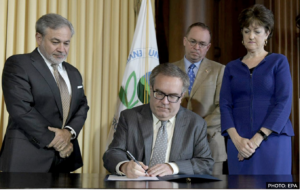 In 2019, the EPA – under Administrator Wheeler's leadership – proposed a rule that would extend the closure initiation deadlines of unlined coal ash ponds, allowing some plants five more years before they would need to close unlined coal ash ponds.
The Utility Solid Waste Activities Group (USWAG) applauded the proposed changes. Relaxing coal ash rules has been a big priority for USWAG– the trade group petitioned then-EPA Administrator Scott Pruitt to roll back coal ash storage regulations back in 2017.
Xcel Energy is a member of USWAG, and has also supported EPA's proposed coal ash rule. Andrew Wheeler lobbied for Xcel Energy from 2013- 2016, and had promised to recuse himself from matters related to Xcel Energy until April 28, 2020.
Murray Energy and Mercury Regulations Rollback (MATS)
In April 2020, Wheeler's EPA undermined mercury regulations by creating a new method of calculating the costs and benefits of curbing mercury pollution. This followed a request by Robert "Bob" Murray, who has hosted major fundraisers for Trump, who asked the EPA to rescind the Mercury and Air Toxics Standards (MATS) in 2019.
In 2017, Murray Energy asked the EPA to suspend implementation of the mercury standards, but was unsuccessful in getting mercury regulations rolled back until Wheeler became administrator. The EPA's mercury rollback in April was described as a "particular victory" for Robert Murray.
Before starting at EPA, Wheeler lobbied on behalf of Murray Energy from 2009 to 2017. Wheeler had allegedly promised to recuse himself from matters related to Murray Energy until April 28, 2020.
Growth Energy and Anti-Backsliding Study Determination
In May 2020, after the EPA completed the Anti-Backsliding study required by RFS regulations in the Clean Air Act, the EPA proposed that no additional fuel regulations are necessary to mitigate negative air quality impacts of required renewable fuel volumes.
Growth Energy commented in favor of the rule, one of only 16 comments received in the Federal Register on that rule.
Growth Energy was one of Andrew Wheeler's former clients before joined EPA—he provided the company with "strategic advice and counseling." Wheeler promised to recuse himself from matters related to Growth Energy until April 28, 2020 just days before the EPA announced proposal that favored Growth Energy.  Just a coincidence, of course.
What could this mean in Virginia?
One of Wheeler's former lobbying clients is the Canadian uranium firm Energy Fuels.  If you are aware of the name, this likely is due to their role in seeking to end the Bears Ears Monument designation so that they could reintroduce uranium mining to the region.  Likely few Virginians are aware that Energy Fuels took a partial ownership share of Virginia Energy. From that 2013 announcement:
"Virginia Energy owns 100% of the advanced-stage Coles Hill Project located in south central Virginia, USA.  Coles Hill is the largest known uranium deposit in the United States with 119.6 million tons of Indicated Resource with an average grade of 0.056% U3O8 containing 133 million lbs. of U3O8."
Virginia Energy has been battling to end Virginia's long-standing ban on uranium mining. It has lost both legislatively and in the courts.  Is there reason that the Youngkin Administration, with Andrew Wheeler leading the charge for his former client, won't seek to overturn that ban and create value for First Energy's investment in Virginia Energy?
The prospects are dim …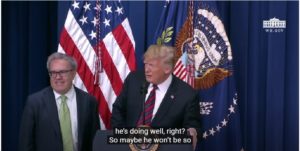 "When Andrew Wheeler served in the Trump administration's EPA, he sold out the American people," said Kyle Herrig, president of government watchdog Accountable.US, which has been critical of Wheeler in the past. "Rather than protecting the environment and public lands for future generations of Americans to enjoy, Wheeler went to bat for the polluters that once paid him to be their lobbyist. Nothing about his background indicates he would do anything different for Virginians if he ends up in Youngkin's cabinet."
As the Union of Concerned Scientists put it one year into Wheeler's EPA tenure,
"The good news, if there is any, is that Wheeler is an Eagle Scout compared to his ethically challenged predecessor, Scott Pruitt. The bad news is, as predicted, Wheeler has been more effective than Pruitt in rolling back and eliminating EPA safeguards."
While it is hard to look at this appointment with hope for a sustainable Virginia future, there is a nugget in a statement Wheeler made in 2021:
"In May [2021], Wheeler told Bloomberg Law he wanted to spend his post-EPA life helping companies embed sustainability into their missions to avoid 'just checking a box.' He also said he wanted to nudge companies and governments to look at environmental issues holistically, rather than narrowly scrutinizing one medium, such as air, water, or land."
Will we see from Youngkin cabinet member Wheeler the environmental protection-devastating, self-dealing, preferential treatment of lobbying clients that occurred under EPA Administrator Andrew Wheeler? Or is there any reason to hope that Wheeler will "embed sustainability" into his actions in his new job (assuming he's confirmed by the State Senate)?
Note: See Congressman Don Beyer's strong statement opposing Wheeler's appointment:
"Andrew Wheeler is one of the worst people the Governor-elect could have chosen for this job.
"Wheeler, a former coal lobbyist, led the implementation of an EPA dirty air initiative his own agency estimated would lead to 1,400 premature deaths and breathing problems in thousands of people, many of them children. He led the Trump Administration's efforts to dismantle environmental protections, selling out the American people and the EPA's very mission to benefit corporate polluters."
Beyer also reminds us, on the eve of the January 6th coup attempt, that Wheeler remained in the Cabinet, silent, after the violence of that day.