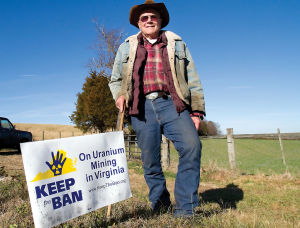 Cross-posted from that paragon of journalism and reporting Richmond Progressive Examiner.
In case anyone needed additional evidence that Virginia Uranium Inc. (VUI) hasn't given up on lifting Virginia's moratorium on uranium mining, Exploration Permit 90484EX was renewed on November 13th, 2013 and will remain in effect until November 20th, 2014. The permit was first issued to VUI in 2007.
With billions of dollars worth of uranium ore deposits on the line, it's not surprising that VUI has taken a long-term approach to achieving its goal of lifting Virginia's ban on mining uranium. Once believed to be an inevitable short-term outcome, VUI has had to settle for waiting at least another 4 years before there is a serious chance of mining uranium in the state.
For many residents of Southside Virginia, VUI has been a symbol of the tension between capitalism and democratic governance in our modern era. While some polls have shown a close split among Virginians who favor or oppose uranium mining, no polls that I am aware of have been targeted towards the people of Southside Virginia, where the uranium mining would actually take place. With all due respect to Virginians living outside the Southside, your backyard isn't the one where the process of uranium mining will take place (at least, not yet). Think about it:
2013 started with the
Democratic
leader of the Virginia Senate, Dick Saslaw,
proclaiming his support
for uranium mining here with the argument that, centuries into the future, when radioactive waste will remain a hazard, "I'm not going to be here...I can't ban something because of something that might happen 500 or 1,000 years from now."
2013 ends with Virginia Uranium Inc. currently giving up the fight to overturn the state uranium mining ban.
What's behind this extraordinary turnaround -- and what does it signal about where Virginia is headed? Is the Commonwealth, years behind national trends on energy, the environment and sustainability, about to catch up?
That will depend on those of us who care about these issues raising our voices and holding public officials' feet to the fire. But there's increasing evidence that we -- finally, finally! -- have the wind at our backs.
Consider these factual morsels:
*For all that the left loves to bash Terry McAuliffe, the fact is that he ran and won on progressive positions -- including on energy and climate change. He skillfully took advantage of Ken Cuccinelli's extremist attack on Professor Michael Mann by campaigning with Mann and proclaiming that we must respect scientists and their findings if we want to move Virginia forward. It's time again for Richmond's favorite reality show, WORST BILL EVER! Excited Republican state Delegates and Senators are lining up today to try to pass the weirdest, dumbest, most cynical or just plain revolting legislation. Make sure to vote in the poll at the end of this post for the bill you think deserves the prize.
This round's contenders include:
- Del. Bob Marshall's "Funny Money" bill (HJ 590) -- Sideshow Bob is the Rocky Balboa of freaky legislation, and he never fails to disappoint. This worthy contender, to study whether Virginia should print its own currency, is one for the ages -- I encourage you to read it in full, while enjoying such lines as "WHEREAS, many widely recognized experts predict the inevitable destruction of the Federal Reserve System's currency through hyperinflation in the foreseeable future..." Needless to say, this bill has been approved in subcommittee.
- Del. Marshall's "Cold, Dead Hands" bill (HB 2340), which would prohibit state employees from helping to enforce new Federal gun laws. Whaditellya? Like Michael Jordan, Sideshow Bob never just takes one shot at the basket. Of course, this bill is too mild for our friends at the Virginia Gun Owners Coalition, who point out that it fails to include a provision to arrest Federal officials who themselves try to enforce Federal laws. Well, good point, but Rome wasn't brutally massacred in a day. This bill, needless to say, has been reported out of committee. The above quote is from a
story
produced by the highly-regarded, Pulitzer Prize-winning journalistic organization,
ProPublica
. It caught my eye because this is the exact opposite of what we are being told by the lobbyists of Virginia Uranium Inc. and the Republicans snuggled in bed with them -- for example, Sen. John Watkins, who
recently said
: "Uranium mining is done safely around the world, and Virginia is capable of mining it safely, too," he said.
Really? So listen to the story of Christensen Ranch in dry-as-dust Wyoming. It sounds a lot like the movie Gasland's story of groundwater contamination from natural gas fracking that has shocked so many:
As dry as this land may be, underground, vast reservoirs hold billions of gallons of water suitable for drinking [...] Yet every day injection wells pump more than 200,000 gallons of toxic and radioactive waste from uranium mining into Christensen's aquifers.
It gets worse:
The following press release is from the
Roanoke River Basin Association
. Lovely, huh? That's Bob McDonnell for you...
PRESS RELEASE

For Immediate Release: April 4, 2012

Contact: Andrew Lester, executive director, RRBA

LOCAL GROUPS EXCLUDED FROM GOVERNOR'S URANIUM GROUP DISCUSSION WITH STAKEHOLDERS

Richmond, VA - Today, April 4, 2012, a representative from the Roanoke River Basin Association (RRBA) requested access to a "damage control PR" session by the governor's uranium working group (UWG). The UWG was established over two months ago, yet only after a series of articles and Op-eds in the press criticizing the secrecy of the UWG, the UWG leaders decided to invite some stakeholders to discuss the work of the group in an apparent show display for the press. Some of the interested groups received a mere 48-hour notice of the meeting.

Most of the citizen groups in the Roanoke River basin that have been actively involved in this issue did not receive an invitation to the event; yet, Virginia Uranium Inc.'s lobbyist was on the invitation list. RRBA was also not on the invitation list, despite of the fact that it has previously corresponded with the Governor's office on this matter. For 67 years, RRBA has served as a voice for preservation and wise use of the Roanoke's water resources in the two-state region that will host the first uranium mining and milling operation east of the Mississippi if Virginia's 30-year uranium ban is lifted.
Some creative lobbying being done in Richmond today. Virginia Organizing had
Broken Hearts Day
, but I'd have to give the top prize to
KeepTheBan.org
:
An update from
KeepTheBan.org
:
Thanks to you and your hard work, the uranium industry did not have the votes in the General Assembly to introduce a bill to lift the ban. On January 19th, Gov. McDonnell was forced to concede that a report from the National Academy of Sciences identified "important questions related to the health and safety of workers, the public, and the environment." As a result, the ban will stay in place for 2012.

At the same time, however, Gov. McDonnell directed Virginia's health, mining and environmental agencies to draft "conceptual regulations" for the General Assembly to consider in 2013. Governor McDonnell's directive to create a draft statute and regulations, behind closed doors, is the first step toward lifting the ban.

The uranium industry has yet to show the citizens of Virginia that uranium mining can be done safely, and our legislators have not answered the fundamental public policy question: does Virginia want to take on the long-term economic and public health burden of mining uranium and storing millions of tons of toxic waste in our state?
Sign the petition
to keep Virginia's 30-year-old uranium mining ban in place and
"like" Keep The Ban on Facebook
to get the latest news. Bob McDonnell just proved once again how much smarter of a politician he is than Ken Cuccinelli. While Cuccy is like the gung-ho Marine who's always the first to rush into battle -- and hence the first to get shot -- Gov. Bob actually thinks and aims before pulling the trigger.
Today's case in point: uranium mining, about which the governor decided not to lift Virginia's current ban this year. Instead, he's directing state agencies to develop a "regulatory roadmap" and creating a workgroup to study the site in Pittsylvania County where Virginia Uranium is seeking to dig up the radioactive stuff.
It's a clever move, essentially a strategic retreat to allow the corporate-owned party to regroup and plan out how to give the uranium lobby most of what it wants a little further down the road. And it managed to stir the pot enough that Virginia Uranium supported the delay while the Virginia League of Conservation Voters criticized the governor for preempting legislative debate.
As the Virginia General Assembly considers a mining company's request to lift the state's longtime moratorium on digging up radioactive uranium, a new study is making some big claims about economic impacts. But considering the commission that requested the study, should we be surprised the study puts
questionable jobs claims
first and buries ominous warnings further down?
The report was produced by Chmura Economics & Analytics for the Virginia Coal & Energy Commission. As Bacon's Rebellion blogger Peter Galuszka first pointed out, Gov. Bob McDonnell (R-VA) is so terrified of the possibility of any dissent on the Coal & Energy Commission, he didn't appoint a single representative from conservation groups or from activist groups in Virginia's Southside, where the proposed uranium mining would take place. Stacking the deck doesn't even begin to describe McDonnell's appointees:

Barbara Altizer, president & executive director of the Eastern Coal Council
Jodi Gidley, president of Virginia Natural Gas
Ken Hutcheson, former GOP strategist and president of Virginia Alternative and Renewable Energy Association, whose main mission seems to be to help Gov. McDonnell and the Virginia Petroleum Council greenwash
James K. Martin, senior vice president for Dominion Power
John Matney, president of the Harbor Company & president of the coal mining Stearns Company
Donald L. Ratliff, vice president for coal mining Alpha Natural Resources, LLC
Rhonnie Smith, retired from nuclear reactor maker B&W
When reporting to a commission like that, it's no wonder Chmura made sure to highlight the positives and downplay the potentially disastrous negatives:
The "un-official
blog
of the Virginia House of Delegates GOP Caucus" put up a post on uranium mining this morning that
quickly disappeared
. Maybe someone thought that telling Virginians that uranium mining would make something (land? water? Virginians?) glow "an eerie green" was maybe not the best messaging? Heck, even the words "uranium deposit" are written in Incredible Hulk green.
The blog is written anonymously, calls itself unofficial, and isn't hosted on a government or party site. Given how sloppily written the blog is and how it presents House Republicans as little more than industry sock puppets, I'm not surprised there's no name on it. But unfortunately that makes it impossible to know who wrote it, what they were thinking, or who made the frantic phone call to for god's sake take down that post before anyone sees it.
But isn't that symbolic of the whole effort? Virginia Uranium is pouring hundreds of thousands of dollars into political donations and lobbying hoping to jam through a repeal of Virginia's sensible uranium mining ban before anyone notices its wild inflation of economic impacts or how similar fool's gold like oil and gas fracking has brought unhappiness to towns from North Dakota to Pennsylvania.
Learn more about why lifting Virginia's ban uranium mining would be such a bad deal for Virginians from Keep the Ban and ProgressVA.