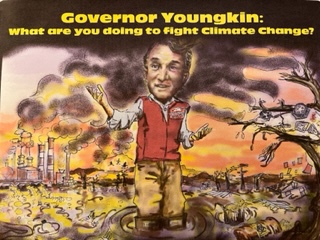 by Glen Besa
As has been widely noted, Governor Glenn Youngkin's recently released Virginia Energy Plan fails to even mention climate change, and, if implemented, would roll back Virginia measures to cut greenhouse gas emissions. like the Regional Greenhouse Gas Initiative (RGGI) and Virginia Clean Cars legislation.
Youngkin (falsely) cites solar and wind as "unreliable," and then promotes alternative technologies that don't even exist, like small modular nuclear reactors, carbon capture and storage, and hydrogen, as well as more fracked-gas infrastructure (aka pipelines).
It is both ironic and tragic that the Virginia Clean Energy Summit has invited Youngkin to be their breakfast speaker this Friday, Oct 21.
As politicians like Youngkin are killing the planet for our kids and his own, climate activists have decided to hold a New Orleans style funeral for the planet on Friday morning, 7:30 AM outside the Richmond Convention Center where he will be speaking.  That means live New Orleans Jazz music (a brass band), beignets, a casket and a Glenn Youngkin puppet.  If you can make it to Richmond, come join us and make some noise for our planet and our climate. Details may be found HERE.
The opinions expressed are those of author, and do not necessarily reflect the positions of any organizations with which he may be associated.