Does this sound at all normal or acceptable to you?
Local registrars across Virginia began scrambling Wednesday to process about 107,000 voter records dumped on them overnight by the state Department of Elections, where computer network failures had left applications in limbo for months.
The administration of Gov. Glenn Youngkin (R) blamed unspecified technical problems for the backlog, which affected new voter registration applications, address updates and other changes submitted through the Department of Motor Vehicles.
…A spokesman for Youngkin referred questions to his elections department. Gaines declined to comment when asked if there was any link. She also would not say what alerted the department to the recent problem or how it was solved.
As Del. Marcus Simon asks, "What are they hiding? Looks like the Youngkin administration is going for the corrupt/incompetent/cover-it-all-up trifecta this week with scandals at the Depts of Tourism / Elections / Education." It's truly incredible how much the Youngkin administration has screwed up, whether intentionally or unintentionally (e.g., through gross incompetence and having zero clue about how to run a state government) in just nine months or so. And as VAPLAN/Cindy writes:
It may turn out to be really fortunate that @VAHouseDems & @VASenateDems passed same-day voter registration, enacted this election. Who'd have thought the Youngkin Admin might have a "glitch" in registering voters when around the country angry women are registering on mass?
Brilliant, eh?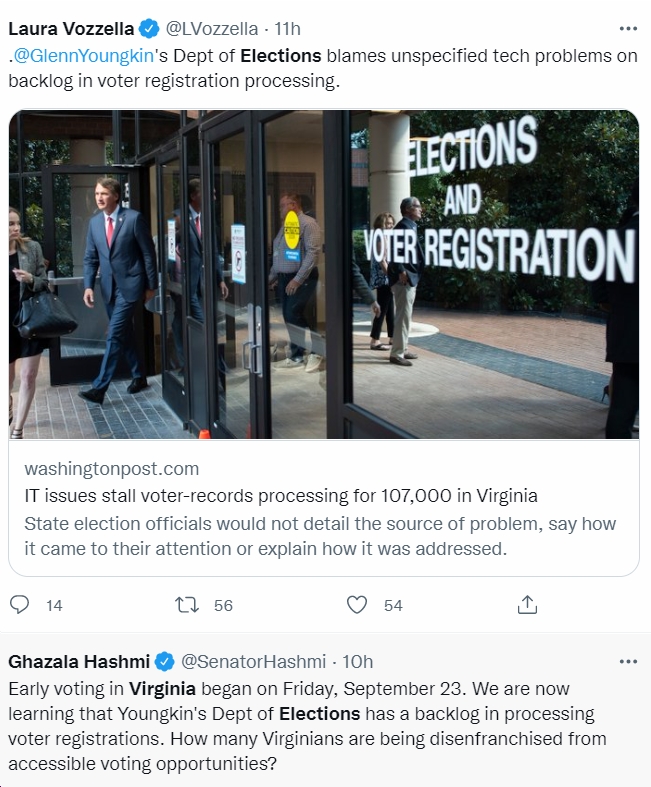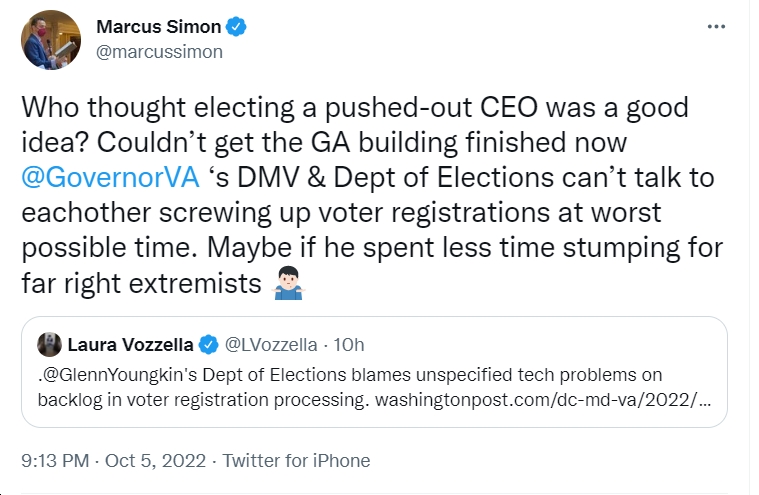 It may turn out to be really fortunate that @VAHouseDems & @VASenateDems passed same-day voter registration, enacted this election. Who'd have thought the Youngkin Admin might have a "glitch" in registering voters when around the country angry women are registering on mass? 🧐 https://t.co/1JbMUhxYbi

— VAPLAN (@vaplan2018) October 6, 2022