The U.S. political "news" (using the word loosely) media might not think it's a huge story when a former President of the United States calls for -"ditch[ing] our Constitution so that he can illegally be restored to power," as UVA Professor Larry Sabato explains – but it really is, and they all should be covering it accordingly!
Also, as Professor Sabato says, "every single Republican candidate and officeholder" should be asked by political reporters "whether they support or oppose Donald Trump's treasonous desire." If they don't respond, that automatically means "agreement with Trump."  And yes, that includes Glenn Youngkin, Winsome Sears, Jason Miyares, Todd Gilbert and other Virginia Republicans…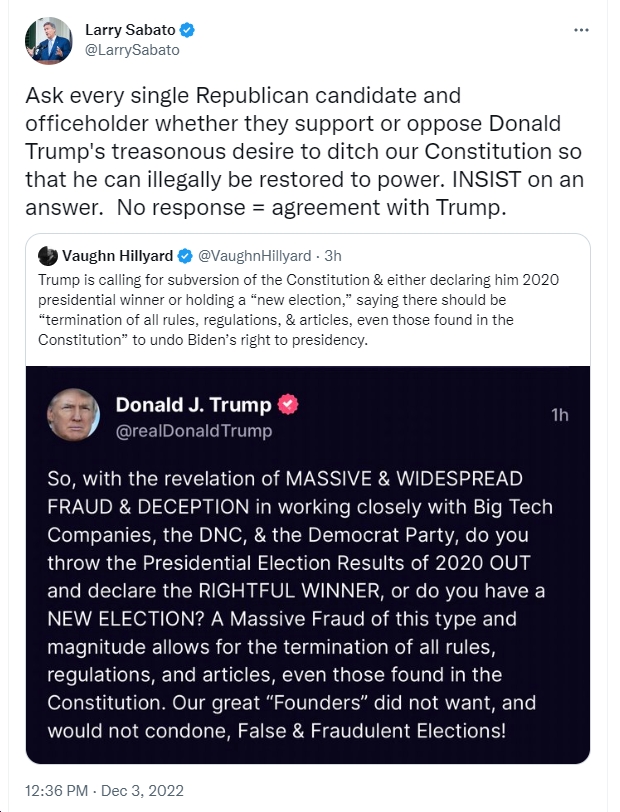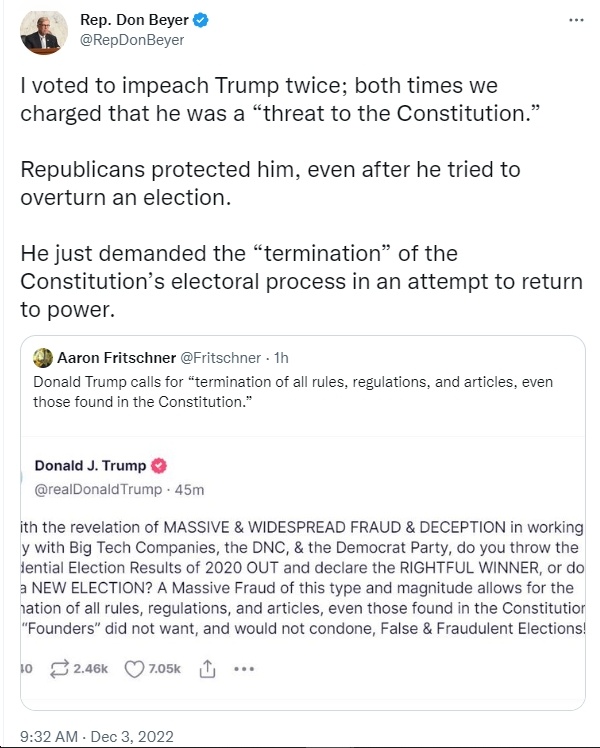 ************************************************
Beyer Statement On Donald Trump's Demand For "Termination" Of The Constitution
December 3, 2022 (Washington, D.C.) – Rep. Don Beyer (D-VA) issued the following statement today after former president Donald Trump called for "termination" of the Constitution (archived here) so that he could be reinstated as president:
"Days after he hosted men who praise Hitler and the Nazis for dinner, Donald Trump is calling for 'termination' of the United States Constitution's electoral process so that he can be illegally reinstated to power. Trump's words and actions are well beyond the bounds of acceptable political discourse, they stoke hatred and political violence, and they are dangerous.
"Every Member of Congress swore an oath to 'defend the Constitution of the United States against all enemies, foreign and domestic.' Donald Trump has openly declared himself an enemy of the Constitution, and Republicans must repudiate him. You cannot remain loyal to the United States and the ideals on which this country was founded while supporting open subversion of the Constitution. This is a basic test of patriotism."