Almost two weeks ago, I posted about how it was possible that VA State Senator John Bell (D-Loudoun) might not run for reelection this year, and that if he didn't, Del. Suhas Subramanyam (D-Loudoun) was likely to run for that seat. Which is exactly how it played out, with Sen. Bell announcing on March 2 that he has prostate cancer (get better quickly!) and would not seek reelection, with Del. Subramanyam announcing his campaign for that Senate seat. This has had a chain reaction effect, with two  Democratic candidates in the past 24 hours announcing their campaigns for House of Delegates District 26, a solidly blue, highly diverse (42.5% Asian-American, 36.5% White) Loudoun County seat that Subramanyam would have run in.
First, last night, former Del. Ibraheem Samirah (D), who lost his reelection big in a primary to Irene Shin in June 2021, announced his candidacy for HD26, pledging to fight for a "progressive vision for the Commonwealth of Virginia through a Virginia Green New Deal, state-level Medicare for All, and housing policy that makes sure Loudouners aren't one housing market crash away from financial ruin":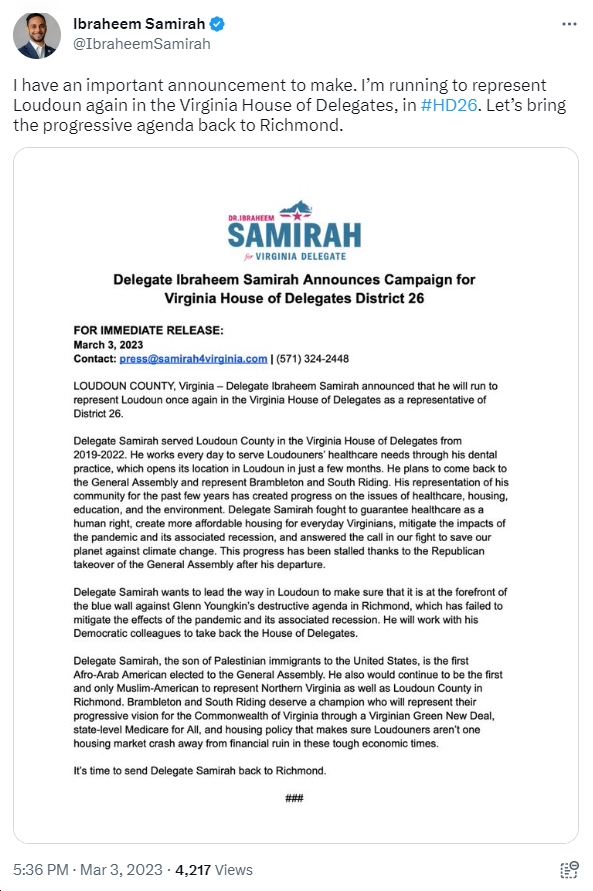 Now, Democrat Kannan Srinivasan, who has been running for the also-deep-blue-Loudoun-County HD27 seat, has announced his candidacy for HD26. See below for his press release, "with 20 major endorsements," including Rep. Jennifer Wexton (D-VA10), Loudoun County Board of Supervisors Chair Phyllis Randall, Loudoun County Board of Supervisors Vice Chair Koran Saines,  Loudoun County Supervisor Juli Briskman, Loudoun County Supervisor Sylvia Glass, State Senator Jennifer Boysko, State Senator Barbara Favola, State Senator Ghazala Hashmi, Del. Dan Helmer, Del. Wendy Gooditis, Del. Ken Plum, Del. Irene Shin, Del. Mark Sickles, Del. David Reid, former Virginia Secretary of Education Atif Qarni, etc.
We'll see if any other candidates get into this race, but for now, it's Srinivasan vs. Samirah for the Democratic nomination, to be determined in a primary on June 20. Stay tuned…