With Glenn Youngkin slated to speak at the George Mason University 2023 Commencement on May 18, not surprisingly many students are not pleased. Among other things, they've got a petition going that now has over 6,500 signatures, arguing:
"Selecting a speaker that has passed anti-trans legislation, promoted the abolishment of racial equity curricula, and restricted the availability of literature in public schools is an intentional target towards historically marginalized communities comprising Mason. It is harmful and disrespectful to the many students who continuously shape GMU's community to bring in an individual who has also neglected the needs of Virginians. George Mason University prides itself on being one of 'the most diverse institutions in the Commonwealth.' Yet by having Governor Youngkin as this year's Commencement speaker, we believe that the University compromises its supposed values of centering students' experiences and overall well-being. When satiating its own desire to appease the powerful few, the University, once again, has abandoned these principles."
Unfortunately, it appears that GMU leadership isn't listening to its incredibly diverse ("majority minority") and highly astute student body. Just yesterday, GMU President Gregory Washington wrote a defense of his decision to invite Youngkin as Commencement speaker, asserting (correctly) that "Mason students come by their objections to the Governor authentically, and their rejection of his positions are rooted in very real, deeply personal, often painful life experiences," but then rhetorically asking, "is it better to expose them to people and ideas that may offend or challenge them, but in an environment of steadfast support and safety, so they may develop the agency to effectively express and advocate for themselves once they leave the university environment?" Which makes very little sense, of course, given that this is not some sort of academic forum or whatever; it's these students' undergraduate Commencement – the only they'll ever have – yet it's going to be made unpleasant and uncomfortable, for no good reason, by the presence of a right winger, Trumpist, etc. like Youngkin.
So why is GMU inviting Glenn Youngkin and sticking by its decision, despite many students strongly disapproving? Simple: follow the money, namely the fact that GMU is heavily funded by Virginia and needs/wants more money for a variety of reasons (e.g., the $250 MILLION expansion at its Arlington campus)…which it hopes to get while Glenn Youngkin is governor. Hence, the invitation to Youngkin to speak at its 2023 Commencement. And that's really what's going on here – not some sort of academic/philosophical commitment to free speech or whatever, but kissing Youngkin's you-know-what as a way to try to get more $$$ from his administration for GMU. Charming, huh?
Anyway, see below for the latest, in which GMU students are "on campus today mobilizing against Glenn Youngkin," chanting "keep your hate off our campus" and holding signs like "Respect My Existence or Expect My Resistance." Oh, and as for Democrats running for House of Delegates, State Senate, etc? How about SUPPORT THE GMU STUDENTS, or if you really can't bring yourself to do that, then at least don't defend GMU's slap in the face of those students?  Just a thought…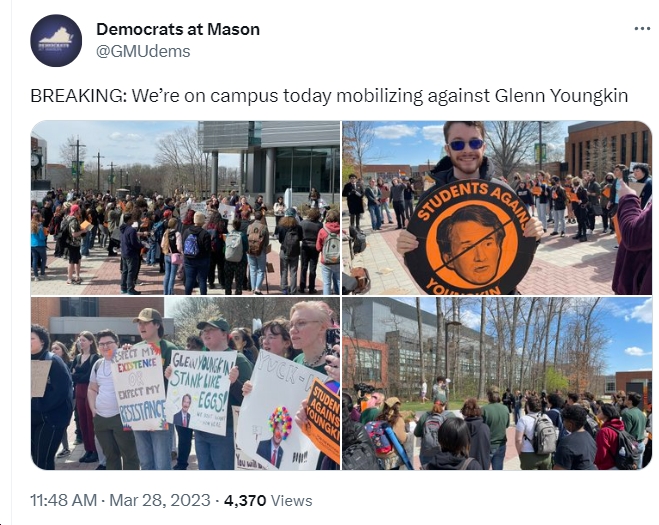 — Democrats at Mason (@GMUdems) March 28, 2023
Just a reminder that GMU students are overwhelmingly Democratic and diverse. So obviously, shoving Youngkin down their throats – *at their Commencement* no less – is NOT cool. https://t.co/7XZM7WsU1e h/t @GMUdems pic.twitter.com/1AWDEt6Wa9

— Blue Virginia (@bluevirginia) March 28, 2023
As a GMU alum, I was proud to stand with @GMUdems and other students today in their protest against Glenn Youngkin.

In Richmond, I will stand up to Youngkin and his administration.

#3 📸: @TylerJDBegley https://t.co/4cqhMC2lUM pic.twitter.com/KPiFRUDzev

— Saddam Azlan Salim for Senate VA-37 (@SalimVASenate) March 28, 2023
We are at the @GMUPres meeting letting him know that students won't be silenced. pic.twitter.com/aa09rD8cWU

— Democrats at Mason (@GMUdems) March 28, 2023