Wow, this is horrifying and completely unacceptable. I'll post further details when the are available; in the meantime, let's all hope that the members of Rep. Gerry Connolly's team will be ok.
UPDATE #2: "Rep. Gerry Connolly told me the assailant — who attacked two of his aides today — did so with a metal bat. The attacker struck one senior aide in the head with the metal bat, he said. The attacker also hit an intern — on her first day on the job — on the side with the bat. The attacker, who is a constituent from his district but who Connolly says he doesn't know, caused wide damage in his office, shattering glass in a conference room and breaking computers along the way. 'He was filled with out of control rage,' Connolly told CNN me. Connolly was at a ribbon cutting at the time for a food bank when the assailant drove to his district office and entered the building. The congressman estimates it took police about five minutes to respond to the emergency call for help."  – Manu Raju, CNN
UPDATE #1: According to a police spokesperson (see video, below), the call came in at 10:49 am, officers were on the scene by 10:54 am.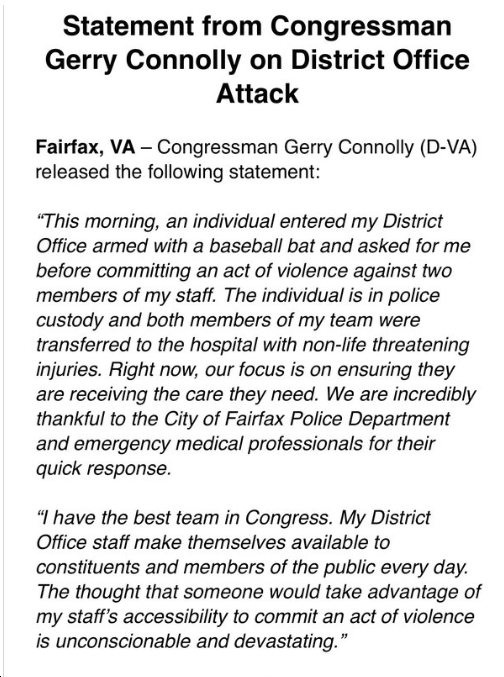 Police are currently on scene at 10680 Main Street #140, the office of Congressman Gerry Connolly, investigating the assault of two staff members. The victims are being treated for non-life-threatening injuries. The suspect is in police custody. pic.twitter.com/y5R60MxdV2

— Fairfax City Police (@FairfaxCityPD) May 15, 2023
Fairfax City Police on baseball bat attack at Congressman Connolly's office. pic.twitter.com/mOYtWhxyTt

— Drew Wilder (@DrewWilderTV) May 15, 2023