Last night, Glenn Youngkin's (and Jason Miyares') pal Nikki Haley "pivot[ed] right to crazy" – as former Rep. Denver Riggleman (R-VA05) put it – on CNN. And as VA Sen. Ghazala Hashmi says:
"Disgusting fearmongering. How many teens does Haley actually talk to? The teens I hear from are feeling bullied w/in social media circles, pressured by expectations, anxious about the future. Sadly, many are vulnerable to sexual abuse from men in their lives: men–not transgirls."
Given Haley's track record, of course, nobody should be surprised by any of this crap. But still, it's appalling…as was Jake Tapper's performance last night, where he mostly just let Haley spew out falsehoods with essentially no pushback. Pathetic – and VERY revealing of where the Trumpified/MAGA GOP(Q)'s collective head is at right now. And yes, that includes Glenn Youngkin's and Jason Miyares' heads.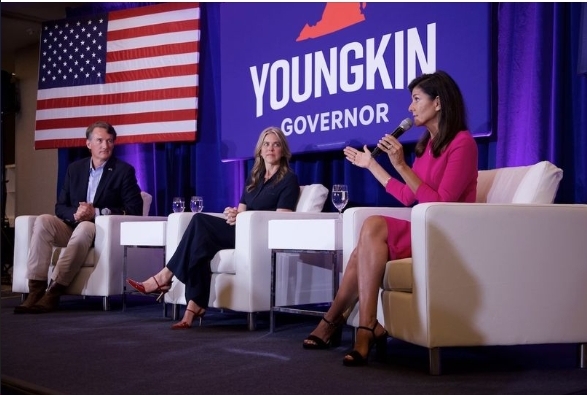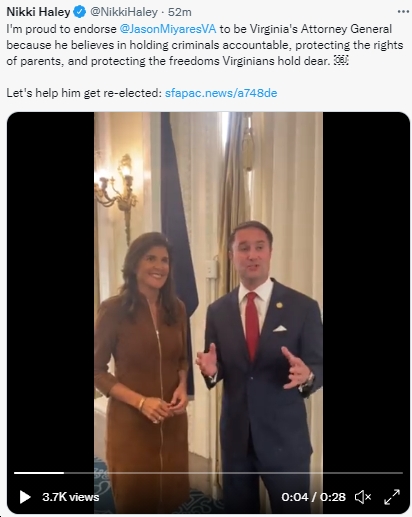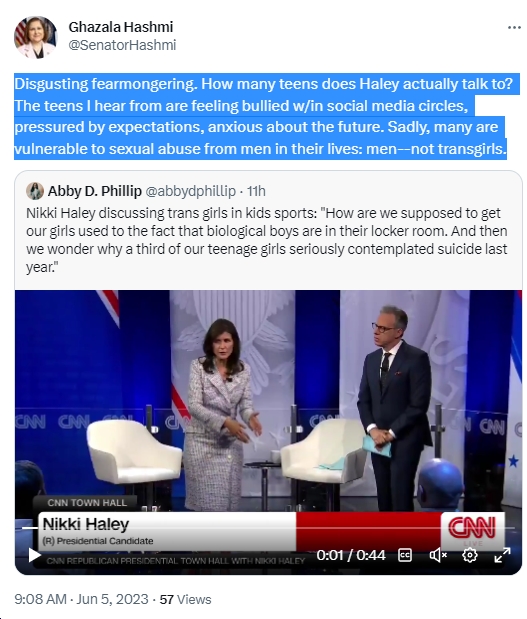 Nikki Haley's CNN appearance last night was a confirmation that the GOP is still very much the party of the Southern Strategy 60 years later, and that it remains a party built upon a foundation of bigotry, white supremacy and demonization of otherness. https://t.co/LGCFHV3Ci3

— Simon Rosenberg (@SimonWDC) June 5, 2023
Stop it @NikkiHaley. The natl media did not "try to make it about race." It was. Dylann Roof is an avowed, unrepentant white supremacist who sought out Mother Emmanuel because of its historical significance for the Black community & b/c he wanted to kill Black ppl. Ugh. Pls. https://t.co/B8dXqQYeHZ

— Sherrilyn Ifill (@SIfill_) June 5, 2023
Nikki Haley was always this awful. But like Rudy Giuliani, she benefited from favorable media early in her career. The more you see her, the more you see her lie. https://t.co/105hrSU5aV

— Mark Jacob (@MarkJacob16) June 5, 2023
Nikki Haley is a morally and ethically adrift word salad bar. And she is among the most coherent of the GOP candidates. https://t.co/KxuTokIRsh

— David Rothkopf (@djrothkopf) June 5, 2023
Congratulations Lieutenant Governor Sears! So glad to see more bad ass Republican women leading the way!❤️👠🐘 https://t.co/FmBM6G6ZZN

— Nikki Haley (@NikkiHaley) January 16, 2022