Home
Authors
Posts by Mike McLaughlin
Mike McLaughlin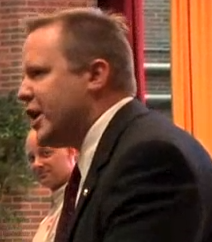 Corey Stewart's latest failed attempt to seek higher office has certainly been interesting to watch for Prince William County political observers. Corey began the campaign fresh off a strong showing in 2011 and told reporters after his announcement that the nomination would be locked up quickly. That unraveled as Scott Lingamfelter, from Corey Stewart's back yard, jumped in the race and looked like he could shake up the PWC base. Corey's downward spiral in the LG race has been well documented, but the real question is, what effect this will have on his campaign in PWC in 2015 and beyond.
It is clear there is a strong division in PWC Republican circles. Former Stewart allies, such as conservative bloggers Jim Riley and Greg Letiecq are now on the outs with the Stewart machine. Since 2006 Riley and Letiecq have done the dirty work for Stewart's campaigns, leading the crusade on immigration and pushing attacks on opponents. While they come out of this race a bit damaged after predicting an earlier exit for Stewart, the alliance is clearly fragile and Stewart may not get their same support in the future. Corey's continued relationship with Donna Widawski, an immigration activist and Republican campaign attack-dog from Gainesville, is also turning off some Republican activists who view her as too extreme.
The Republican activists look ready to split IF a candidate would jump in and primary Stewart in 2015. At the end of Stewart's current term, he will have become the longest serving Chair in PWC history, with no Chair ever being elected to a third full term. As supporters of equality all across the country have turned their eyes to the Supreme Court this week to watch arguments about California's Prop 8 and the Defense of Marriage Act, Corey Stewart has issued a statement regarding his views on "traditional marriage." No, Corey Stewart has not joined "moderates" such as Dick Cheney, Bill O'Reilly and Rob Portman in supporting the rights of all people in this country. After all, how would doing something like THAT help Corey win the LG nomination at the Virginia Republican convention in May?
Instead, earlier today on his website, Stewart published a bizarre video (see above) reaffirming his support for what he calls "God Ordained Marriage". According to Stewart, "Public policy should first be aimed at strengthening families, whether that be economic policy, education policy or family policy.
Let's take a look at Corey Stewart's record on these three key public policy areas.
After Stewart's failed, hate-fueled immigrant bashing in 2007, Prince William County became the epicenter of the underwater housing crisis and one of the largest foreclosure markets in the country. Businesses and consumers fled Prince William County for a more stable business climate. Prince William County has still not fully recovered, with empty store fronts all along major business corridors in the county. Having grown up and worked in Prince William County in off year elections, it has certainly been exciting to see this swing county get national attention in the last two Presidential campaigns. It is clear that Prince William County has potential to turn blue very soon, but the key is to energize Presidential voters in off year elections.
In 2011, I ran Dr. Babur Lateef's campaign for Chair of the Board of County Supervisors against nativist Corey Stewart. With the support of Party Chair Bruce Roemmelt, we ran a campaign unlike any other in the county that year. At Dr. Lateef's insistence, our campaign was the ONLY campaign in the county in 2011 that supported EVERY other Democrat on the ballot – at any level. While we were unsuccessful in picking up seats, Prince William County re-elected every Democratic incumbent.