Home
Authors
Posts by A Siegel
A Siegel Yesterday, EPA Administrator Lisa Jackson went to a children's hospital to announce the new regulations to control boiler emissions that will address 40-year old gaps in the Clean Air Act. As Jackson and commentators have noted, these regulations will save thousands of lives and have an economic value easily nine times greater than the costs to implement them. An 800 percent return on investment should look pretty good to any of us. As David Roberts so accurately put it:
The Mercury Rules Announced Today Are a Bona-Fide Big Deal
Examining the discussion of the new regulations suggests a question: has the Environmental Protection Agency and all the advocates for action gotten the value calculation wrong?
While Meteor Blades at Daily Kos commented Three cheers for the Obama administration's new mercury and acid emissions rules, do we have good reason to belt out loudly with a fourth cheer?
Based on an initial look, the answer seems to be yes. While
members of Congress are raising h-ll about the Solyndra bankruptcy
along with many who are
forgetting that they once touted Solyndra as the future
, just a little distance away,
Solandra technology
is powering an absolutely gorgeous home available for public visit for the coming two weeks.
This house, the University of Tennessee's Living Light, is part of one of the nation's most important (and sadly too little discussed) intercollegiate competitions is about to open in Washington, DC: the biennial Solar Decathlon. Opening to the public 23 September, the Decathlon brings together 19 university teams from around the globe to compete across ten categories (thus, "decathlon"). After having reviewed all the Solar Decathlon entries, this post will look more closely at Living Light.
Living Light is a very high-quality efficiency house whose
form is inspired by the cantilever barns of southern Appalachia. In terms of actual living space, this is one of the smallest (if not smallest homes) because of the team's intent: they will take Living Light on a tour throughout Tennessee, showing the reality of the promise of solar technology. Thus, this is designed to be easily transported (with the direct living space transported on one truck and additional transport for elements like decks and spare solar tubes. Along with more solar electricity capacity than required to meet the house's actual needs (and thus power production that will help boost competitive positioning re electricity production), this design element helped push up the unit's price. Sometimes, your kids tell you great things.
We have the coolest house on the street.
Wow.
We're cool -- according to the kids.
Certainly isn't the non-existent slide for the pool that isn't there.
Our lack of a huge media room and the glaring absence of a gym didn't contribute.
And, while I've always thought it cool that we live on the white house of the street, that isn't it either.
My fourth-grader son explained to me why it's cool:
Because we know where our electricity comes from.
Last fall, facing a bit of pressure (mainly from 350.org) about the absence of solar from the White House roof since the Reagan Administration took off the panels President Carter put it, the Administration promised that the White House would have solar panels up on the roof "before the end of spring".
As of today, 15 June 2011, the White House still doesn't have solar panels on it.
The clock is ticking as even with climate disruption messing up our seasons, spring still ends 20 June ... "We think what we can be is the canary in the coal mine," Republican Representative Darryl Issa told reporters.
Congressman Issa's words are prophetic -- evidently he and his colleagues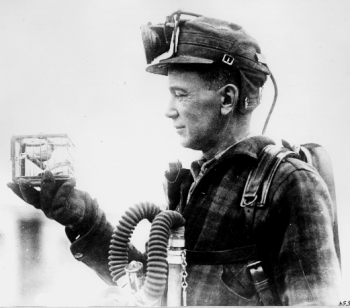 consider themselves to be the 'canaries in the coal mine' since they are taking steps with the newly introduced Continuing Resolution to kill off as many canaries in the coal mine to protect Americans from environmental, safety, and other risks.  For example, the proposal includes a
22 percent reduction in the Center for Disease Control and Prevention
, massive cuts in basic science research, budgets slashing seeking to essentially eliminate U.S. government research on climate change, ... a true
anti-science syndrome
agenda. Innovation. It's the new buzzword. Haven't you heard. It's the rage. Ten times ... The President used the word "innovation" ten times in the
State of the Union speec
h.
The first step in winning the future is encouraging American innovation. None of us can predict with certainty what the next big industry will be or where the new jobs will come from. Thirty years ago, we couldn't know that something called the Internet would lead to an economic revolution. What we can do -- what America does better than anyone else -- is spark the creativity and imagination of our people. We're the nation that put cars in driveways and computers in offices; the nation of Edison and the Wright brothers; of Google and Facebook. In America, innovation doesn't just change our lives. It is how we make our living.
You'd think that every member of the Administration would be doing everything -- EVERYTHING -- possible to enable this critical innovation. In the face of the winter storm that hit the nation, Texans suffered a series of rolling blackouts as some 50 fossil-fueled power plants (coal and natural gas) shut down due to frozen pipes and other problems. (See:
Blacked Out Texas: Seeking understanding or Falsely laying blame?
) In the face of readily available information, including from Texas' own grid-managers (ERCOT), there is a bevy of fossil-foolish commentators falsely asserting that 'greening' efforts are to blame for freezing Texans.  For example,
The Drudge Report has suggested that the Texas blackouts were "a direct consequence of the Obama administration's agenda to lay siege to the coal industry, launch a takeover of infrastructure under the contrived global warming scam, and help usher in the post-industrial collapse of America."
Rush Limbaugh has put the blame on 'federal red tape'. "It's not just in Texas, that's everywhere. And, folks, let me tell you something: If Obama gets his way, rolling blackouts will be the new norm. What do you think 'green energy' is?"
These political motivated and, well, simply false attacks threaten American prosperity and security. Considering that Lowell put up pretty Arlington lights the other day ...
Do you love those displays of Christmas (or Hannukah or Kwanza or ...) lights? Are you awed by those so impassioned that they string up 1000s of lights in awesome displays worthy of a city center? I once did, pausing on cold winter nights, white clouds issuing from my mouth, enjoying being in the glow of beautiful displays. And, in a way, I was inspired that they would spend $1000s (or $10,000s) on displays and the electricity to power them so that others could enjoy the sight on those cold winter nights.
But ... no longer ... not for awhile. Far too often nowadays, my winter evenings I can wear short sleeve shirts
rather than bulky coats and gloves. And, energy is no longer a question simply of money. I've reached the point of feeling like a Scrooge; feeling outrage over the tons of C02 going into the atmosphere via neighbors' 10,000 light displays rather than feeling 'joyous'.
But, a compromise does exist; a path to cut sharply those CO2 emissions while still putting out those lights: LED lights. But, far too many are unwilling to spend the money upfront to cut their electricial use, reduce their pollution, and -- actually -- save quite a lot of money. Dear Senator Webb,
Put bluntly, it was people like me who got you elected. I participated in (as a minor cog) Draft Webb. I, at my own expense, printed a two-page Jim Webb biography and put it on 1000s of windows. I donated, raised money, and otherwise work to get you elected.
Having been exposed to you for decades, through your professional activities and your writing and otherwise, I had incredible respect for you and swelled with pride at the potential that you would be representing me and my fellow Virginians in the U.S. Senate.
And, well, I am feeling increasingly betrayed.