From the Democratic Party of Virginia:  DPVA and DGA Hold Press Call On The Virginia GOP's Extreme Pro-Trump Nominee For Governor, Glenn Youngkin Richmond, VA — Today,...
From the Democratic Governors Association: VIDEO: As Biden Signs ARP, DGA Calls Out VA GOP Candidates for Refusing to Support COVID-19 Relief The DGA released a...
The following press release is from the Democratic Governors Association (DGA), on the story we broke here on Blue Virginia early this morning. Virginia GOP...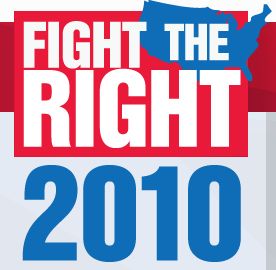 The Democratic Governors Association today launched a major new grassroots initiative to rally Democrats and activists for the 2010 election. The grassroots effort represents a bold move for the DGA and also warns of the growing Sarah Palin/Tea Party-led fringe that wants to take America backward.
The FighttheRight2010 site includes a number of compelling features:
"Never Surrender" - a provocative 90-second video rallying Democrats to action in November. The video takes on naysayers and builds to a rallying cry for progressives to stay engaged in the elections.
Six Degrees of Sarah Palin - a feature visually highlighting the growing and frightening web of connections between Republicans and the former Alaska governor.
A Fringe 16 tournament - a bracket competition between Republicans' fringe ideas that allows users to vote to determine which ideas are the most out-of-touch.
Visit and participate. Bets on who tops the Fringe 16?