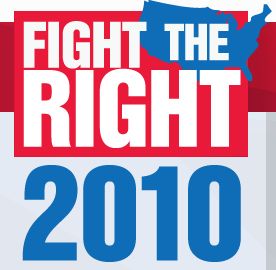 The Democratic Governors Association today launched a major new grassroots initiative to rally Democrats and activists for the 2010 election. The grassroots effort represents a bold move for the DGA and also warns of the growing Sarah Palin/Tea Party-led fringe that wants to take America backward.
The FighttheRight2010 site includes a number of compelling features:
"Never Surrender" – a provocative 90-second video rallying Democrats to action in November. The video takes on naysayers and builds to a rallying cry for progressives to stay engaged in the elections.
Six Degrees of Sarah Palin – a feature visually highlighting the growing and frightening web of connections between Republicans and the former Alaska governor.
A Fringe 16 tournament – a bracket competition between Republicans' fringe ideas that allows users to vote to determine which ideas are the most out-of-touch.
Visit and participate. Bets on who tops the Fringe 16?