by Lowell Here are a few national and Virginia news headlines, political and otherwise, for Thursday, October 11. Stock Rout Spreads as Bonds, Currencies Stay...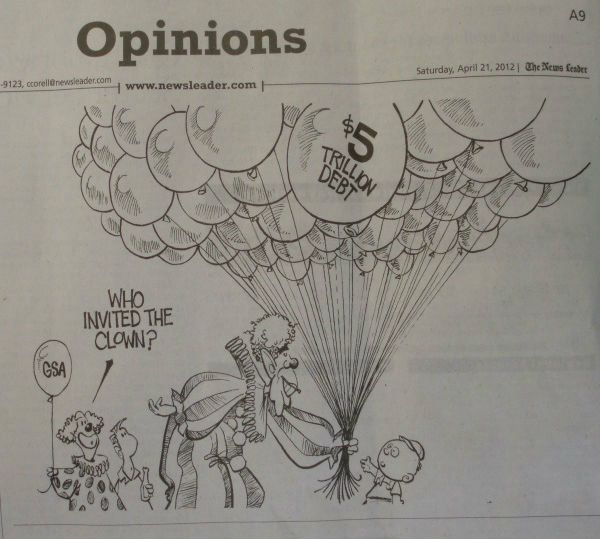 This was published last Saturday in a
Gannett newspaper
right
here in Virginia
. A search for it online has yielded no success. The mother paper,
USA Today
, does not proudly include it in the cartoon gallery. There is no attribution. Even harder to find is any succinct message. Can you?
"We are being led by a dog eating communist." - Glenn Beck
Someone mentioned this cartoon Saturday afternoon. No success finding it online, but a trip to the library located an issue. It appears the campaign of character assassination is raging at the local as well as the national level. The target is the person, not the policies. It relies on perceptions that have been crafted weaving threads of misinformation into a shroud of whole cloth over the past three years. American politics has an ugly history. It is about to get a much uglier future.
Courtesy of
USA Today
, here's today's hilarious example of old media #FAIL. These are the folks who are supposed to have quality control, as opposed to the evil and unprofessional blogosphere? Ha. Seriously, the old media can't tell the difference half the time between millions and billions, gallons and barrels, "wildlife" and a "wildfire." On the other hand, they ARE very good at reporting endlessly about the latest shark attack/missing white girl/phony right-wing-fever-dream-created "scandal" (aka, "climategate"). And beating back deer, bears, coyotes, etc. in LA.