by Lowell Here are a few national and Virginia news headlines, political and otherwise, for Tuesday, June 18.  Hong Kong leader signals end to extradition...
by Lowell Here are a few national and Virginia news headlines, political and otherwise, for Wednesday, June 12. Also, click on the image of Chaz's...
by Lowell Here are a few national and Virginia news headlines, political and otherwise, for Friday, June 29. Washington Girds for Battle Over Kennedy's Replacement ...
by Lowell Here are a few national and Virginia news headlines, political and otherwise, for Tuesday, October 10. 'What the f*ck is wrong with this...
My god, I've missed him...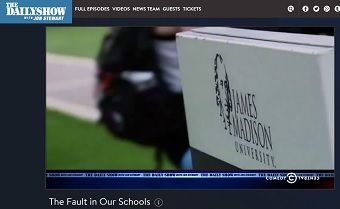 Now we have to wonder why this isn't on the JMU or, for that matter, the McAuliffe administration's radar. It's been a week now since
WHSV reported on the Sarah Butters sexual assault case
. More than 10,000 have signed the online petition for justice. Silence. Crickets chirping in Richmond.
This case is horrifying. But at least the woman has evidence...you know, video...At least this time the school cannot sweep this one under the rug...James Madison University is going to be the laughing stock of this country...WTF? Are colleges trying to incentivize sexual assault?
Okay, the U.S. Department of Education thinks there is a problem. We here at Blue Virginia think there is a problem. Over 10,000 people online think there's a problem. The student body President thinks there is a problem. A party to the investigation thinks there is a problem. But no one in those fine buildings in Harrisonburg or Richmond have the courage to come forward. Maybe they are waiting for Republicans to force their hands.
This is exactly how we handle sexual violence in America; until it's our daughters. But of course, then it's too late. Just like the response to this travesty.
(Update: Well, the video has been taken down. Here's the link to a copy.)
Bill Maher nails it on the ridiculous, insulting and just plain wrong assertion by the dynamic duo of comedy that there is any kind of equivalence between the extreme rhetoric and behavior of the "right" (er wrong) and the left.
No, Jon, there is no equivalence on the left to what has been going on during the past couple of years. None. This is not about young v old viewers. Many of the older people I know love Jon Stewart as much as younger people do. So do I. But Jon has, as Keith Olbermann said, jumped a small shark in his claim of false equivalence.
Let's face it, most of us like good comedy. And I have often enjoyed The Daily Show or the rich satire in The Colbert Report. However, I am afraid that the so-called "Rally to Restore Sanity" was part of the problem. Indeed Stewart himself told Terry Gross that " So it's not - you know, people have said it's a rally to counter Glenn Beck." Many rally goers went specifically to rejoinder Glenn Beck.
Yet, the comedians want them and you to believe that both sides of the political aisle are equally wrong and equally to blame for what is wrong in America. That would be laughable if it were not so utterly untrue, unfair, and even manipulative. And it could only be suggested by those who purport to be aloof and "better than" those who have worked for decades to make this country a better place WITHIN partisan politics. Yet there is Stewart pretending to be above the fray, to be better than those standing up to the assaults, abuse and --let's admit it--downright un-American behavior coming from even supposed mainstream Republicans this season. So two years ago, just to get this straight, two years ago America broke up with you, because you had badly mistreated her. And so you disappear, do some soul-searching, get your head together, and you come back rapping on our door, hat in hand, and you say, "Baby, I know you love me. But if we get back together, I pledge to you, I promise you, I will still try to fuck your sister every chance I get. It's who I am, baby! It's who I am! Now, make up your mind, because I'm not going to ask you twice! To review:
Here's Rupert Murdoch. He owns Fox News. Now, he definitely has ties to Prince Al-Waleed bin Talal. Al-Waleed bin Talal owns the second largest share of NewsCorp, outside of the Murdoch family. He owns 7%, $2.5 billion dollars. Now, they say he's a liberal Muslim, but he is in the Saudi royal family, which may have ties to funding the Wahhabist mosques, the same particular brand of Islam practiced by some of the terrorists. And he may have business dealings with the Carlyle Group, whose clients include... bin Laden family, one of whose sons, now obviously I'm not going to say which son, one of whose sons may be anti-American. I'm just connecting this, I'm just reading off the highlighted card.

By the way, after 9/11, Mayor Rudy Giuliani would not... after 9/11, Rudy Giuliani would not accept $10 million from the same Prince Al-Waleed, because he had cited Mideast policy as one of the reasons that we were attacked, which is the same reason they said that the imam down at the Ground Zero mosque was a radical.

So I think that, really, when you look at this card, and you do highlight it in yellow, the only thing you can come up with is: Is Fox News a terrorist command center? I don't know. I just don't know. I'm just saying that you can draw this up.