Home
Tags
Martin Luther King
Tag: Martin Luther King
The following Twitter exchange between Craig Melvin and Jamil Smith points out that it makes zero sense for people to "quote Dr. King on...
by Bill Rice, a student at Georgetown University Law Center, interning this summer at the Virginia Poverty Law Center "I must confess that over the...
by Lowell Here are a few national and Virginia news headlines, political and otherwise, for Monday, MLK Jr. Day, January 22. Blow: Trump Is a...
by Lowell Here are a few national and Virginia news headlines, political and otherwise, for Martin Luther King, Jr. Day, January 16, 2017. Somehow, "We...
The pathway forward against the violence and hate of the Trump campaign is impossible for either the Republican establishment or the Democratic establishment, but...
Mark Warner voted against the assault weapons ban. Mark Warner voted against limiting the size of magazines. Mark Warner is the most popular political figure in Virginia, and could have voted for both measures without in any way jeopardizing his reelection in 2014
Mark Warner is from a state that saw the slaughter at Virginia Tech. Cho used both ten and fifteen round magazines for his two handguns. Think how much damage he did. Think how much more he might have been able to do had he had 30 round magazines and had to change less frequently.
I have been involved in Democratic politics in Virginia including at a statewide level. Mark Warner is considered the 800 pound gorilla of Virginia Democratic politics. In a sense my taking this stand may make me toxic in Virginia politics.
I don't care.
It does not matter that neither of these amendments were going to pass. I rely on the words of Martin Luther King, Jr.:
There comes a time when one must take a position that is neither safe, nor politic, nor popular, but he must take it because conscience tells him it is right.
It matters not to me whether Mark Warner believes the baloney of the gun lobby or merely lacks the guts to stand up for what is right. What is right is to stop the slaughter.
If you are unwilling to step up to that, I am unwilling to offer you my support, my money or my vote.
At this moment, when our politics appear so sharply polarized, and faith in our institutions so greatly diminished, we need more than ever to take heed of Dr. King's teachings...we have a duty to fight against poverty even if we are well off...

...If [Martin Luther King Jr.] were alive today, I believe he would remind us that the unemployed worker can rightly challenge the excesses of Wall Street without demonizing all who work there; that the businessman can enter tough negotiations with his company's union without vilifying the right to collectively bargain. He would want us to know we can argue fiercely about the proper size and role of government without questioning each other's love for this country - (applause) - with the knowledge that in this democracy, government is no distant object but is rather an expression of our common commitments to one another. He would call on us to assume the best in each other rather than the worst, and challenge one another in ways that ultimately heal rather than wound.
All so true, as Martin Luther King, Jr. was "an impassioned advocate of economic justice as well as social justice" (according to his son, writing in today's
Washington Post
), in addition to full equality for all Americans. I just wish he were alive today, as I'm confident that he'd be fighting with for progress and against reactionaries, bigots, and demagogues, as he always did in his life. Thank you, Dr. King.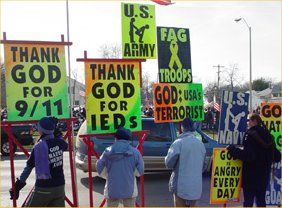 Hampton Roads personality, Mike Imprevento, takes on one aspect of free speech arising from the Westboro Baptist decision during his new
radio show today on WNIS
. The subject matter on his weekly motorcycle show began broadening during the Wisconsin public union spat. Now he has this new forum.
"The Westboro thing is a no brainer. A hero comes back dead and some morons from Kansas who have no life experience at all pronounce that this person is dead because of American foreign policy and the fact that we have gays in the military? It's ridiculous." -- Mike Imprevento
This episode about crafting a local ordinance that will protect families of fallen soldiers from the harassing antics of the caustic Kansas clique is aimed squarely at the broader Hampton Roads audience. Though he points out that the Supreme Court decision begs the larger question about at what point we decide certain statements do not deserve any protection (when a reasonable person would consider that the words might insight violence), it appears he wants to focus more manageably on these specific tactics. With the eclectic WNIS audience, you never know which side a caller may take and the initial comment by a caller may not reveal the agenda for the call, making for some unexpected twists when a subject like this is broached (as you will see under the fold). Courtesy of
Charles Lemos at MyDD
, here are two photos of the Lincoln Memorial and Reflecting Pool area of the National Mall. The first photo is from August 28, 1963, Martin Luther King's "I have a dream" speech, attended by approximately 250,000 people.
Now, compare to August 28, 2010. As Charles Lemos says, "In 1963, 0.0013228 percent of the US population was present to hear Dr. King's I Have a Dream speech. At Beckamania just 0.000281 percent of the US population came to hear the ramblings of a certifiable pair of morons." That would be 87,000 (overwhelmingly white) people to hear Glenn Beck, as estimated by independent/private outfit AirPhotosLive.com (the right wingnuts are throwing around "numbers" as high as 2 million, which of course is as delusional as their political philosophy). So, MLK had 3 times the people - and a much more diverse crowd, as well - attending his rally at a time when the U.S. population was just 189 million (compared to about 310 million in 2010). Yesterday was a beautiful day, couldn't ask for better weather in Washington, DC, so that's certainly not why attendance was such a dud. Heck, the inaugural concert for Barack Obama's inauguration, held on January 18, 2009, had 400,000 attendees in the dead of winter, with temperatures in the 20s. So, maybe yesterday's Beck/Palin attendance "fail" has more to do with the (deeply flawed) messengers and the (incoherent, angry) message they're delivering?
h/t: MyDD
UPDATE: The Washington Post utterly fails again, describing Beck's rally as "a sea of activists" and "an enormous crowd." Uh, sorry, but 87,000 people isn't "a sea" or "enormous." It's a low-medium-sized rally on the Mall, much smaller than the Million Man March (400,000), the pro-immigration-reform "March for America" (200,000), the pro-choice "March for Women's Lives" (500,000-1.1 million), an anti-war demonstration on January 18, 2003 (100,000-200,000), the March on Washington for Gay and Bi Equal Rights and Liberation (300,000), and many others. So, if Beck's rally was "enormous," what were these other rallies? Super ginormous? LOL
UPDATE #2: Excellent article by Robert McCartney, explaining how the Beck and Palin fans' "apocalyptic views hinder constructive political debate". Here is Martin Luther King III
, from an
August 25 op-ed in the Washington Post
:
Although he was a profoundly religious man, my father did not claim to have an exclusionary "plan" that laid out God's word for only one group or ideology. He marched side by side with members of every religious faith. Like Abraham Lincoln, my father did not claim that God was on his side; he prayed humbly that he was on God's side.

He did, however, wholeheartedly embrace the "social gospel." His spiritual and intellectual mentors included the great theologians of the social gospel Walter Rauschenbush and Howard Thurman. He said that any religion that is not concerned about the poor and disadvantaged, "the slums that damn them, the economic conditions that strangle them and the social conditions that cripple them[,] is a spiritually moribund religion awaiting burial." In his "Dream" speech, my father paraphrased the prophet Amos, saying, "We will not be satisfied until justice rolls down like waters and righteousness like a mighty stream."

[...]

I pray that all Americans will embrace the challenge of social justice and the unifying spirit that my father shared with his compatriots. With this commitment, we can begin to find new ways to reach out to one another, to heal our divisions, and build bridges of hope and opportunity benefiting all people. In so doing, we will not merely be seeking the dream; we will at long last be living it.
Martin Luther King, Jr. -- a great American with a "dream" we can all embrace. And no, Glenn Beck, you are no Martin Luther King, Jr.