Dominion Resources and its regulated subsidiary, Dominion Virginia Power, are gambling big on natural gas. But while the utility giant will be a winner if gas prices stay low over the next 20 years, the risk of losing this bet is very real-and the risk is being borne disproportionately by Virginia consumers.
Ever since the shale gas boom sent natural gas prices into a tailspin beginning in 2008, Dominion has increasingly been putting its chips into gas. Its Virginia subsidiary just completed a 1,329 megawatt (MW) natural gas plant in Warren County, began construction last year on a 1,358 MW gas plant in Brunswick County, and last month announced plans for a 1,600 MW plant in Greenville County, to be operational in 2019. Virginia ratepayers will foot the bill for construction costs, plus the cost of operating and fueling these mammoth plants for decades to come.
But while Virginians tend to think of Dominion as an electricity provider, its bigger business line is in natural gas transmission and storage. According to the Dominion website, its subsidiary Dominion Transmission, Inc. maintains 7,800 miles of pipeline in six states and operates what it says is one of the largest underground natural gas storage facilities. Another subsidiary operates 1,500 miles of pipeline in South Carolina and Georgia. The company is moving aggressively to add and upgrade compressor stations and build additional pipeline capacity in West Virginia and Pennsylvania.
It is also angling to add a massive 42-inch diameter, 550-mile gas pipeline to run from West Virginia through Virginia to the coast in North Carolina. Promising a vast new supply of cheap fracked gas for industrial users, Dominion has won the support of lawmakers like Virginia Governor Terry McAuliffe while galvanizing opposition from landowners and environmentalists.
Meanwhile, Dominion has another game afoot, with plans to begin exporting liquefied natural gas from its Cove Point, Maryland facility. Upgrading the facility will cost the company $3.8 billion, and running the liquefaction facility will require 240 MW of power (using more natural gas). Natural gas is so much more expensive in foreign markets that Dominion considers the gamble worthwhile, even as it cites a U.S. Energy Information Administration study for the proposition that little or no natural gas would be exported if the U.S. price "increases much above current expectations."

My last post covered clean energy bills introduced into the 2015 legislative session, which began last week and ends at the end of February. Time to hustle on to the oil, gas, and coal bills.
Coal subsidies
Coal companies claim to be victims of a "war on coal," but for nearly two decades they've been conducting a war on Virginia taxpayers. Virginia's tax code offers so many preferences that a 2012 study concluded the coal industry costs Virginia more than it gives back. Among other preferences, two different subsidies in the Code have allowed coal companies to siphon off tens of millions of dollars annually from the General Fund since 1996.
The subsidies come with nominal sunset dates, currently January 1, 2017. Over nearly twenty years, no matter how fat or lean the state's financial condition, the legislature has repeatedly passed extensions, and they are being asked to do so again this year. HB 1879 (Kilgore) and SB 741 (Carrico) would extend the giveaway out to 2022.
(According to VPAP.org, Delegate Kilgore, chairman of the Commerce and Labor Committee, gets a check for $10,000 every year from coal giant Alpha Natural Resources. Alpha also gives ten grand a year to Senator Carrico, who just happens to sit on Senate Finance, which will hear the bill. I mention these facts only in passing. It would be cynical to suggest a connection.)
Supporters of the subsidies seem to believe coal companies need the inducement to blow up our mountains and dump waste into stream valleys. And they maintain this is a good thing for the people of Southwest Virginia, who can enjoy gainful employment by participating in the destruction of their communities.
The coal companies certainly do benefit from this arrangement, but coal jobs have declined to less than 5,000 total in Virginia today, and it's clear to everyone that Southwest Virginia needs to diversify its economy or face a future of poverty and high unemployment. The coal subsidies suck up money that could be spent on new jobs and a better-educated workforce.
Nobody laughed a few years ago when former governor Bob McDonnell dubbed Virginia the "Energy Capital of the East Coast"; we were all too astounded. And today, even "Energy Suburb" still seems like a stretch. Yet, if you measure achievement by the sheer level of activity, Virginia is making a play for importance. The year's top energy stories show us fully engaged in the worldwide battle between fossil fuels and renewable energy. Of course, while the smart money says renewables will dominate by mid-century, Virginia seems determined to drown rather than give up its fossil fuel addiction.
Coal falls hard; observers disagree on whether it bounces or goes splat. Nationwide, 2014 was a bad year for the coal industry. Coal stocks fell precipitously; mining jobs continued to decline; and the one thing electric utilities and the public found to agree on is that no one likes coal. Even in Virginia, with its long history of mining, coal had to play defense for what may have been the first time ever. So when Governor McAuliffe released the state's latest energy plan in October, what was otherwise a paean to "All of the Above" omitted the stanza on coal. And this month, the governor proposed a rollback of the subsidies coal companies pocket by mining Virginia coal.
Of course, coal is not going quietly; Senator Charles Carrico (himself heavily subsidized by Alpha Natural Resources) has already responded with a bill to extend the subsidies to 2022.
EPA opens a door to a cleaner future, and Republicans try to brick it up. Speaking of hard times for coal, in June the EPA unveiled its proposal to lower carbon emissions from existing power plants 30% nationwide by 2030. Instead of targeting plants one-by-one, EPA proposed a systemic approach, offering a suite of options for states to reach their individualized targets.
The proposal drew widespread support from the public, but Virginia's 38% reduction target set off howls of protest from defenders of the status quo. The staff of the State Corporation Commission claimed the rule was illegal and would cost ratepayers $6 billion. Republicans convened a special meeting of the House and Senate Energy and Commerce Committees, where they tried out a number of arguments, not all of which proved ready for prime time. The rule, they said, threatens Virginia with a loss of business to more favored states like-and I am not making this up-West Virginia. Also, Virginia should have received more credit for lowering its carbon emissions by building nuclear plants back in the 1970s when no one was thinking about carbon emissions.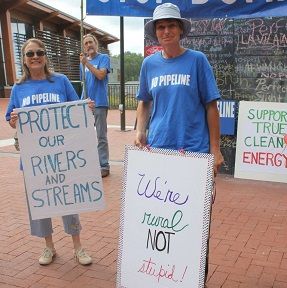 Here is the 5th in the series, "We're Rural, Not Stupid." The photo included in this post [below the fold] of the mudslides in Nelson was included in this
Washington Post article.
The photo is part of a collection owned by Nelsonian, Dick Whitehead. Mr. Whitehead's father, Bill Whitehead, was the sheriff in Nelson County in 1969 when the flood occurred.
Tamra Marshall lives in Nellysford, Virginia. Her family has a long history in the hills of Nelson County. Her Grandpa Jack Marshall worked with the Citizen Conservation Corps building the [Blue Ridge] Parkway, as locals refer to it, and many of the local roads during lean times. Tamra has strong opinions about Dominion's proposed Atlantic Coast Pipeline relating to the unmarked graves of those Nelsonian's who lost their lives and were never found in the aftermath of Hurricane Camille.
Here is Tamra's story: Cross-posted from that great revenue generator Richmond Progressive Examiner.
I won't be diplomatic about Democratic candidate for governor Terry McAuliffe's change of face regarding offshore oil drilling. In an about face that dovetailed both U.S. Senator Tim Kaine and Mark Warner's (Virginia) bill to overturn the federal hold on offshore drilling in coastal waters, McAuliffe expressed support for offshore drilling for oil.
Previously, McAuliffe expressed his support for exploratory drilling for natural gas, not oil. With his Democratic pals pushing to throw more oil and natural gas rigs into America's coastal waters, McAuliffe has adjudged that the political winds are ripe for a political change of face and a stab in the back to environmentally conscious Virginians who so ardently backed his candidacy.
"Terry believes we need to support coal workers, both through increased exports throughout the world, and workforce training to ensure that displaced workers can find new careers," McAuliffe spokesman Josh Schwerin said. "The fact is, we need an all of the above energy policy that focuses on increasing renewable energy like wind and solar while supporting existing Virginia industries."
Support coal workers, WTF?! I have a bitter pill I'd like the coal industry and its employees to swallow: your time is up, so get over it and find jobs elsewhere.
America is forecast to get less than 40% of its electricity from coal this year, mostly replaced by cheaper, less polluting natural gas and to a lesser extent by emerging renewables like solar & wind. That would be
coal's lowest level in more than 60 years
:
Just five years ago, coal was flourishing in the U.S. With electricity demand and the price of natural gas both rising, coal was viewed as essential to keeping power costs under control. Utilities drew up plans to build dozens of coal-fired plants.

But around the same time, a revolution was under way in the natural gas industry. Drillers figured how to tap enormous deposits of previously inaccessible reserves. As supplies grew and the price of natural gas plummeted, the ground shifted under the electric-power industry. [...]

Power plants that burn coal produce more than 90 times as much sulfur dioxide, five times as much nitrogen oxide and twice as much carbon dioxide as those that run on natural gas, according to the Government Accountability Office, the regulatory arm of Congress. Sulfur dioxide causes acid rain; nitrogen oxides cause smog; and carbon dioxide is a so-called greenhouse gas that traps heat in the atmosphere.
For coal industry apologists, here's the real kick in the pants: "
Even without the EPA rules, coal is not really competitive
," says Jone-Lin Wang, head of Global Power for the energy research firm IHS CERA. So much for coal executives' fever dreams of a "
war on coal
."
So if America really has put coal in its rear view mirror, what does it mean for Appalachia? Countries like Saudi Arabia are taking their oil profits and pouring them into renewable energy to prepare for the inevitable decline of their oil reserves. Is there a similar plan to prepare Appalachia for a world where its coal is too expensive and too dirty? Or any plan at all?
If you're looking for evidence the Tea Party is a
fake movement funded by polluters like the Koch brothers
to distract voters into freaking out about fake threats while overlooking real ones, look no further than fracking. As Mother Jones reports, Tea Partiers in
Kansas
and
Arizona
are losing their minds not just about
current
made-up anti-sustainability and Islamophobic conspiracies, but the
possibility of future residents deciding to solve aforementioned made-up problems
.
But what about the very real threat posed by the natural gas drilling technique known as fracking
? While it creates huge profits for corporate drillers, nearby residents see few benefits and face
potential health threats
:
The report, based on three years of monitoring, found a number of potentially toxic petroleum hydrocarbons in the air near the wells including benzene, ethylbenzene, toluene and xylene. Benzene has been identified by the Environmental Protection Agency as a known carcinogen. Other chemicals included heptane, octane and diethylbenzene but information on their toxicity is limited.

"Our results show that the non-cancer health impacts from air emissions due to natural gas development is greater for residents living closer to wells," the report said. "The greatest health impact corresponds to the relatively short-term, but high emission, well completion period." That's due to exposure to trimethylbenzenes, aliaphatic hydrocarbons, and xylenes, all of which have neurological and/or respiratory effects, the study said. Those effects could include eye irritation, headaches, sore throat and difficulty breathing.

"We also calculated higher cancer risks for residents living nearer to the wells as compared to those residing further [away]," the report said. "Benzene is the major contributor to lifetime excess cancer risk from both scenarios."
Much more data is needed on the threats posed by fracking to our air, water and public health. To learn more about fracking, tune in to NPR's series this week,
The Fracking Boom: Missing Answers
. Dominion VA Power's most recent brilliant idea for turning Virginia into an energy independent Mecca that the world over can envy comes in the form of a $1.1 billion natural gas-fired power plant in Southside Virginia.
If approved by Virginia's "regulators," that natural gas ship would start sailing (and polluting) in 2016.
While natural gas is a better energy alternative than the coal-fired power plants at Dominion's Chesapeake Energy Center in Chesapeake and Yorktown Power Station that Dominion publicly announced it would close by 2016, natural gas is still a significant greenhouse gas threat and it's unclear how long natural gas can fill Virginia's energy needs in any meaningful way.
True energy independence is of course achieved through the use of solar and wind technology to harness the Earth's natural sources of energy. So if Dominion VA Power is serious about energy independence, where are the $1.1 billion investments in these two energy sources? In a sense, Rockingham County is a fitting name and place for Virginia's first test-case of Big Gas's ability to "fracture" Virginia's portion of the Marcellus Shale. This geologically named and Republican dominated (at least as far as the Rockingham Board of Supervisors in Rockingham County is concerned) portion of Virginia was said to be an "ideal place" to construct Virginia's first natural gas well in the Marcellus Shale not only due to its proximity to other natural gas extraction operations in West Virginia but also because of its Republican leaning Board of Supervisors. Luckily for Virginians, a Republican supervisor, Pablo Cuevas, dug a little deeper into the possible consequences of what drilling would mean for his district of Bergton and he didn't like what he saw or the answers that he was given.
It's become a trope, but Pablo Cuevas demonstrates the non-partisan nature of environmental issues like natural gas drilling. Pablo didn't inherently accept the fact that natural gas drilling's benefits ("billions of dollars in new revenues" and of course jobs) would outweigh the costs. Pablo didn't put the interests of Big Gas ahead of the interests of the people he represented. Interestingly, but perhaps not surprisingly, it seems that at least one state agency, the Department of Mines, Mineral and Energy was willing to put the interests of Big Gas over those of Rockingham County's inhabitants. Actually, that's not much of a surprise, is it?
Wait, you mean President Obama isn't killing U.S. oil production? In fact, according to
US Energy Information Administration statistics
, U.S. oil production actually
fell
by about 1 million barrels per day while George W. Bush was in office, and now has
risen
by nearly 1 million barrels per day since Barack Obama's been in the White House? Fascinating, huh? Oh, and U.S. oil company profits are
through the roof
, with the supposedly anti-oil president in the White House. Hmmmm.
Now, check out the "flip" for the story on natural gas. Hint: it's not what you'll hear from Faux, Rush, etc.
UPDATE: Also note that EIA forecasts U.S. domestic crude oil production to increase again in 2012, by about 230,000 barrels per day. D*** Obama!!! LOL