America is forecast to get less than 40% of its electricity from coal this year, mostly replaced by cheaper, less polluting natural gas and to a lesser extent by emerging renewables like solar & wind. That would be
coal's lowest level in more than 60 years
:
Just five years ago, coal was flourishing in the U.S. With electricity demand and the price of natural gas both rising, coal was viewed as essential to keeping power costs under control. Utilities drew up plans to build dozens of coal-fired plants.

But around the same time, a revolution was under way in the natural gas industry. Drillers figured how to tap enormous deposits of previously inaccessible reserves. As supplies grew and the price of natural gas plummeted, the ground shifted under the electric-power industry. [...]

Power plants that burn coal produce more than 90 times as much sulfur dioxide, five times as much nitrogen oxide and twice as much carbon dioxide as those that run on natural gas, according to the Government Accountability Office, the regulatory arm of Congress. Sulfur dioxide causes acid rain; nitrogen oxides cause smog; and carbon dioxide is a so-called greenhouse gas that traps heat in the atmosphere.
For coal industry apologists, here's the real kick in the pants: "
Even without the EPA rules, coal is not really competitive
," says Jone-Lin Wang, head of Global Power for the energy research firm IHS CERA. So much for coal executives' fever dreams of a "
war on coal
."
So if America really has put coal in its rear view mirror, what does it mean for Appalachia? Countries like Saudi Arabia are taking their oil profits and pouring them into renewable energy to prepare for the inevitable decline of their oil reserves. Is there a similar plan to prepare Appalachia for a world where its coal is too expensive and too dirty? Or any plan at all?
If you're looking for evidence the Tea Party is a
fake movement funded by polluters like the Koch brothers
to distract voters into freaking out about fake threats while overlooking real ones, look no further than fracking. As Mother Jones reports, Tea Partiers in
Kansas
and
Arizona
are losing their minds not just about
current
made-up anti-sustainability and Islamophobic conspiracies, but the
possibility of future residents deciding to solve aforementioned made-up problems
.
But what about the very real threat posed by the natural gas drilling technique known as fracking
? While it creates huge profits for corporate drillers, nearby residents see few benefits and face
potential health threats
:
The report, based on three years of monitoring, found a number of potentially toxic petroleum hydrocarbons in the air near the wells including benzene, ethylbenzene, toluene and xylene. Benzene has been identified by the Environmental Protection Agency as a known carcinogen. Other chemicals included heptane, octane and diethylbenzene but information on their toxicity is limited.

"Our results show that the non-cancer health impacts from air emissions due to natural gas development is greater for residents living closer to wells," the report said. "The greatest health impact corresponds to the relatively short-term, but high emission, well completion period." That's due to exposure to trimethylbenzenes, aliaphatic hydrocarbons, and xylenes, all of which have neurological and/or respiratory effects, the study said. Those effects could include eye irritation, headaches, sore throat and difficulty breathing.

"We also calculated higher cancer risks for residents living nearer to the wells as compared to those residing further [away]," the report said. "Benzene is the major contributor to lifetime excess cancer risk from both scenarios."
Much more data is needed on the threats posed by fracking to our air, water and public health. To learn more about fracking, tune in to NPR's series this week,
The Fracking Boom: Missing Answers
. Dominion VA Power's most recent brilliant idea for turning Virginia into an energy independent Mecca that the world over can envy comes in the form of a $1.1 billion natural gas-fired power plant in Southside Virginia.
If approved by Virginia's "regulators," that natural gas ship would start sailing (and polluting) in 2016.
While natural gas is a better energy alternative than the coal-fired power plants at Dominion's Chesapeake Energy Center in Chesapeake and Yorktown Power Station that Dominion publicly announced it would close by 2016, natural gas is still a significant greenhouse gas threat and it's unclear how long natural gas can fill Virginia's energy needs in any meaningful way.
True energy independence is of course achieved through the use of solar and wind technology to harness the Earth's natural sources of energy. So if Dominion VA Power is serious about energy independence, where are the $1.1 billion investments in these two energy sources? In a sense, Rockingham County is a fitting name and place for Virginia's first test-case of Big Gas's ability to "fracture" Virginia's portion of the Marcellus Shale. This geologically named and Republican dominated (at least as far as the Rockingham Board of Supervisors in Rockingham County is concerned) portion of Virginia was said to be an "ideal place" to construct Virginia's first natural gas well in the Marcellus Shale not only due to its proximity to other natural gas extraction operations in West Virginia but also because of its Republican leaning Board of Supervisors. Luckily for Virginians, a Republican supervisor, Pablo Cuevas, dug a little deeper into the possible consequences of what drilling would mean for his district of Bergton and he didn't like what he saw or the answers that he was given.
It's become a trope, but Pablo Cuevas demonstrates the non-partisan nature of environmental issues like natural gas drilling. Pablo didn't inherently accept the fact that natural gas drilling's benefits ("billions of dollars in new revenues" and of course jobs) would outweigh the costs. Pablo didn't put the interests of Big Gas ahead of the interests of the people he represented. Interestingly, but perhaps not surprisingly, it seems that at least one state agency, the Department of Mines, Mineral and Energy was willing to put the interests of Big Gas over those of Rockingham County's inhabitants. Actually, that's not much of a surprise, is it?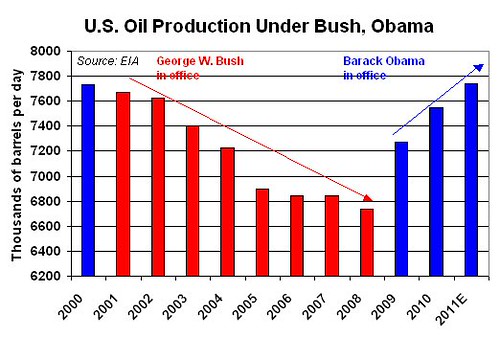 Wait, you mean President Obama isn't killing U.S. oil production? In fact, according to
US Energy Information Administration statistics
, U.S. oil production actually
fell
by about 1 million barrels per day while George W. Bush was in office, and now has
risen
by nearly 1 million barrels per day since Barack Obama's been in the White House? Fascinating, huh? Oh, and U.S. oil company profits are
through the roof
, with the supposedly anti-oil president in the White House. Hmmmm.
Now, check out the "flip" for the story on natural gas. Hint: it's not what you'll hear from Faux, Rush, etc.
UPDATE: Also note that EIA forecasts U.S. domestic crude oil production to increase again in 2012, by about 230,000 barrels per day. D*** Obama!!! LOL
Last night at a fundraiser for the Virginia Progressive Caucus (organized by Del. Patrick Hope) in Arlington, prior to a showing of the powerful, anger-inducing (against the rapacious natural gas industry) documentary film
Gasland
(on the hazards of natural gas "fracking," of which there are many!) two important environmental leaders - JR Tolbert from the Sierra Club and Jeffrey Painter of the League of Conservation Voters spoke about Virginia energy policy.
JR Tolbert focused on fracking in Southwest Virginia, as well as Governor McDonnell's foolish focus on making Virignia the "energy capital of the East Coast" solely through fossil fuels. Tolbert pointed out that fracking injects chemicals into the ground that have an impact on local communities. The question, in Tolbert's mind, is "do you choose corporations and corporate profits over public health and safe drinking water?" Sadly, it appears that Bob McDonnell sides heavily with corporate profits over public health. Tolbert also emphasized the crucial importance of maintaining our "Virginia State Senate environmental firewall" against the climate science deniers and "radical, anti-environmental agenda" of Bob McDonnell et al. So, get out and vote and protect that firewall!
Jeff Painter reiterated Tolbert's point about the crucial importance of keeping Democratic control of the Senate "firewall" against the Republicans' radical, anti-environment agenda. Painter then talked about uranium mining, and the need to keep the ban in place. Virginia Uranium, which is actually a Canadian company, has been lobbying hard, and spending boatloads of money (including to buy people off), to convince Virginia legislators to lift that ban. Painter emphasized the importance of contacting your legislator and letting them know what you think about this issue (e.g., oppose lifting the ban!). I asked Painter whether Virginia Uranium's lobbying efforts, including flying lawmakers to France and Canada, have been effective. According to Painter, they haven't been particularly effective, "for all the money that they have spent." So now, they're looking at other alternatives, maybe through the budget process and/or through the governor's office via regulations. In other words, these people are relentless, and they get paid good money to do this, so they're not going to stop until they get their way - or, better yet, are defeated once and for all.
P.S. The music in the background is the intro to the film Gasland. I actually think it's appropriate that it was playing during Tolbert's and Painter's remarks.
Here's a chance to see the award-winning documentary
Gasland
while supporting a
great organization
:
Gasland, The Movie


NRECA, 4301 Wilson Blvd, Arlington, VA
October 18, 7-9pm

Delegate Patrick Hope, The Virginia Progressive Caucus, The Virginia Sierra Club & The Virginia League of Conservation Voters invite you to watch the thought provoking movie, Gasland. Tuesday, October 18, 2011 from 7:00 - 9:00 pm at National Rural Electric Cooperative Association 4301 Wilson Boulevard, Arlington, VA 22203. Proceeds will benefit the Virginia Progressive Caucus - Friend $25 • Donor $50 • Sponsor $100 • Patron $250 • Benefactor $500. To register in advance visit https://secure.actblue.com/ent... or call Mary 703-486-1010
I can't make the movie, but just contributed $25 anyway to show my support for the Virginia Progressive Caucus. You should too & ActBlue makes it easy, so
go give $5, $10, $25 or more right now
.
Cross-posted from Scaling Green
There's a great deal of buzz right now over a new study by Cornell professors on the topic of natural gas' environmental impact.  Specifically, the Cornell study calls into question the status of natural gas as a supposedly clean-burning alternative to coal, potentially a "bridge fuel" between oil and coal on the one hand, and clean energy on the other.  The problem is this:

While natural gas has been touted as a clean-burning fuel that produces less carbon dioxide than coal, ecologist Robert Howarth warns that we should be more concerned about methane leaking into the atmosphere during hydraulic fracturing.

Natural gas is mostly methane, which is a much more potent greenhouse gas, especially in the short term, with 105 times more warming impact, pound for pound, than carbon dioxide (CO2), Howarth said, adding that even small leaks make a big difference. He estimated that as much as 8 percent of the methane in shale gas leaks into the air during the lifetime of a hydraulic shale gas well -- up to twice what escapes from conventional gas production.

"The take-home message of our study is that if you do an integration of 20 years following the development of the gas, shale gas is worse than conventional gas and is, in fact, worse than coal and worse than oil," Howarth said. "We are not advocating for more coal or oil, but rather to move to a truly green, renewable future as quickly as possible. We need to look at the true environmental consequences of shale gas."
Given these findings, several stark questions arise. First, as
Brendan DeMelle notes at DeSmog Blog
, "the widely-held perception that gas is the 'cleaner' darling of the fossil fuel trio is a myth." Second, if this is true, then
the Obama administration's inclusion of natural gas
as part of its "clean" energy mix might be badly mistaken. Finally, if natural gas is no better than coal or oil in terms of its greenhouse gas implications, not to mention its other adverse environmental impacts,  then
the concept of using gas as a "bridge fuel"
"to a clean-energy future" appears to be badly mistaken.
The bottom line is clear: if natural gas isn't clean, in fact if it's worse than oil or coal from an environmental perspective, then all the more reason to just skip the "bridge" and go right to the solution - clean energy sources like wind, solar, and efficiency.
According to the Associated Press, there's been another "natural gas"
explosion in the West Virginia
:
Investigators are trying to determine what caused an explosion and fire at a producing gas well in West Virginia's Northern Panhandle.

No one was hurt in the accident Sunday at a Chesapeake Appalachia LLC site in rural Marshall County, but it sparked a fire that may need 48 hours to burn out. The well is about nine miles from Cameron.
This photo shows a previous gas explosion in the same area:
The fire is the second at a natural gas operation in Marshall County in recent months. Seven workers were injured June 7 in a blast near Moundsville.
Maybe West Virginia would be better off developing its
utility-scale wind power potential
?