by Dan from Nevada When the Supreme Court issued a stay on Obama's Clean Power Plan on February 9, 2016 it sent a signal to...
by Lowell I received the following statement by Environment Virginia earlier today, pertaining to yesterday's announcement of the "Governors Accord for a New Energy Future."...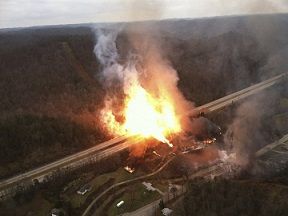 Like his discredited predecessor and kowtowing to the fossil fuel sector, Governor McAuliffe has embraced an "all of the above" energy plan that begrudgingly mentions renewable energy. Tomorrow he'll foist it at the
Science Museum of Virginia
. Some of the people he avoided in Charlottesville will be inside to greet him.
Climate change activists, including Richmond Resistance have organized an assembly that is drawing participants from across Virginia. While access to the event inside the museum is at capacity, some activists who oppose the Dominion natural gas pipeline did obtain entry and will be there. They do not intend to disrupt the event, but will wear shirts that show solidarity with those picketing outside.
The Sierra Club commended the McAuliffe plan for promoting renewables "to jump start our lagging clean energy business sector."

On the other hand, the club's Virginia director, Glen Besa, said in a statement that McAuliffe's support "for offshore drilling, and expanding gas pipelines and coal technology exports seriously undercuts his intentions to address climate change." --Associated Press via Seattlepi.com
Talk about faint praise.
And the Sierra Club understates the main objection. This plan egregiously ignores the impact of the "strategy" on climate change. Between the lines is a pragmatic acceptance of fracking and the resulting threat to aquifers and the atmosphere; just to mention a couple of things vital to the environment.
There appears no serious investment in wind and solar energy contained in the 461 page plan. The Governor's continued pragmatism on climate change and other issues may do more to suppress Virginia's Democratic vote in 2016 than any Republican scheme, much to the chagrin of a close and personal friend. In an attempt to defend its almost complete disregard of clean energy in its Integrated Resource Plan, Dominion VA Power made a number of arguments in its defense in a statement given to the Associated Press prior to a scheduled SCC hearing regarding its 15-year energy plan on Tuesday. First, Dominion emphasized that its 15-year plan is not "set in stone". Dominion also cited its PROPOSED addition of 30 megawatts of solar power on leased commercial rooftops (this seems to me to be more of an argument against Dominion. 30 megawatts, really?). Thirdly, Dominion also pointed to its bids for leases to build wind farms off of Virginia's coast. All of these arguments need to be filed under the growing narrative of Dominion as big on words of good intention and woefully short on substantive action towards clean energy.
First, given Dominion's paltry baseline for renewable energy in 2026 (2.8%), any increase in their percentage of renewable energy in the years ahead would undoubtedly remain at unsatisfactory levels, at levels which would hardly put a dent in our state's greenhouse gas contributions.
Secondly, an extra 30 megawatts of solar power is not the large scale solar power that Virginians want and is therefore a moot defense. The primary reason that Virginians want clean energy is to stem the tide of climate change. 30 megawatts is hardly a drop in the pond and only illustrates either Dominions total lack of understanding of what Virginians are demanding or a blatant attempt to slow-walk clean energy in Virginia by continually PROPOSING (and sometimes constructing) small-scale clean energy projects to quell criticism of its policies.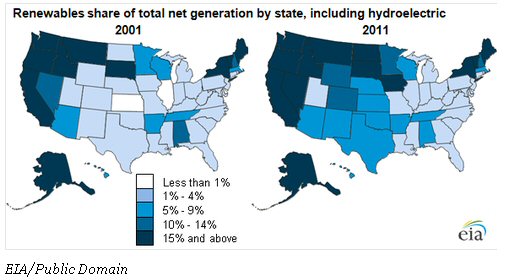 According to
EIA
, "Non-hydroelectric renewable generation has increased in many states over the past decade." Those states include "blue" states (e.g., the west coast, the northeast) and "red" states (e.g., Texas, Nebraska, Kansas, Oklahoma, Idaho). Then there's a state you might be familiar with, where its governor likes to talk about turning it into the "energy capital of the east coast." Yes, that would be Virginia, and no, we are not moving in the least bit towards becoming the "energy capital of the east coast."
Why not? Bad/stupid policies, basically, like our absurd failure to enact a strong, mandatory Renewable Portfolio Standard (RPS), as many other states have done. Also, how about net metering? Strong tax incentives for homeowners and businesses to install renewable energy, energy efficiency, etc? At this point, we're lagging way, wayyyy behind many other states, let alone many other countries.
350.org's Bill McKibben and the Chesapeake Climate Action Network's Mike Tidwell says when it comes to investing in clean & secure energy sources,
Virginia fouls out
:
The problem is the state's largest utility, Dominion Virginia Power. While states like Minnesota and Iowa get 10 to 20 percent of their electricity from wind power alone, creating thousands of jobs, Dominion generates zero electricity for Virginia ratepayers from wind or solar.

Instead, the utility invests overwhelmingly in dirty fossil fuels. Despite rising global warming concerns and smog-filled summer skies in Shenandoah National Park, Dominion plans to increase the renewable-energy slice of its cumulative energy pie by a microscopic 0.4 percent over the next 15 years. You read that right: 0.4 percent.

There's no sign things will change without some loud and much-deserved booing from the crowd. Which is why ratepayers from across the state have set Saturday as "The March to End Dominion's Power Madness."
The rally will be Saturday (March 24) at noon outside Dominion's Richmond headquarters, sign up at
EndPowerMadness.com
. Fellow (Blue) Virginians and bloggers, did you know that Dominion Virginia Power is the
largest non-party political contributor
to Virginia's candidates and committees? As such, Dominion has crafted energy policy in Virginia in its own image, an image that doesn't always reflect the interests of all Virginians under Dominion's umbrella. For instance, Dominion was awarded
$76 million
for meeting Virginia's weak renewable energy standard while literally generating ZERO wind and solar power in Virginia. There is clearly little benefit to rewarding Dominion to buy renewable energy from outside of the commonwealth when the renewable energy standard was constructed to create renewable energy
inside Virginia
.
On top of that, Dominion executives plan to keep on developing fossil fuel power plants and ignoring renewable energy. According to the company's 2011 Integrated Resource Plan, which looks 15 years into the future, they plan to still generate less than 3% renewable energy in 2026.
These are a few of the reasons why the Chesapeake Climate Action Network along with other environmental groups is holding a rally and a march outside of Dominion's HQ in Richmond on March 24 at 12PM. On March 24, supporters of clean energy will meet at Kanawha Plaza to march around Dominion VA Power's HQ and form a human chain. We will demand that Dominion invest in clean energy for VA's future now. There will also be world-renown and Virginia-based environmental speakers such as Phil Radford of Greenpeace USA and Mike Tidwell of the Chesapeake Climate Action Network (CCAN) who will discuss the need for clean energy in Virginia, the role of corporate money in politics, and how Virginia can become the example for clean energy use and construction. If you support clean energy, now is the time to come out and show it. This will be the biggest environmental rally in Virginia's history. I hope to see you all on March 24 and we can make history together! In the roundabout and vague language of Dominion VA Power, specifics are the only form of statements that can be trusted by this company. So when an employee of Dominion comments that Dominion "will continue evaluating transmission options to ensure the identification of the lowest cost alternative for bringing offshore wind electricity to consumers," it sounds like a vortex of time has opened up for Dominion to cozy up to wind energy whenever they feel the urge (the quotation came as a response to a recently released report by AAB Power Systems Consulting that evaluated the "offshore transmission options to support future projects").
The issue, then, isn't whether wind energy is going to be built and used in Virginia; it's a question of when. How many more years do Virginians have to wait for Dominion to find "the lowest cost alternative" before we begin to reap the noticeable benefits of offshore wind energy? Sure, the review process isn't a simple one, but enough is enough, it's time to start building wind energy for Virginia.
Some Virginians have worried about the higher initial costs of offshore wind energy, costs which the Department of Energy has estimated to amount to 24 cents per kilowatt hour. However, these costs do not take into account the health benefits that Virginians in particular will reap from an increasing reliance on offshore wind energy. If and when economists agree on a way to "cost" the health benefits from clean energy, the difference between the latter and fossil fuel energy costs will not seem so stark.
Virginians shouldn't have to plead with their utility service to pick up the pace on investing in renewable energy. But the reality is that we have to continually remind Dominion that the health and wallets of Virginians are more important than their bottom line. On March 24 at 12PM, I hope to see you all at Virginia's largest environmental protest outside of Dominion's HQ in Richmond. Our individual actions can make a difference, and we'll only know if we try. The CEO of the Richmond, VA based Dominion Resources Inc., Tom Farrell, noted that any national energy strategy must decrease the use of fossil fuels during his Keynote Speech at CERAWeek 2012.
It's a relief that Mr. Farrell recognizes America's crushing reliance on energy sources that are wreaking havoc on our lungs and our climate.
What Mr. Farrell is really saying is that he and his company want to be at the head of this energy revolution, controlling the market share along with the profits. At least, this is what Dominion's Robber Baron past would lead one to conclude. Our old friends at Dominion VA Power, Appalachian Power, and Virginia's friendly power cooperatives were up to their old obstructionist antics again when one lobbyist from each of the three hulking dinosaurs effectively killed HB 129 (Electric Utilities; purchases from net metering sellers) until next session of the General Assembly. The main bone of contention/opposition on the part of Virginia's Goliath power distributors was the "deregulatory" nature of HB 129. Playing to the Senate Labor and Commerce committee's deepest fears, Dominion VA Power's veteran lobbyist opined that HB 129 would have opened another Pandora's Box of regulatory versus deregulatory struggles inside Virginia. Needless to say, had this primary argument not been made against allowing end users to use solar energy from energy suppliers not named Dominion VA Power, Appalachian Power, or one of Virginia's power cooperatives, some other clever argument would have been made to derail the effort.
The fact that Del. Terry Kilgore (R-Gate City), a Republican, introduced HB 129 in the House of Delegates shows how overwhelmingly commonsensical Virginia's need for more solar power in general is. Even Senator Frank Wagner spoke up during the Labor and Commerce hearing on HB 129 to urge Virginia to finally move faster and more substantively towards solar power. You even heard the phrase "in the public interest" (Sen. John Edwards) when talking about HB 129 and the need for more renewable power in Virginia. Wow!