Home
Tags
Senator Ralph Northam
Tag: Senator Ralph Northam
Ordinarily, I don't go public with such an early draft of a piece as this. I expect that a more polished version will be...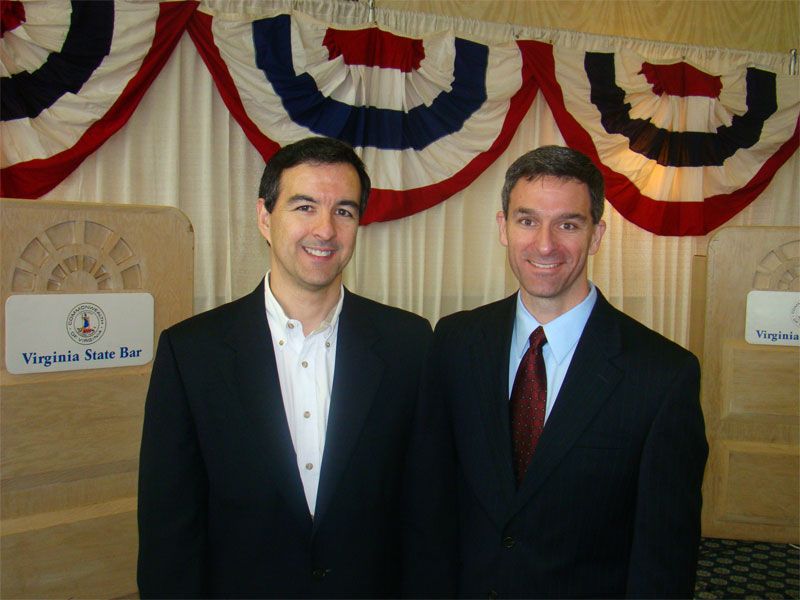 Myth plays a central role explaining the discontinuities of our experience. Ayn Rand's fundamental warning to check assumptions is often the first tenet ignored by her tea party disciples. Life by anecdote is so much more pleasant. The sky in Ben Loyola's world must be a pleasant azure.
One senses in Ben Loyola's quiet and gentle demeanor that his world view is very settled. The refined Virginia Beach Republican is an accomplished naval aviator and businessman. He's an immigrant success story. A regular at almost every Republican event in his now former district, he is most comfortable with those sharing his "conservative social values," calling himself a "Pro-Life, Pro-Family, Pro-2nd Amendment, Fiscal Conservative." It feels good to belong.
Senator Northam's opponent for the Virginia 6th isn't really running for the Virginia Senate; he is continuing his campaign for the U.S. House of Representatives. He doesn't really want to represent the 6th District; he has no substantial ties there but it was the only one handy. The filtered lens is everywhere in the candidate's life vitae and the focus isn't on the district's issues or Virginia's. There is no concern for the Chesapeake Bay, blue crabs, manufacturing and transportation on the Eastern Shore, or anything remotely essential to the constituency beyond his uncontested support of national defense. If he can find Mobjack without a GPS or even knows where it is would be a surprise. He strums the heartstrings of the tea party (and that tune plays in some parts) but at some point Loyola is going to turn and say, "Brian, we're not in Virginia Beach anymore." During a town hall in Cape Charles, Virginia,
Senator Ralph Northam (D-6th)
and
Delegate Lynwood Lewis (D-100th)
discuss potential revenues and further cuts in the Virginia budget. Senator Northam (D-6th) places the budget cuts in perspective and confirms that unconditional tax pledges take workable solutions off the table.
"A penny added to our gasoline is about $50 million...
North Carolina has a gasoline tax of 30 cents; Virginia has a tax of 17 cents. If you drive from Virginia to North Carolina, you'll notice a couple of things. One, the roads are much better; two, the price of gas is maybe 2 or three cents higher on the average. So what happens is the fuel companies compensate, they even out the prices so that there is not a big difference state to state." - Senator Ralph Northam
And from Senator Northam's 14 January General Assembly Update:
"Last month, Governor McDonnell made some suggestions for how he envisions us rebalancing the state budget. My colleagues and I have been reviewing his plan, and while I support some of his ideas, there are others that I find troubling, especially his proposal to have teachers and state employees pay more into their own pension plans. Most importantly, I don't believe it is fair to change the rules of the game for people who are planning their futures around a retirement we promised them. It is true, however, that we need to address the issue of solvency in the Virginia Retirement System, and I applaud the Governor for tackling it head-on. I am confident that in the coming weeks we will arrive at a better solution." - Senator Ralph Northam
The McDonnell approach to state finance: borrow and spend. The Governor's shell game is a shameful ruse to shift the burden for his "accomplishments" to vested state employees and future taxpayers, and the blame to his successors. Sadly, some Democrats are beginning to acquiesce to pressure to deliver any solution to our transportation problems.