by Lowell Here are a few national and Virginia news headlines, political and otherwise, for Sunday, March 19. Wild man behind rock-and-roll's rebellious spirit dies...
UPDATE:  Eddie Whitlock, the chair of the Henrico County Republican Committee, will replace Massie on the ticket. Del. James P. Massie III (VA-72) has called...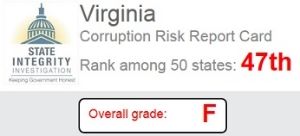 It isn't politicians alone. Commercial media never called out a horribly flawed Governor and Attorney General. Less than two dozen citizens showed up for a public forum on ethics. And the newspaper that hosted that event obscured references to specific instances of malfeasance. Truth is, it's always open season here.
Monday, the outgoing Lieutenant Governor issued a memorandum he penned proposing changes to existing ethics standards. Where was he when it was revealed that his fellow Republican statewide office-holders violated the very standards he proposes? Or anytime during his almost two decades in the Senate chamber? Wednesday members of the House of Delegates offered up what was termed a "sweeping bipartisan ethics reform agreement." The only thing it sweeps is the issue under the carpet. I am ashamed it's called bipartisan. And consistently the media has offered up little in the way of objective or substantive reporting on ethics violations.
Maybe the citizens of Virginia don't care that the state is rated one of the most vulnerable to corruption by the Center for Public Integrity. When the Richmond Times Dispatch held one if its Public Square events last October, it was sparsely attended. When it reported on the discussion, the transcript that publisher Tom Silvestri promised was delivered redacted, removing the most compelling discussion, much of which was about politicians the paper regularly supports.
A couple of things before I continue. No doubt Tom Silvestri would be a super game show host and is certainly an entertaining addition to any cocktail party guest list, but I wouldn't count on his paper or any Media General product for my news. Delegate Jimmie Massie (R-72nd) will come across in what follows as at best naïve and sometimes self-serving, but gives no cause to suspect his personal integrity. At least Delegate Massie puts himself out there and should be applauded for showing up and his openness during this discussion. But there are a number of things you might not know if you rely on the redacted transcript (or "highlights" to use the paper's term), you weren't among the twenty or so at the forum, or you can't find the full video online because the Times Dispatch has made that difficult to search by titling it Public Square 1008 on YouTube. This was Public Square 48. Phil Hamilton's legal defense reveals the low ethical bar for Virginia politicians. The fact that he can argue that unethical behavior is not criminal and is thereby acceptable should alarm the electorate. Apparently influence peddling and enrichment from the campaign coffers is just fine. Welcome to the third world.
Hamilton's attorney admits that a collection of emails establishes that Hamilton talked to ODU about a job while pursuing funding for a teacher training center. At times, the two subjects come up in the same email. Those facts are not disputed.
However, says the defense attorney, nowhere does Hamilton force the issue in a way that proves criminal intent. Apparently if you are gentlemanly while soliciting a bribe, you don't literally pull a gun, there is no coercion and it is just routine business. At least one party to the crime evinced he knew this was shameful:

Blackburn (the man who hired Hamilton) said Hamilton was hired "because he secured the funding." Blackburn also hid the truth of Hamilton's job when members of the Senate Finance Committee visited ODU to learn more about the center. He didn't provide information to a committee staffer because "I didn't want her to know what was going on - that money had been exchanged for a job." - Daily Press