UPDATE:  Eddie Whitlock, the chair of the Henrico County Republican Committee, will replace Massie on the ticket.
Del. James P. Massie III (VA-72) has called it quits!  After nearly a decade of holding his seat in the Virginia General Assembly unopposed, Massie folded when confronte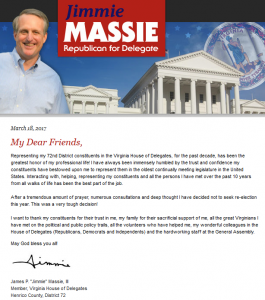 d by a strong Democrat running a vigorous and energized campaign: Schuyler VanValkenburg (Check Schuyler out here). 
Democrats and Progressives:  Virginia Republicans are feeling the heat – from Hillary's victory in traditionally Republican districts (like the 72nd) to women "up in their grills" – and they are getting out of the kitchen!  First Pete Farrell, and now Massie, who campaigned for Trump and spoke against Medicaid expansion (see my article here).  They are vulnerable!  All eyes are on Virginia this year.  Let's show the country the path forward.  Get new voters registered, volunteer on campaigns, spread the word about candidates on social media (yes, please post this article!) and donate money if you can.  You can donate to Schuyler here.