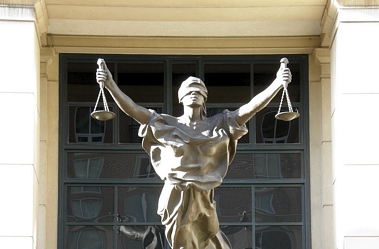 How much is 27 years wrongfully spent in prison worth? In Virginia, apparently those 27 years are worth a mere $1 million and some change.
The payment will come on the heels of legislation signed by Gov. Bob McDonnell that will award Thomas Haynesworth over $1 million after spending close to three decades in prison for sexual assaults he did not commit.
McDonnell, in his magnanimity, declared that Haynesworth's compensation was "morally right" because of the years he lost behind bars.
In case you're wondering, Haynesworth's compensation comes out to be a little over $37,000 a year ($1 million divided by 27). Do you think that $37, 000 a year is appropriate compensation? The state must be assuming that each former prisoner being compensated would be little more than a manager at McDonalds on the "outside."

Virginia took its next step to clean up the Chesapeake Bay on Friday when it submitted its revised cleanup plan to the U.S. Environmental Protection Agency (EPA).
The revised plan seeks to decrease runoff pollution from land during rainfall that runs out of sewage plants or washes off farm fields, just to name two point sources of pollution.
According to Ann Jennings, Virginia director of the Chesapeake Bay Foundation (CBF), the plan needs more specifics that are supported at the state level.
The lack of specifics isn't surprising given the McDonnell administration's antagonistic relationship to the EPA regarding the Chesapeake Bay cleanup plan in particular.
In a more general sense, the lack of concrete goals and clear state-level support for environmental projects is a mainstay of Virginia's current Republican body of politicians.
Nevertheless, understanding the importance of environmental conservation and the political benefits that accompany it, Republican political figures in Virginia have paid lip service to the idea of conservation while avoiding any substantive moves to promote environmental conservation in a sustainable way.
That is, Republican politicians in Virginia like Gov. McDonnell have attempted to score political points for promoting green policies that are less than certain in their goals and long-term financial support.
It is supremely unfortunate that such a clear cut issue like the cleanup of the Chesapeake Bay has been bogged down by the politics of our day (and many days before!).
Virginians must therefore keep pushing to set a precedent in Virginia: conservation of our historic sites and places will not be sacrificed to parochial political considerations either now or in the future. It's time for Virginia's leaders to finally do the right thing and restore the bay. Whenever you hear a phrase like "sincerely apologize" or, in the case of Governor McDonnell's uranium-mining study, "extremely transparent," my spider-sense starts tingling with mistrust about what is being said. Of course, there may be absolutely no grounds to discount the "sincere apology" of a friend who forgot to pick you up at the airport on time, for example, but in the case of Gov. McDonnell and his administration, my lie detector is constantly on alert.
The sheer fact that "key" documents will be initially withheld from Virginians is itself a red flag that politics is playing a role in the uranium mining study group. Why else would Gov. McDonnell want to keep the documents out of the public eye until the final public report is released? Wouldn't he score political cookie points by keeping the meeting process entirely transparent? If so, what his restraining his decision to do so? In another attempt to subvert the democratic process in Virginia, Gov. McDonnell is attempting to sidestep the recommendations of the National Academy of Sciences and the will of Virginians by rushing through the proposal on uranium mining and milling and shutting out stakeholders who have already accumulated expertise and information on this matter. The point of taking the decision to allow uranium mining and milling out of the hands of the legislature was to give the Uranium Working Group time to resolve some of the most serious concerns brought up by the possibility of mining and milling for uranium in Virginia.
Instead, the governor has taken the decision out of the hands of the legislature in order to circumvent the democratic process and a very uncertain future for this issue in Virginia's General Assembly.
Gov. McDonnell has continuously made two contradictory statements. The first is that his administration will pursue an "all of the above" strategy for energy, referring to any source of energy that can be extracted and used will be. Contrarily, McDonnell claims that if the energy source in question poses a known risk to human health, his administration will not pursue it.
The risks posed by uranium mining and milling are unmistakable, and even more so in a climate like Virginia's that has never witnessed uranium mining. Thus, any risk assessments undertaken must be magnified by the level of uncertainty that accompanies any assessment of a brand new situation for risk. The National Academy of Sciences (NAS) recently launched its five month public outreach effort in Danville, VA to "brief" the VA public on its recently released report on uranium mining, as required under the NAS agreement with Virginia Tech. As most of us know, however, Gov. McDonnell shrugged off this breathing period to take the numerous studies into consideration when he penned an executive order directing the creation of legal and administrative regulations for the milling and mining of uranium. So much for stakeholder education and input.
As the NAS report concluded that no technology currently exists that is capable of eradicating every risk and uncertainty involved with uranium mining, waste storage and processing, Gov. McDonnell must be assuming that the benefits outweigh the risks or that the risks are so minimal as to be of no consequence. If so, what is Gov. McDonnell basing his conclusions off of? The usual pseudo-science that the VA GOP has become adept at pulling out of thin air?
For a political party that lauds its ideological roots in Jeffersonian democracy and all that it implies, Republicans like McDonnell appear to have an ambiguous attitude towards the judgment of the people of Virginia. When were Southside Virginians asked if they wanted uranium mining and milling in their backyards? When was the public outcry in Virginia over uranium mining formally taken into account by the McDonnell administration? Why is the framework to mine and mill uranium being constructed well in advance of public input over the NAS report on uranium mining? The public, it seems, doesn't know what is good for themselves but luckily for Virginians, McDonnell and his administration does. What do Slovenia and the U.S. have in common? According to the results of a 2000 World Health Organization (WHO) ranking of the world's health systems, the U.S. ranks ahead of Slovenia by one place in the rankings. The U.S. ranks 37th while Slovenia ranks 38th. But if you think these rankings are bad for the U.S., just wait, they could get worse, at least in Virginia.
Under the pen of Gov. Bob McDonnell, funding for community health centers and free clinics would be cut in half, from $10 million to $5 million, for fiscal years 2013 and 2014. What's more, according to a Virginia Health and Human Resources report issued in late 2011, close to 298,000 low-income Virginians will stay in the uninsured category even after President Obama's Affordable Health Care Act takes effect.
For anyone who doesn't see this issue through a moral lens, let's look quickly at the economics of this issue. If a fraction of these 298,000 low-income Virginians end up requiring expensive health care, Virginia's taxpayers will have to pick up the tab while insurance premiums for the insured may increase as well. Thus, the problems of the medically uninsured have the strong potential to become a problem for the medically insured as well, economically speaking. When you're the king of the hill, it's easy to tell everyone else not to fight like Gov. Bob McDonnell has suggested to legislators of the General Assembly. The Republican Party's position of dominance in both the legislative and executive branches gives these individuals a much easier path to shove through their draconian policies. What can the Democratic Party of Virginia do to quell the Republican Party's medieval policy agenda? Fight like hell.
I won't get into a lengthy discussion of what McDonnell refers to as the "Virginia way." Instead, the American way is giving each individual under the stars and stripes an opportunity to live a comfortable life. Unfortunately, the companies and lobbyists who write the Republican Party of Virginia's legislation usually don't think about "the people" or their interests. If the interests of Virginians and big business overlap, so be it. If they don't, oh well.
Civility is a laudable virtue, especially in politics. But the Republican Party only preaches civility when it's the biggest gun in the room, not when it's scrapping for its political lifeline.
It's big business over small business and the individual. It's unchecked pollution over human and environmental health. It's the hand of God over federal health insurance. It's the Republican Party over the Democratic Party if the latter lies down and "plays nice." Cross-posted from Article XI
On Tuesday, Gov. Bob McDonnell stated that public safety overrides the possible economic gains stemming from uranium mining in Southside VA. For Virginians in the south, this is particularly good news. For the commonwealth as a whole, this should also come as a breath of fresh air (literally).
While Gov. McDonnell's announcement is far from a renouncement of uranium mining in Southside VA, it does leave the door open for the status quo on the uranium mining ban to hold.
For the past two years in particular, Virginia Uranium has thrown a slew of lobbyists into the legislative mix to influence VA legislators regarding their decisions on whether or not to lift the ban on uranium mining.
With all of the lobbyists hounding at the doors of VA legislators, however, the decision on whether to retain the ban may come down to the concern Virginians publicly show towards uranium mining.
If Virginians concerned about the possible human and environmental consequences get involved in the debate over uranium mining, and in particular voice their concerns to their respective legislators, then the default position on lifting the ban may fall towards the status quo.
For anyone in VA who doesn't feel like they have or will have a voice in this debate, I'd like them to know that they do. In fact, your involvement may be the difference between an environmental and human health disaster and a more reasoned approach towards uranium mining in VA.
So please take a few minutes out of your day to get involved and let your voice be heard. Virginia still has a republican form of government and ultimately your concerns do matter. Cross-posted from Article XI.
The James River Association, a nonprofit conservation organization, recently released its biennial report on the health of the James River, a tributary of the Chesapeake Bay. This new report will provide an update to its 2009 report findings.
In 2009, the James River Association gave the James a C-plus based on habitat assessments, wildlife, and pollution.
However, in the wake of stark state environmental budget cuts and the possibility of a Republican taking over the Oval Office in 2012, the outlook for improving upon impressive gains made in the James River seem remote.
While the McDonnell administration reluctantly engaged in the TMDL negotiations with the Environmental Protection Agency in 2010, the administration will no doubt be even less inclined to aggressively spend the money and time on cleaning up a river that many within the Republican Party of VA somehow think is doing fine or simply not worth the expenditures.
If the McDonnell administration chooses to ignore or deprioritize the cleaning of the James River, it would be an episode of fiscal hypocrisy when you take into consideration the amount of time and money that has been spent already on restoring the James River.
Virginia has already made a commitment to see one of its state treasures restored. We have to see it through, budget cuts, Republican presidents, or not.
At some point in time, somehow, Virginia's public officials, and Americans in general, blinded themselves with the belief that "what's good for the various energy industries is good for the rest of America as well." Or so this seems to be the thought-process behind so many clearly wrong-sided policies that favor increased energy extraction and use at the expense of human and environmental health. One question that arises is how far this madness will go before Americans in general and Virginians in particular say "no more!"
The current protests on Wall Street and the world-wide demonstrations surrounding renewable forms of energy attest to the growing anger and frustration over misguided, unethical, and unfair policies that have become a feature of the American landscape. But in a country such as ours where innovation is touted as a virtue par excellence, we as a country appear to have shrunk beneath the concept of "business of usual," even in the face of growing signs of negative ramifications stemming from man-made actions. We have allowed this to happen and we can provide the solutions to this integral problem.