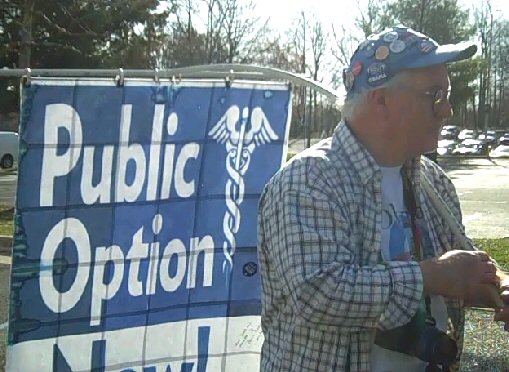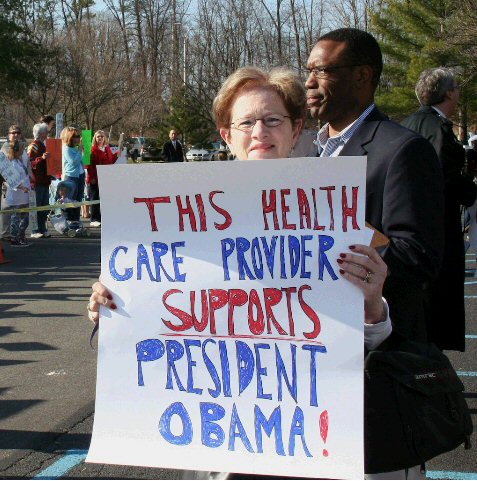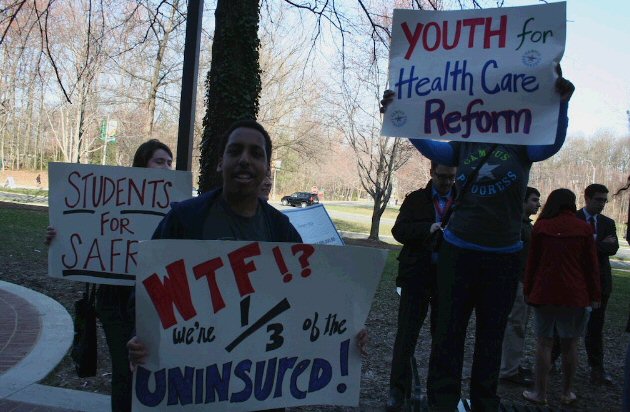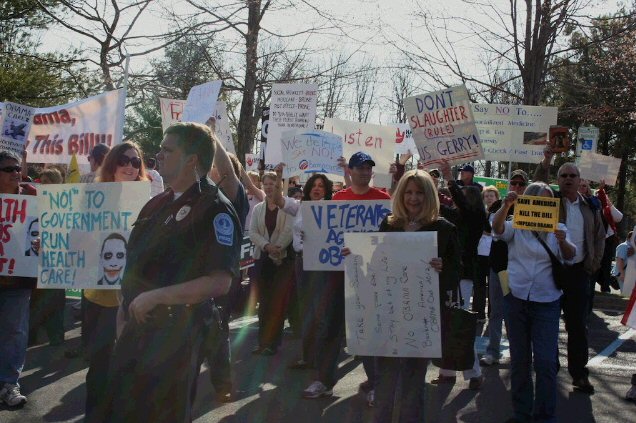 Prior to President Obama's speech on health care reform today at George Mason University, there was the standard "pregame activity" by protestors and supporters of various sorts. Here are a few photos, I'm hoping to get better ones later from people with real cameras instead of Flip videos...
P.S. Speaking of video, I'm uploading President Obama's excellent speech to YouTube now, hopefully it will be available later this afternoon or this evening at latest.
UPDATED: Excellent new photos thanks to Mary Lee Cerillo!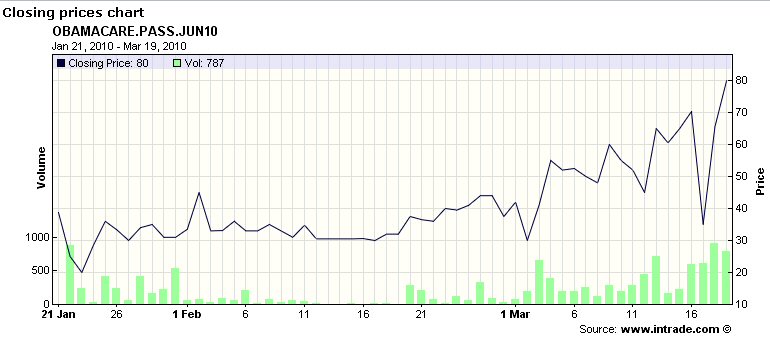 "Will 'Obamacare' health care reform become law in the United States?" According to the "prediction market" Intrade, the chances are now up to 80%. Let's hope Intrade is accurate, and let's also hope that
these four Virginia Democrats
all vote "yes" this weekend. As far as I'm concerned, there's no good reason for them to vote "no," and I'm really not interested in any excuses at this point. Just. Do. It.

Let's get this done. Right. Now.
Once again,
Ken Cuccinelli demonstrates
why: a) many of us think he's batshit crazy; b) why Democratic activists worked so hard to prevent him from becoming Attorney General of Virginia; c) why he's a complete and utter embarrassment to our Commonwealth; and d) politically speaking, why he's the "gift that keeps on giving" for Democrats. This time,
thanks to a great scoop by NLS
, Cooch reveals himself as someone who seriously questions whether Barack Obama was born in the United States.
Q: Because we are talking about the possibility that he was not born in America.

Cooch: Right. But at the same time under Rule 11, Federal Rule 11, we gotta have proof of it.

Q: How can we get proof?

Cooch: Well... that's a good question. Not one I've thought a lot about because it hasn't been part of my campaign. Someone is going to have to come forward with nailed down testimony that he was born in place B, wherever that is. You know, the speculation is Kenya. And that doesn't seem beyond the realm of possibility.
Sad to say, it's not even the least bit shocking that a guy who
denies climate change
, tries to make it
easier for people to discriminate
against gay people, claims that
Virginia can disobey federal laws
it disagrees with, believes the government is
tracking his kids via Social Security numbers
, and
talks to a toy elephant named "Ron"
would also buy into
Orly Taitz-level crazy conspiracy theories
like "birtherism." What next, is Cooch going to reveal himself as a
9/11 "truther"
as well, like
Debra Medina
? Whoops, better not give him any ideas; he's got more than enough of those already. My god, four years of this lunatic as AG? We're so screwed.