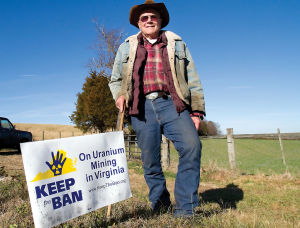 Cross-posted from that paragon of journalism and reporting Richmond Progressive Examiner.
In case anyone needed additional evidence that Virginia Uranium Inc. (VUI) hasn't given up on lifting Virginia's moratorium on uranium mining, Exploration Permit 90484EX was renewed on November 13th, 2013 and will remain in effect until November 20th, 2014. The permit was first issued to VUI in 2007.
With billions of dollars worth of uranium ore deposits on the line, it's not surprising that VUI has taken a long-term approach to achieving its goal of lifting Virginia's ban on mining uranium. Once believed to be an inevitable short-term outcome, VUI has had to settle for waiting at least another 4 years before there is a serious chance of mining uranium in the state.
For many residents of Southside Virginia, VUI has been a symbol of the tension between capitalism and democratic governance in our modern era. While some polls have shown a close split among Virginians who favor or oppose uranium mining, no polls that I am aware of have been targeted towards the people of Southside Virginia, where the uranium mining would actually take place. With all due respect to Virginians living outside the Southside, your backyard isn't the one where the process of uranium mining will take place (at least, not yet). While Virginia Uranium Inc.'s (VUI) Project Manager, Patrick Wales, has talked about VUI's dedication to uranium mining safety, its parent company, Virginia Energy Resources Inc. can't even differentiate between "indicated resources" and "mineral reserves" in technical disclosures released on its website. This is especially odd given the significance of its 'mistakes'.
One source found the following:
"The Company [VUI] filed a technical report dated September 6, 2012 titled "NI 43-101 Preliminary Economic Assessment Update, Coles Hill Uranium Property, Pittsylvania County, Virginia, United States of America" by Lyntek Inc. and BRS Engineering "in support of a listing application dated August 31, 2012. The technical report did not comply with the requirements of NI 43-101 and Form 43-101F1 because it incorrectly included wording that "the preliminary economic assessment...indicates that the portion of the [indicated] mineral resource...is economic under current conditions" (Indicated resources are simply economic mineral occurrences that have been sampled from locations such as outcrops, trenches, pits and drillholes to a point where an estimate has been made, at a reasonable level of confidence, of their contained metal, grade, tonnage, shape, densities, physical characteristics.)." How many registered lobbyists would you guess Virginia Uranium Inc. (VUI) has had over the past year (from May 2011-April 2012)? 5? 7? How about 12? None of the above. VUI now has 19 lobbyists in its employ. Yes, 19.
By contrast, if you search "public school" on the Virginia Public Access Project's (VPAP) website, you'll find "12 Client Companies/Groups," or 11 public school localities and one National Alliance for Public Charter Schools. Out of these 12 entities, only 13 registered lobbyists are on record for the past 2 reporting periods. Virginia Uranium Inc. has 19 in the last reporting period alone.
Imagine what public advocacy and environmental groups in Virginia could accomplish if each had 19 lobbyists!
What is equally unique (and threatening to the public health interests of Virginians) is the diversity of lobbying firms that VUI has chosen to pick from: Capital Results LLC, Hunton & Williams, Kemper Consulting Inc, McGuire Woods, Vectre Corp. I'll point out what you've already surmised, this isn't a chump list of lobbyists. Rather, this is a strategic list of heavy-hitting lobbying and consulting firms placed like so many pieces on the chest-board of public policy to take the king.