Imagine the meeting where Secretary Brian Moran was enlisted to call those attending this year's Shad Planking to follow his argument that we can...
The makeover is apparent. With less than an hour to the official start time, the speechifying has already been going on for three quarters...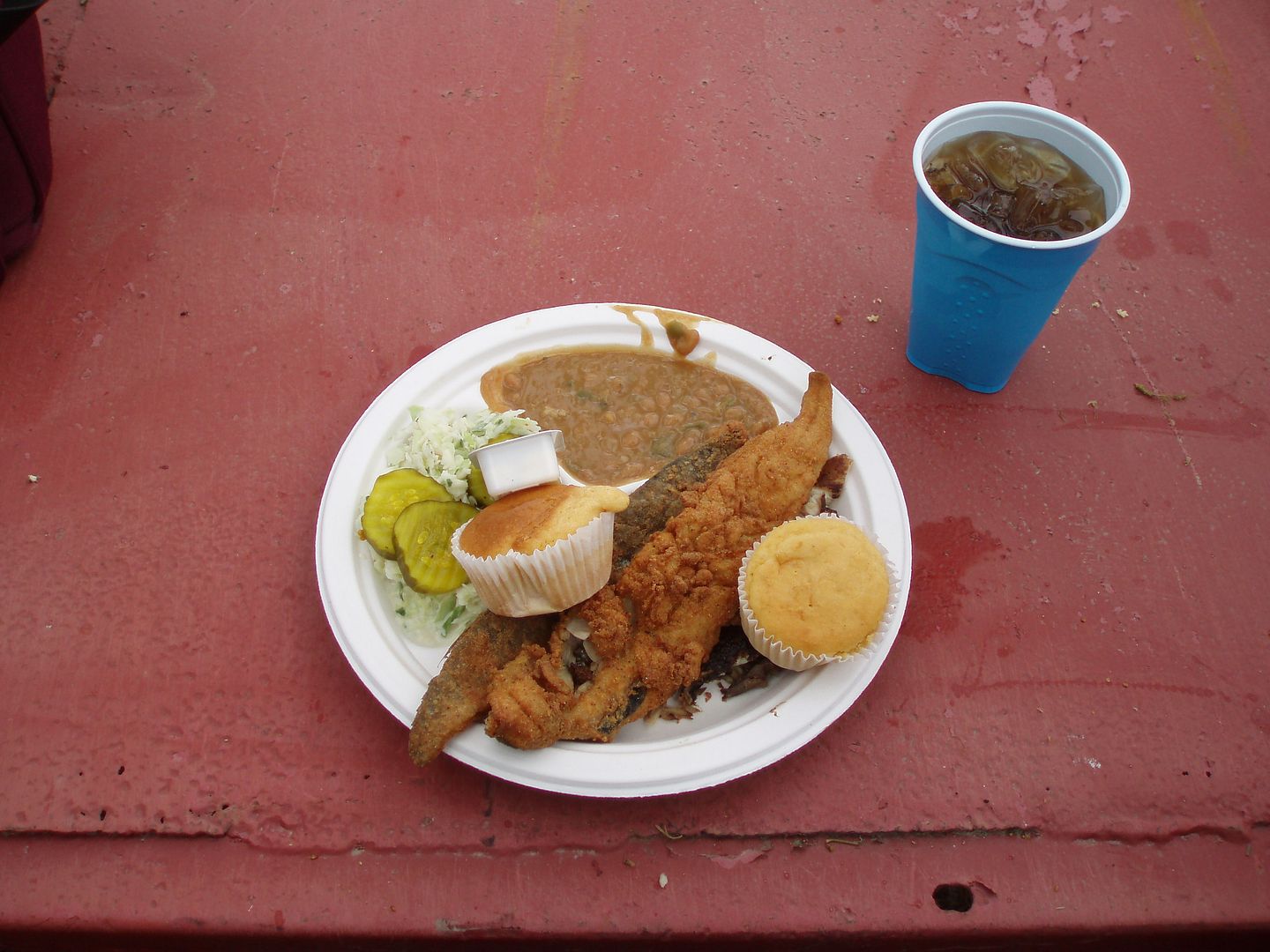 This year's version of the annual event just outside of Wakefield accomplished little. Though there was a hint of the lunacy usually present at Shad Planking; what there wasn't was much of a crowd nor interest. The biggest symbol of the times was the state-maintained road to the event.
There really wasn't much in the way of genuine politics going on. It was more of an alumni meeting than a political rally; more of a gathering of cronies practicing the Virginia Way interrupted a couple of times by a couple of hecklers. It seems that the last few seasons of rowdies have driven away the attendees who used to come show some civil revelry on behalf of their candidates. And now, with no one in any race to rally around, the most demonstrative types stayed home; and that would leave a big hole in what had become this Ruritan charity event attendance.
Additionally the candidates themselves, apparently led by the Republicans, declared a tacit truce on the sign war; they realized surrender was the better part of valor in that battle. There were a few signs along the road, but not the plastering to which we've become accustomed; maybe a dozen on 460 coming in from Richmond.
And then there was that road. We've discussed here the slow strangling that the McDonnell administration orchestrated during his four years in office in the name of balancing the budget. Well, now it is manifest here. What has been a well-maintained macadam rural route has deteriorated. In fact, the last half mile or more to the event parking area entrance and everything beyond is now feathered with gravel to cover the potholes. It really is symbolic of the treatment of Virginia's infrastructure, from schools and social programs to health care and public safety; not to mention the fraud perpetrated on the Virginia Retirement System when McDonnell announced that the unfunded obligations had been resolved.
There is more to discuss about what was less and that will come in a subsequent post. But if this level of enthusiasm is any indication of the turnout for this fall's election, the margin will come down to the grassroots get-out-the-vote effort. Problem is, for both sides, yesterday showed the grassroots really haven't been fertilized.
The shad are running and Virginia politicians will swim with them today. Last year Democratic candidates gave the Wakefield Ruritan event a cold shoulder. The event's organizers made an insincere attempt to dampen the tea party spirit, discouraging stars and bars. This is a charity event, they cried, after all.
This year Virginia's senior Senator Mark Warner will deliver the keynote and his almost certain Republican opponent will make one of his rare public appearances. It will be informative seeing if Team Warner laid the groundwork for a more civil and less homogeneous atmosphere than this annual carnival for reactionaries nourishes. Earlier this year, they stumbled out of the block when, despite refusing to commit to Democratic events closer in than 60 days, they accepted the Shad Planking appearance well in advance. Maybe, tied to an old playbook, they failed to notice that last year's Democratic statewide success demonstrated the irrelevance of the event. One would hope that the acceptance came with some assurance that the event would be more civil, sane, and inclusive.
The impact of the "traditional" sign war has diminished considerably since the Kaine and Webb surprises during the past decade. When this became a war of paid "volunteers" it was no longer a genuine indicator of anything more than a campaign bankroll. And if the intent is to make this event relevant, where is the outreach from the Ruritan Club or encouragement from more progressive constituents to draw in displays and support from the Democratic Party, the NAACP, or the LGBT community?
So what will today provide? Boney fish, cold beer, and the themes that Senator Warner will employ to shore up and broaden his own constituency, an impressive coalition of common interests. This could also provide the national bellwether for the Democratic strategy that will be used to counter this year's onslaught by Republican reactionaries against the Affordable Care Act. There couldn't be a more promising petri dish.
Shad Planking was a disappointment yesterday for any of a number of reasons. Leading up to the event, the sponsors failed to stem years of cumulative attendee alienation. Responding to criticism of extremism among participants, the Ruritans alienated the other half. Ken Cuccinelli's keynote was as flat as the shad.
What was clear was that the bluster of Tea Party insurgents and in-your-face Confederate flag-waving misfits in recent years put off a large portion of the politically motivated who came for a more civil kind of camaraderie. The Ruritan Club's charitable efforts to raise money for local causes was wounded by this turn of events. Make no mistake, this was a self-inflicted wound.

Ruritan officials took issue with Mo Elleithee's assessment that the event has outlived its relevance, claiming it will live on another 65 years. Apparently the fact that the proceeds go to charity is supposed to excuse the inhospitable behavior that has been tolerated too long.
As anyone who has attended regularly knows, when the dinner bell rings there is always a rush to get in line for the featured meal. But a crowd that was less than 60% of last year's was underwhelming. As a measure of success, the meal became a no wait, all you can eat event, there was so much remaining to be consumed.
Last month, passing through Memphis, I read Sunday morning's
The Commercial Appeal
. Striking was how well in a single issue it gave a sense of the city and its people, something uncommon in a Virginia newspaper. And one column caught my particular attention; it reminded me about Shad Planking.
I really don't care if anyone takes this personally. In fact, if they do, then maybe there is reason. In that Memphis paper, Wendi Thomas wrote of a coming storm: the Ku Klux Klan's Easter weekend appearance in Shelby County. Like a lot of single issue voting blocs, this group had seized upon an insult to a founding father, Nathan Bedford Forrest, whose name had been removed by the city council from a Memphis park (where he rests today).
"Because nothing says Valentine's like venom toward people of color, gays, Jews, immigrants and Catholics, on February 14, the Loyal White Knights of the KKK applied for a permit to rally outside the county courthouse." - Wendi Thomas in The Commercial Appeal
The position that I found relevant to the Shad Planking was Thomas's common sense appeal to ignore the fools; enjoy the weekend with friends and family instead. And it is pleasing to see that the same spirit has caused
Democrats to blow off this year's version
of the once relevant event that has completely lost its gravitas, becoming a carnival side show appealing only the gullible. Its effects are contained by its isolation and I don't mean geographical. Turns out that like the rally in Memphis this event is a tempest in a teapot.
Shad Planking tickets are on sale
. Last year the event was snubbed by Senator Kaine, leaving George Allen the featured speaker. Bill Bolling's campaign poured a lot of beer. Four years ago, T-Mac made a splash, but like Allen and Bolling, it mattered not. The event is a sideshow.
Granted, it is not as disappointing as most carnival attractions. If nothing else, you get a bony lunch. And there is something else. If you have any interest at all in the anthropology of Virginia political thought, this is an enlightening event. It bears all the authenticity of a historical re-enactment. The only way George Allen could have been more at home would have been if he'd come dolled up in the confederate uniform he wore in his movie cameo role. You find vestiges of antiquated culture here you might never observe out of the closet in more accessible public venues.
That is the evolutionary branch of this event: a program to appease a demographic yearning for the comfort of a time that they dream could exist. Their future is some choreographed replay of an imaginary past. Here, the attendees who represent diversity are most often caricatures that appease that yearning. You know...they know their place, they toe the line. Radtke and Bishop offered many who would never vote for them the opportunity to feel better about themselves. All is right with the world where diversity is only skin deep.
When Democrats crash the party, you can almost sense time folding. They really can't step through that barrier between the two perceptions of past, present, and future. So while it is an engrossing play, that is all it is. And this play is not the thing. It is long past the time when this was an event where relevant political trends could be measured or influenced.
There is every reason to attend as an observer, but no reason to take the role of respectful and acquiescing participant; particularly this year, when the program will be a Cuccinelliphant love-fest.
Last year candidate Kaine couldn't attend due to scheduling. This year, Democratic candidates should schedule not to attend.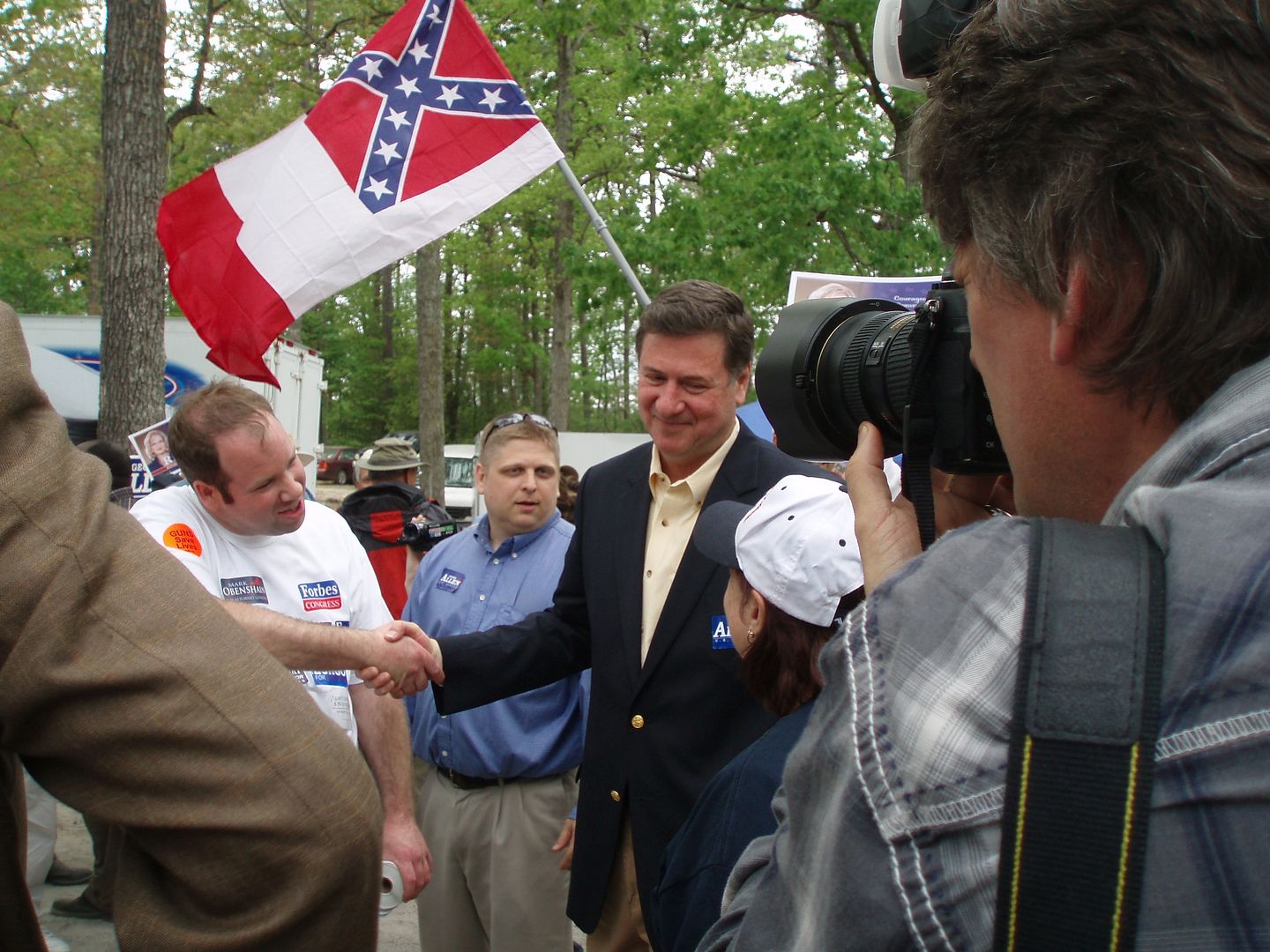 Yesterday's Shad Planking drew its normal school of bony fish enthusiasts, gaggles of gun guys and gals, and passels of Republican wannabes. Missing was the usual covey of Democratic candidates, along with any sign that Ken Cuccinelli has a prayer against Bill Bolling. For George Allen it was same old.
George's same old is this: No matter the facts, no matter your past, pretend there were no witnesses or records and that the electorate has selective amnesia. Yearn for a return to a fanciful, nostalgic past that is a combination of shared myth and vision among supporters. It is as if a team of marketing psychologists are crafting the Republican meme to manipulate perception among the easily influenced. Fortunately for us, this is still a small demographic, despite Republican efforts to cripple education in America.
In what Allen's team probably thought was a dual-edged sword, Allen took on the role of fiscally responsible philanthropist to show how a responsible private sector champion could eliminate waste while supporting the common welfare. Unfortunately for him, there is memory of his uncomfortable 2006 appearance in Hampton, Virginia at an NAACP forum where Allen balked at joining the organization when invited. There is another memory of grassroots supporters planting 10,000 or more Webb signs along the approach to Shad Planking. Allen's team simply knew they couldn't organize a competitive effort without paid stooges and feared another Kaine groundswell. Instead, his team (he's never demonstrated this kind of resourcefulness) decided to hand a check (funded by the campaign?), to the Ruritans, a group his base can easily identify with. This was designed to call out Kaine for typical liberal wastefulness. But the Kaine campaign didn't cooperate. Allen's prepared text had to be modified at the last minute, but his team lacked the acumen to avoid calling out Republican Representative Randy Forbes who did not meet the Allen standard for fiscal responsibility. Oh, by the way, Allen's four 4 x 6's didn't come cheap.