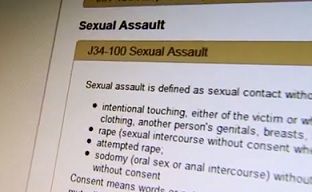 "Critics of such legislation" may reveal more than they intend when they question lawmakers' "real-world wisdom." It is that conventional "wisdom" that poisoned the well of justice in
Sarah Butters' case
. It comes down to this: rape is not about midnight wrestling matches between hormonal lovers. It's about violence.
Those quoted phrases are from a dismissive opinion piece in The Free Lance-Star that diminishes the importance of the work undertaken by Governor McAuliffe's task force to combat sexual violence at Virginia's colleges and universities. It is symptomatic of a prevailing cultural attitude toward the value of women and ignores a significantly greater social disease for which there is currently no innoculation.
In "civil" conversation involving sexual relations we usually pussyfoot and that plays into avoiding a substantive discussion about the violence. The violence has a sexual manifestation but it is actually a complete disregard for the victim; usually female (but sometimes male, by the way). It is about dominance and misogyny.
There are a number of "realities" that we want to pretend away. That one in five women on campus are the victims of sexual violence is easier to accept if, as that opinion piece does, we frame these as "misunderstandings." While there are cases of remorse after acquiescence in a relationship, we shouldn't count them in that 20%. Nor should the task force pretend that is an explanation for the alarmingly high, and likely under-reported percentage. Next, accepting that 20% figure does not indict 20% of the males on campus as perpetrators. Research shows that sexually violent perpetrators commit serially. While that may help some feel better about our culture and men in general, what it should also do is emphasize the imperative to get anybody who commits any single act of this sort off campus immediately and permanently. Plus, the number of violent acts against women that involve more than one perpetrator, often referred to as gang rape, is uncomfortably greater than we want to know...so we pretend; and women, shamed by the experience, shutter it, setting up the next target of group "affection." Not finally, but I will pause here, the abuse of authority (i.e. professors) to impose one's will on another (aka seduction) is no less a betrayal, act of violence, and rape than a forceful, physical subjugation (and serial).
For these and other reasons, I have little confidence that the Governor's task force will accomplish much, if anything. Maybe the discussion about Combatting Campus Sexual Violence today on HearSay with Cathy Lewis will provide a glimmer of hope.
Tuesday, 18 February, Cathy Lewis's
HearSay from the Headlines
segment will feature a live discussion about U.S. District Judge Arenda Wright Allen's ruling that the Virginia same-sex marriage ban is unconstitutional. Guests on the noontime show will include Norfolk plaintiffs Timothy Bostic and Tony London.
WHRV is available online and over the air in Hampton Roads at 89.5 FM. Listeners can join the discussion calling in live (locally) at 440-2665 or 1-800-940-2240. You may also post your questions on the HearSay Facebook page or email your questions in advance to HearSay@whrv.org.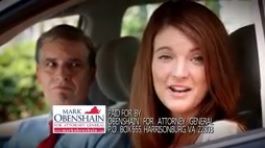 In quick succession, four polls have shown the race for governor is slipping away from Ken Cuccinelli. Yesterday Quenton Kidd, Director of the Wason Center for Public Policy at Christopher Newport University (CNU) discussed recent poll results with
Cathy Lewis on Norfolk's WHRV
. Not all the news was great.
After about a month or so with a McAuliffe lead of around five percent and margins of error around three and four percent, there had been an argument that the gubernatorial race could be closer than the numbers indicate. Two days ago, Politico published a poll showing McAuliffe holding a 10 point lead and soon afterwards CNU released the results of a poll with him up by nine percent. Roanoke College had McAuliffe up by seven and today the Quinnipiac University poll has him with a lead of eight.
Lewis asked Kidd about the libertarian candidate. Kidd responded that Sarvis continues to perform well with about eight per cent of the vote (according to CNU). Sarvis's support, by Kidd's assessment, is coming out of what would naturally be Cuccinelli's voters; he's a protest vote for Republicans and independents who would normally go with the Republican. So the real question is: What do they do on election day? Do they stay home, do they go back to their natural base and vote Republican, or do they stick with Sarvis? Kidd believes that is the real unknown right now.
Kidd told Lewis CNU is currently conducting a poll asking about the shutdown and who is to blame; he expected the Quinnipiac poll to address the shutdown (it did). This he said, would begin to give a clearer picture about whether the race opening up for McAuliffe is directly or indirectly attributable to the "larger politics" around the shutdown and Ken Cuccinelli's connection to those "larger politics."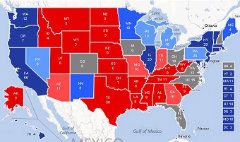 Barring any unforeseen event, there aren't enough undecideds to sway these uncertain elections. Persuasion is over now. The embers are being fanned with advertising dollars, but the electorate is now fairly immune to the heat from either side. The negative ads won't do the heavy work of GOTV.
The tea leaves from the polls give a very murky outlook. Republicans told us weeks ago that the polls are unreliable and biased. They were certainly not giving the news that they wanted to hear. For a while they were apoplectic; then curled up in the fetal position. When the polls swung their way, they suddenly became prophetic. But the truth is we (except maybe Nate Silver) won't know what they mean until midnight Tuesday.
The benefit of the ad deluge right now is nearly zero compared to ads run in June or July. Dr. Quentin Kidd (Christopher Newport University) suggests that was factored into the strategy of the Obama campaign. The campaign had ads up at that point in all the swing states because they wanted to set the stage early. Everyone knew that by fall the ads would be ubiquitous to the point of being indistinguishable. This strategy may prove the difference in this race.
In a conversation with Cathy Lewis on WHRV last week, Kidd concurred with the view that we have reached the point of political ad saturation. But, he said, we are in an arms race from which no campaign can pull back without demonstrating some sort of weakness; suggesting maybe the financial support has gone (see George Allen's contribution to himself). And just today a very expensive 20 page, glossy, Obama mailer arrived from OFA.