Home
Tags
Public education
Tag: Public education
by Cindy I have seen this Roanoke Times editorial ("We call out the 14 senators who voted against modernizing schools") shared repeatedly today by many of...
7 reasons to vote for Eileen Bedell for Congress. 1. If you are worried about the effect climate change will have on your children and...
It isn't just Medicaid expansion that has been obstructed by "conservatives." As Staunton School Board member Joel Grogan points out, the new state budget sets funding for schools at pre-2009 levels. The economic impact of this epic legislative failure washes over the future of Virginia. This is McDonnell's leadership legacy.
Whether GOP legislators want to believe it or not, Virginia education is already in crisis. Grogan discussed the departure of Waynesboro High School Teacher of the Year Josh Waldron. After six years of teaching, this accomplished young man is taking home only $100 a month more than when he started.
"The job, though, is about much more. And I have very real concerns about the sustainability of public education in Waynesboro (and as a whole)." - Josh Waldron in his personal blog
Grogan wishes that the organization that represents school board issues hadn't shied away from the Medicaid expansion issue. He was told that they had to stay away from it because the organization is nonpartisan. But this, he says, is not a political issue; it's a moral issue and an economic issue. He argues it is a myth that this is a political issue, pointing out that there are about a dozen states with Republican Governors and legislatures that have either found a way to expand Medicaid or are on the way to it. Even in Virginia, a traditionally conservative organization, the State Chamber of Commerce, favors expansion, proving it isn't a left and right issue. This expansion will create 33,000 jobs.
At least Staunton's Republican state Senator, Emmett Hanger, has broken ranks to plow a path toward a special session that can consider expansion. That means that the battle is not over. Grogan calls for remaining positive and holding our delegates' feet to the fire on this issue. I'm angry this morning. When I read the
Roanoke Times
, I found that Bob McDonnell's cockamamie idea of grading public schools A to F, with its purpose of opening up state education to for-profit "managers" of "failing" schools has found its way to Roanoke and maligned a fine school.
Westside Elementary School is the largest in the city, with more than 700 students. About 87 percent of students qualify for free or reduced-price lunches. The student body represents 19 foreign countries and has a 33 percent mobility rate (students moving in and out of the school). With that population, one would expect relatively poor academic results. However, in the past three years, Westside has seen its passing English test scores rise from 71 percent to 83 percent. Math passing scores went from 81 percent to 90 percent. The school has an active and involved PTA, an award-winning debate team and a competitive student dance group. So, what caused that D grade?
Westside is being punished because it received a School Improvement Grant, part of the reason for the achievement gains. That grant automatically triggered the D grade. For some ungodly reason, if a school seeks funding to help it increase educational success for its disadvantaged students, that is being taken as proof that it is below average. What nonsense!
"Maybe he [Gov. McDonnell] doesn't really know about Westside because I think Westside is a great school," 11-year-old Treazure Taylor said when RT editor Christina Nuckols visited.
"If the governor actually came here as a student, his mind may change," said 10-year-old Cameron Peters.
Out of the mouths of babes...Bureaucrats in Richmond thinking up ways to pad Bob McDonnell's resume for his next run for office know absolutely nothing about school improvement. Nor do the for-profit corporate types lusting after a chance to break into the newly-created Virginia market for managing "failing" schools. And, Westside is not the only school in Roanoke given a unfair D for seeking help for its students.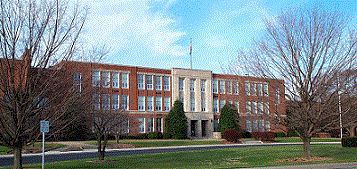 The fellas who brought you war without end and the collapse of the financial sector have turned their attention to another low hanging fruit in our common yard: education. You'll recognize some of the names. You'd best understand the financial gains that drive their proposals for "innovation."
They're focusing on another public function from which they can leech vitality and life and a lot of public dollars. Make no mistake, these "reformists" see a fattened cash cow. And Virginia's agents for change, state Senator Bill Stanley (R-20th) and Delegate Tag Greason (R-32nd), have spent exactly zero days as school district employees. Their common experience surrounds real or imagined sex offenses. Quite the dynamic duo; pimping for privatization and the rape of the commons.
The template for this offensive is thoroughly dissected by Bruce Baker in his Dismantling Public Accountability & Transparency in the Name of Accountability & Transparency? In part:

Expansion of charter schools, coupled with multiple charter authorizers (including private entities) and minimized charter regulation
Adoption of tuition tax credit programs providing individuals and corporations the option to forgo paying a portion of taxes by contributing that amount to ... privately governed/managed schools.
Parent trigger policies that permit a simple majority of parents ... to mandate that the local board of education displace the entire staff of the school ... turning over governance and management of school's operations (and physical/capital assets?) to a private management company ...
The bills patroned by Stanley (
SB 1207
) and Greason (
HB 1999
) facilitate the means to the death penalty envisioned by the third strategy, providing the cover to shutter public schools. It is a "grading system" for school performance. It is right out of the playbook of the
Foundation for Excellence in Education and a group Jeb Bush set up called Chiefs for Change
working with public officials in states to write education laws that could benefit some of its corporate funders.
...working with public officials in states
: Stanley and Greason are evidently dancing to the tune of interests outside Virginia. Neither of them invented this on his own.