Home
Tags
Immigration reform
Tag: immigration reform
The following Spanish-language ad is from Sen. Tim Kaine's campaign. Meanwhile, neo-Confederate Corey just tweeted, "In one year, Illegal aliens gave birth to 297,000...
Each month, on a Harrisonburg radio station (WSVA), I participate in a discussion of the recent political news of the day. (The other two participants...
In the heyday of terrorism paranoia, the Virginia General Assembly changed the requirements for obtaining a driver's license. All House and Senate patrons were Republicans. They made proof of legal presence a requirement. Many Democrats were cowed into supporting this. The unintended consequences are apparent now; change the law!
While the grander issues of separating families through deportation, comprehensive immigration reform, Deferred Action for Childhood Arrivals, and in-state tuition are terribly important, the day-to-day practical issue of transportation that allows migrants to support themselves and their families is most immediate for laborers. In many cases, persons whose status allows them to legally remain in the United States are prohibited from obtaining licenses under Virginia law.
"How, if you are allowed to work, are you not able to drive to work?" - Joseph Montano, American Civil Liberties Union of Virginia
The consequences on a personal level are devastating. Virginians still in high school, working to support their families, end up taking court docket time, missing school, and paying fines that are doubly punitive. Teachers who take an interest in the welfare of their students often accompany them on their own time in an effort to provide at least support and some counsel. Out of necessity, many end up repeat offenders. Further, being responsible, they make an effort to follow the law by acquiring insurance. But as anyone who has experience in the shadows knows, there is only street justice there. Who knows if these often more expensive policies are even in force?
What a difference a year makes. This time last year there was a sense that comprehensive immigration reform at the federal level may happen in some form. It would be sweeping and, like any compromise, not exactly what everyone wanted. Now we have something worse: only the noise of recrimination.
The Virginia Coalition for Immigrant Rights (VACIR) met last year to map out the values and principles held by Virginians and provide a voice to Congress. But now what since reform appears dead in the water? Well, during the Obama administration, more than 2 million mothers, fathers, brothers, sisters, and children have been deported; more deportations than in any previous administration. That number is hard to wrap your head around and does not convey the individual personal tragedies involved. For example, Immigration and Customs Enforcement (ICE) reports 72,410 of those deported said that they had one or more U.S. born children. Tens of thousands of U.S. citizens, then, have had their parents deported. So the VACIR has changed its tact and directed its energy toward pressuring the Obama administration to act since the House of Representatives has failed in its responsibilities. They are also looking at ways state legislators can address the issues.
11% of Virginians were born outside the United States. They, like all Virginians, need the tools and opportunities necessary to build strong families, healthy communities, and a culturally and economically thriving Virginia. For now VACIR is focused on four key areas:
Comprehensive Immigration Reform at the Federal level
Where do we even begin with Federal reform? The well is poisoned. I will disclose that my bias on this matter begins and ends with the Republican Party, Ronald Reagan, Simpson-Mazzoli, and close personal experiences with immigration and naturalization. Some 3 million immigrants were granted amnesty in 1986. That is the precedent that those who are angry should focus on when crying about today's "failed policies." And the fact is that the reason for the current flood is not anything President Obama has done but a more pedestrian cause: it's the economy stupid; the economy in Honduras, El Salvador and the rest of Central and South America. Places where we meddled, then abandoned; the spawn of Ronald Reagan's foreign policy abetted by Ollie North and "company."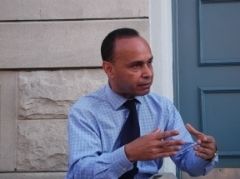 Representative Luis Gutierrez (D-IL) came to call in Representative Bob Goodlatte's (R-VA 6th) district yesterday. He seeks a dialogue about immigration reform with Goodlatte, who controls which immigration bills are considered in the House. Goodlatte declined the invitation to appear at the event in Harrisonburg due to a scheduling conflict.
The Chicago Congressman made two appearances in Virginia on Monday as part of an effort to break the immigration reform deadlock. The appearance in Harrisonburg was a Virginia Organizing event and was attended by a crowd of some 400.
Gutierrez said he came to Harrisonburg because he had been invited. This event, he said is one of as many as a thousand such that will occur across the country demonstrating support for comprehensive immigration reform "even in Republican parts of Virginia."
"...in every survey, whether the surveys are conducted by a conservative leaning institution or a liberal leaning institution, all find, in general, people are for comprehensive immigration reform." - Representative Gutierrez