Virginia State Sen. Creigh Deeds (D-SD25) showed up last night for the "Senior Statesmen of Virginia" debate in Albemarle County. As did Democratic SD17...
by Kellen Squire Senator Creigh Deeds is one of the best-known politicians in the Commonwealth. A person who has sacrificed and given more to his...
From Gov. Northam's office; this is good but not nearly sufficient. Gov Northam needs to take a strong stand, right now, against both the...
I didn't watch the entire 9th CD Democratic forum this morning, but I watched a good chunk of it. And from what I saw,...
I've noticed a bunch of parallels and differences between this year's Virginia Democratic gubernatorial primary and previous statewide Democratic primaries. Here, I'm going to...
It was Creigh Deeds' event, but guest Terry McAuliffe ran with it, ringing out the first and in the second year as Virginia's 72nd Governor. McAuliffe made his first campaign stop of 2015 supporting his former gubernatorial rival and using the opportunity to tune up on this year's legislative agenda.
A year after taking office, the Governor took the opportunity to climb on the soapbox to emphasize the issues he ran on and report progress. He enumerated a number of issues, but jobs and healthcare were the bookends claiming substantial progress on one and frustration with the other. On jobs, he pointed out that the state faced strong headwinds, losing nine billion dollars in defense contacts the last three years; more than any other state in the country. So, he has set out re-purposing Virginia's economy to make it less reliant on the federal government. That is what he thinks about every single day.
Additional issues addressed:

Women's rights
Marriage equality
Responsible gun ownership
Mental/behavioral health
Reformed Standards of learning
Daycare centers
Restoration of rights
Building broadband
McAuliffe announced that there would be a booklet published today, the first anniversary of his inauguration, outlining accomplishments during his first year in office. Highlighting successes on jobs, he said his whole emphasis is on how to build that new economy. And in that effort he has become the most travelled governor in our nation's history. The results so far include 265 economic deals and $5.4 billion in direct investment; double what any governor has ever done on job creation.
Maybe it was an unguarded moment but a Mercer tweet last night revealed a lot. The decks are cleared for a McAuliffe gubernatorial run. But nothing portends smooth sailing. Creigh Deeds picked up no wind from Obama. Tim Kaine is barely drafting. There's little reason to believe Terry will benefit...unless.
"This is our opportunity to get some payback and to show them that this isn't a movement, this is about governing. We're here to stay. We are the 'New Majority' and its time that they get used to it." - Senator Don McEachin at the 7th District Convention
The conventional wisdom that 2009 was the result of a disillusioned electorate (an electorate that expected immediate change and economic recovery) is absolute drek or balderdash or a more colorful word I would have used in the Marine Corps. Those of us raised in the old south have the embedded memory of a bipolar Democratic Party; a party whose statewide politics and national politics were distinct and different. A Party that in 1964 could convince the same demographic to prefer both Orval Faubus and Lyndon Baines Johnson. Or maintain its stranglehold on statewide offices despite yielding the national contest to Goldwater. This isn't your father's Democratic Party.
There is good cause that President Obama's organization never counted on the Democratic Party of Virginia (DPVA). There really isn't anything behind the curtain. It is an organization designed to support incumbents; a self-licking ice cream cone. It relies on the repugnance of the alternative rather than an appeal to shared values. This worked well when the other side offered up Kilgores and Gilmores in the era of a bumbling Bush, but the Republicans are no longer cooperating. Republicans staying home was more important than the Democratic candidate carrying the day. That won't work for Obama and it won't work for Terry McAuliffe. McDonnell and the Republicans assassinated it. Jeff Shapiro eulogizes it. Tucker Martin tried to resurrect it in a tweet, hailing Colgan's surrender. But in the end, Governor McDonnell's singular focus on self-promotion has turned our legislature into a congressional clone. Governor McDonnell yells rather than leads; just another wannabe bully.
Virginia has received quite a few headlines these last few months. And it's not been about the best state to do business; it's not been about the best place to raise a child. It's been about ultrasound and the socially conservative overreach agenda that the Republicans pursued in the General Assembly session. -Toscano
Two things have become characteristic of Virginia Republicans. They confuse power with leadership and they are more interested in their own ambitions than the welfare of the Commonwealth. This is distinct and different than the Democrats who have been in power and that is clear in both the Jeff Shapiro piece and the descriptions of this session by state Senator Creigh Deeds (D-25th) and Democratic Minority Whip, Delegate David Toscano (D-57th). Contrast the eras of Gilmore and McDonnell with that of Warner and Kaine.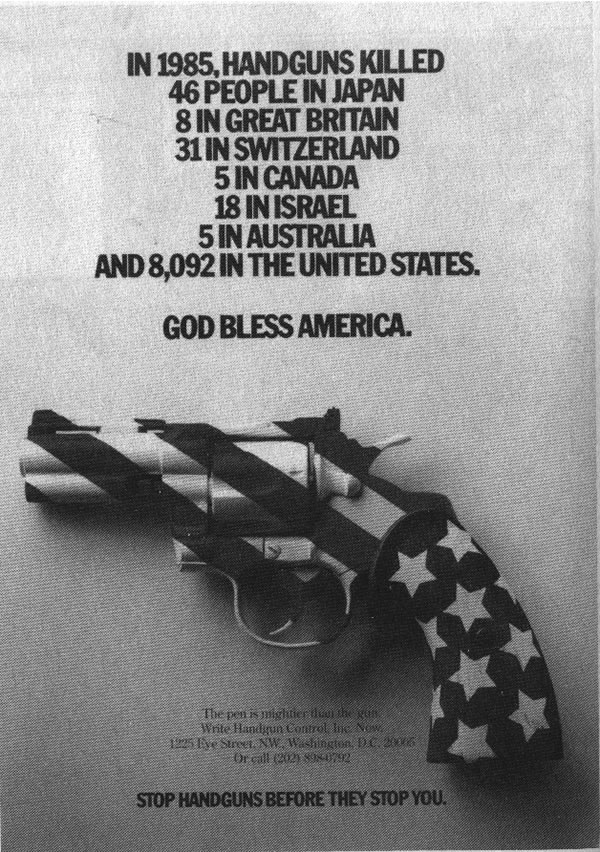 The following is a guest post by 2011 Democratic candidate for Chairman of the Prince William County Board of Supervisors, Babur Lateef.
The American Medical Student Association (AMSA) circulated this flier in 1993. I was in medical school at the time and I was the President of our AMSA chapter at my medical school. AMSA advocated for better gun control laws. It is obvious that physicians should stand up for gun control due to the high number of preventable deaths they cause. It is good public health policy to favor laws that make it tougher to obtain guns. In the countries listed above, it is difficult to get guns. Thus the reason for the low number of gun related deaths.
Now I understand the importance of the second amendment. As a society we regulate the kinds of arms people are allowed to have. I believe that buying weapons should be heavily regulated. Virginia passed a law that attempted to reduce gun trafficking (one gun a month safeguard). This law had an affect on reducing illegal gun trafficking. (Something that everyone should be against regardless of you party affiliation). This was concluded in a report done in 1996 by the Virginia State Crime Commission.
Recently, the Virginia General Assembly repealed this law. Two Democratic Senators were responsible for passing this repeal. Senators Creigh Deeds (Bath) and John Edwards (Roanoke) were the Democrats resposible for pushing this bill through. The governor signed it into law yesterday. This law would not have passed without their support.
I have spent the better part of my life fighting for our democratic values. I find their vote and Senator Deeds' explanation offensive. It makes no sense to repeal this bill. Their vote should force us to examine their records.
Normally I refrain from calling folks out by name. But the recent high school shooting in Ohio is another reminder of why gun laws need massive reform. In a democracy we have to make these changes in steps. We never get what we want the first time around. Gun proponents will say that this law is a first step in further restricting gun ownership. You bet your tail this was! Every American should oppose illegal and irresponsible gun ownership. This law had done this. Senator Deeds' explanation for why he voted for repealing this bill is posted on the official website for the NRA chapter in Virginia. I would say they wrote it for him but their stuff is usually better written than the nonsense posted here. So I must assume he wrote this and he believes this dribble. Dr. Bob Holsworth
laid to rest this Tip O'Neill wisdom during a presentation at the annual gathering of Virginia Democrats yesterday. Bob McDonnell's Chairman of the
Bipartisan Redistricting Commission
talked a little about the political environment in Virginia. It will mean much for the future of American politics.
Dr. Holsworth has been struck by the volatility in the last three national elections (2006, 2008, 2010). He characterizes them as wave elections where Democrats ran the table in the Senate in 2006, had the Obama wave in 2008, then in 2009, 2010 there were counter-waves that have been fairly dramatic. Virginia seemed to flow with the national tide. 19 state legislatures changed hands this past election. Holsworth says that this is a reflection of the nationalization of politics. This, he argues, means that the Tip O'Neill maxim can rest in peace. Though there remains some truth to that, it is no longer an extraordinarily good explanation of trends.
40% of the people who voted this past November say that they voted to send a message to President Obama. All of the Democrats found out that they had running mates in Harry Reid and Nancy Pelosi.