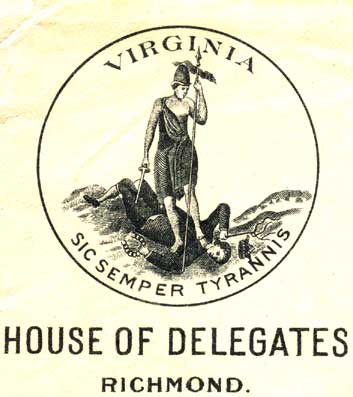 House of Delegates to Consider Restoration of Rights Bills Monday, Jan. 14 at 8am
As you have probably heard, Gov. McDonnell recently announced his support for an automatic process for restoration of rights for Virginians convicted of nonviolent felonies.

This session, Delegates Greg Habeeb and Peter Farrell have introduced bills to address this issue, and I urge you to support legislation for the automatic restoration of rights for non-violent felons.
Recently we learned that the above-mentioned bills, as well as similar Democratic bills which have been put forth repeatedly over the years, will be
on the docket of the Constitutional Amendments Subcommittee
for
Monday, January 14th at 8am.
These seven Subcommittee members will be considering the proposed restoration of rights amendments on Monday morning. If you have a moment, please contact them now: Across the country and here in Virginia, conservative politicians have been pushing ALEC-backed voter ID bills to combat a nonexistent voter impersonation problem. But it turns out they may have been the real election fraud problem the whole time.
CBS 6 WTVR is reporting, "The Republican Party of Virginia has terminated its relationship with Strategic Allied Consulting over allegations of potential voter registration fraud in Florida." RPV had paid the firm over $500,000 to register voters. The same firm has been fired this week by the Republican National Committee and the Republican Party of Florida over these allegations.
CBS 6 talked to Chesterfield Registrar Larry Haake who investigated Strategic Allied Consulting after receiving reports that the firm was inappropriately asking people who they were voting for before offering them a voter registration form.
Strategic Allied Consulting says its office address is in Glen Allen, Virginia, but CBS 6 visited the office location and the people there said they'd never heard of the firm. So this happened. Yesterday I got an email from David Mills of DPVA telling us about how Bob McDonnell is trying to suppress the vote. I am happy Mills is doing something about this, but I am not so happy it took so long for the DPVA to fight vote suppression. While it is true that the new Virginia policy was announced just this week, there is nothing new about the GOP doing anything it can get away with to keep voters from either voting or having their vote counted. Here's the email:

Dear friend,
If you were one of the half-a-million Virginians to vote by absentee ballot in 2008 then you know that the right to cast a ballot, either in person or absentee, and have a say in who runs our government is central to what it means to be an American and a Virginian. That's what makes the nationwide right-wing attack on voting rights so disturbing. Instead of trying to win with the best candidates and the best ideas, they want to rig the game before it starts and rob otherwise-qualified voters of their rights in the process.

This week the latest front in the war on voters opened here in Virginia. As the The Virginian-Pilot reported, Governor Bob McDonnell's Republican-controlled State Board of Elections is trying to make it easier for election officials to disqualify absentee ballots over something as silly as a sloppy signature. That's right, if the regulations that the State Board of Elections devised go through, the way you cross your "T's" and dot your "I's" could cost you your voice in our government.

Instead of making it easier for qualified voters to cast a ballot and make their voices heard, the State Board is going out of its way to make it harder. Extreme right-wing Republicans across the country are resorting to similar measures, which is why we need you to lend your voice to the fight. If Bob McDonnell and Republicans on the State Board of Elections believed in protecting the right of every Virginian to vote, why would they disqualify ballots over sloppy penmanship?

More of the Mills email and my comment below. First,
the good news.
Virginia Gov. Robert F. McDonnell is on track to restore voting rights to more felons than either of his Democratic predecessors - a surprising development for a conservative Republican who served as a law-and-order attorney general.

He has won praise from African Americans and civil rights groups for scrapping plans to require essays as part of felons' applications and vowing instead to act on each case within 60 days.

His administration has approved 780 of 889 applicants - 88 percent, according to the Secretary of the Commonwealth of Virginia's Office, which handles the requests.
Wonderful, good work, kudos to Bob McDonnell for restoring 780 ex-felons' voting rights! Even more impressive is that McDonnell's outpacing his two Democratic predecessors (a subject for another day, but why on earth Warner and/or Kaine didn't go a lot further than they did in this area is simply mind-boggling). Now, the bad news.
Kent Willis, executive director of the ACLU's Virginia chapter, praised McDonnell, but added: "There are more than 300,000 people who still don't have their voting rights restored. The governor's reforms are good, but they don't tackle the problem. It simply doesn't address the real issue."
So, 780 ex-felons' voting rights restored, but 300,000 still with their fundamental rights deprived, despite having "done their time and paid their debt to society." That needs to change; Virginia needs to join almost every other state in the country - and almost every other democracy in the world - that automatically restores ex-felons' voting rights. Until then, applause for Bob McDonnell - or a future governor, Democratic or Republican - will be tepid at best. We learned last week that the McDonnell administration is
changing
its policies on restoration of rights for nonviolent ex-felons like myself. As some readers here are aware, my application was denied in 2008 by Gov. Kaine on the grounds that I had traffic tickets. But thanks to the new policy, I am able to reapply now instead of waiting until this fall.
Yesterday, I drove to Richmond to hand-deliver my application to Micah Womack, Restoration of Rights Director at the Secretary of the Commonwealth's office. He looked at my application, which was accompanied by a letter (not an essay) and supporting documents, and said that "everything appears to be in order." I asked him about the traffic ticket issue and he told me they are no longer using tickets as a reason to deny people, although they do look at the DMV records.
I'm in a "wait and see" mode right now. If they process the application in 60 days, as they said they would, and if my rights are actually restored, then I will have reason to thank Governor McDonnell for taking steps in the right direction (although I disagree with the process of having to petition the Governor in the first place). However, all of their policy announcements with regard to rights restoration would be meaningless if they found a petty reason to deny me again.
This brings up another question. Now that traffic tickets are no longer an impediment to rights restoration, will those who agreed with the former policy (including at least one progressive blogger) still insist that I shouldn't have my rights restored - even though I haven't had a ticket since Oct. '08?
What you believe is behind the extremist AZ immigration "reform" bill is only the half of it. The more obvious reasons (ramped-up fear, xenophobia, ignorance, and chaotic current immigration law) are of grave concern. But I will leave my discussion of those causes for tomorrow. For now, please suspend your disbelief for a moment as I tell you about some real reporting, the kind few American journalists do anymore, at least not in the corporate media. You see, Jan Brewer has been at the heart of a
massive voter disenfranchisement effort
.
Greg Palast
reports that it also turns out that
Brewer is the Katherine Harris of AZ.
She did much damage as Sec of State. Now she's in charge altogether. Had Janet Napolitano been there she would have vetoed the bill. We know this because she did so, at least twice. But the President named her to head DHS. The rest is history.
(The vote suppression tale is below the fold.)