Home
Tags
Mountain Valley Pipeline
Tag: Mountain Valley Pipeline
From Appalachian Mountain Advocates;  Protect Our Water, Heritage, Rights; Sierra Club Virginia Chapter; Chesapeake Climate Action Network; Appalachian Voices...I totally concur with this statement about the proposed fracked-gas...
Nelson County. Va--On Tuesday, August 18, the culmination of what was conceived last January during a conversation between Free Nelson Co-Chair Sharon Ponton and Nelson activist Matt Dwyer will occur when communities in eight states -- WV, VA, MD, OH, OR, PA, TX, and NC -- take part in "Hands Across Our Land." HAOL is a solidarity action meant to illustrate to government officials and the energy industry that grassroots activists stand together, united in their efforts to protect their land and communities from the onslaught of new fracked gas infrastructure.
Energy companies erroneously tout fracked natural gas as clean, cheap energy and expect rural communities across America to be sacrificed, not for the public good, but for shareholder profit. Free Nelson founder, the Reverend Marion Kanour wonders, "What could our world become if corporations were guided by environmental and social responsibilty rather than greed?" Kanour, an Episcopal priest, believes we each have a sacred obligation to be good stewards of the earth.
Marilyn Shifflett, Free Nelson Co-chair, visited the fracking fields in West Virginia and was profoundly affected by what she saw. "It was hard to imagine greater impact than over 100 years of coal mining and then mountain top coal removal," Shifflett explains, "but West Virginians are now being assaulted by the natural gas industry spanning larger residential areas, at a pace hard to imagine until seen, leaving an irreparable path of destruction in its wake. Hardly a stream or human has not been touched. Our visit was an eye-opener and heart opener."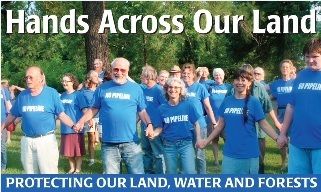 News Release
Hands Across Our Land
Protecting Our Land and Communities
Tuesday, August 18, 2015
Join opposition groups from both the proposed Mountain Valley and Atlantic Coast Pipelines, as we take a stand to protect our land and communities from the unnecessary and unwanted onslaught of new natural gas infrastructure.
We are citizens, small business owners, and farmers from every walk of life, standing up for our heritage and culture in rural West Virginia, Virginia, and North Carolina. We are united in our goal to stop the industrialization of our properties and communities by energy companies who seek to profit by stealing our land through the misuse of eminent domain!
Actions and events will be held in localities across all three states. We are in the process of recruiting county coordinators along the paths of both the proposed Atlantic Coast and Mountain Valley Pipelines. Local actions are already being planned in Nelson County, Buckingham County, Augusta County, the George Washington National Forest, Roanoke, and Montgomery County in Virginia, as well as Monroe County, WV.
Dominion, Duke, Piedmont Natural Gas, AGL Resources, NextEra, EQT, and others would build their pipelines within feet of our homes, destroy thousands of acres of forested land, pollute our water supply, wreak havoc on our local economies, degrade our national treasures by crossing the Blue Ridge Parkway, the Appalachian Trail, and the pristine George Washington and Monongahela National Forests. All of this desecration would be done in the name of profit for the few on the backs of thousands of private property owners. Stand with us as we hold Hands Across Our Land to protect our way of life.
Contact Free Nelson on Facebook or email sharon.ponton@gmail.com for more information or to become a County Coordinator for an event in your area.