 Let me say up front that I believe that Peter Rousselot would be the best choice the DPVA could make for chair. Hands down. My opinion isn't based on a dislike of any other candidate for the job, however. It's simply because I think Rousselot would bring to Richmond a badly needed new political perspective and a determination to build the party.
Below are a few comments reacting to his press release on the future of the DPVA, based on feedback he has received from Central Committee members and local party chairs.
"DPVA has got to help local committees recruit and field candidates in elections that are not targeted by the Senate and House caucus leadership." - Amen! I'll use the open seat created by Morgan Griffith's victory in the 9th District congressional race against Rick Boucher as an example. The retiring chair of the DPVA, Dick Cranwell, is from Vinton, a town in Roanoke County. That county happens to comprise over half of Griffith's House of Delegates district. To date, I have not seen any DPVA assistance being given to the local chairs in Roanoke County or Salem to assist in candidate recruitment. Why not?
As if that's not bad enough, we had the majority leader of the State Senate, Dick Saslaw (D-Fairfax), telling the press that the party wouldn't "waste our money" in fielding a candidate for Robert Hurt's senate seat, left vacant by Hurt's defeat of Tom Perriello. Not only do we have a candidate, but a strong one, no thanks to Saslaw. He's Henry Davis, chair of the Pittsylvania County Board of Supervisors. If Peter Rousselot becomes chair of the DPVA, we might actually get some state party assistance for Davis.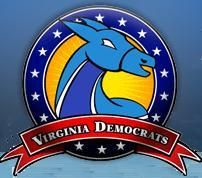 Former Senator Ken Stolle tells a tale that hints at Virginia Democrats' lack of savvy. It makes one seriously consider Thelma Drake's assessment that 2008 was simply the Democrats' turn. Insiders undeservedly expect deference from and take credit for grassroots efforts. Too many in DPVA circles are all about themselves.
Paul Lanteigne, who had his eyes on the position, approached Republican Stolle some years ago about making the Virginia Beach Sheriff a High Constable. A Sheriff who is also High Constable keeps the money collected during service of process. Other Sheriffs send that money on to State of Virginia. For Virginia Beach that amounts to almost $700,000 a year. Stolle never thought he would be able to get this initiative through the Senate because it was a presented bill and on scrutiny, he figured it would not pass due to the funding aspect. Stolle expected that he would be asked why he was carrying the bill and if his motive was challenged he was unwilling to be less than honest that it was about the money. Once the cat was out of the bag, he knew everyone would want a piece of the action and that would kill this and any future such initiative.
Frank Drew was the Virginia Beach Sheriff at the time. Stolle was the chairman of the Public Safety Subcommittee in the Courts and Justice Committee and as politics works, as a committee chairman carrying a bill, the Senate asks very few questions when a bill is presented. So he took the bill over to the House of Delegates and presented it to the Courts and Justice Committee. Kenny Melvin, a Democratic Delegate from Portsmouth, asked the question Stolle feared" "Ken, why do you want to make Frank Drew the High Constable of Virginia Beach?" Stolle thought, "Well, this is it," but just as he was about to explain, Delegate Ward Armstrong interrupted the proceedings sarcastically, "He wants to do it because Frank Drew has an ego as big as this damn building!" And Kenny Melvin pivoted off the witty jab with, "No need to say another thing, I forgot about Frank's ego." The bill passed out without further scrutiny. Later, upon the realization of the impact, Virginia Beach's Sheriff was made the last to be so designated.
Are you sitting down? I hope so, because this is going to shock you. That's right, the Democratic Party of Virginia, which was last seen boarding a Greyhound bus to parts unknown, never to be heard from again, has actually
issued a press release!
. I told you I hoped you were sitting down. :) Anyway, it's good to see the DPVA return from the Land of the Living Dead. It
is
a bit pathetic, however, that it took craziness even by Ken Kookinelli standards to prompt this DPVA reappearance, but hell, I guess we'll take it.
"I was glad to see this ideological crusade by Mr. Cuccinelli dismissed by Judge Peatross, but the real victims are Virginia's tax payers," DPVA Chairman Dick Cranwell states. "The Attorney General is using his tax payer funded office as his own personal piggy bank, at a time when Virginians need help. These ideological crusades do nothing to protect Virginians from predatory lending. They do nothing to protect consumers from unsafe products or fraudulent services. In short they do nothing but advance the Attorney General's reputation as an extremist who cares more about his ideology than he does about Virginia. Tax payers beware, Mr. Cuccinelli is wasting your money."
UPDATE
: Of course, the DPVA has not weighed in on
this
, which it should do ASAP given the level of importance. Hello? Anyone home at DPVA? I just got off a conference call with Virginia Democratic leaders regarding Ken Cuccinelli's refusal to donate tainted contributions from the
"questionable and potentially corrupt"
U.S. Navy Veterans Association. To date, Governor McDonnell and Senator Ticer have returned donations from this "organization," while the Veterans Administration - at the request of Senator Webb - has pulled the group's page from its website. The VA also says it "will conduct a review of the group as well as a review of procedures used to screen organizations before they are listed on the VA website." Last but not least, the U.S. Navy Veterans Association is
already being investigated
in New Mexico, Missouri and Florida, "following an investigation by the St. Petersburg Times revealing that 84 of 85 national and state directors listed in the charity's tax filings and other records appear not to exist."
Apparently, none of that is sufficient evidence for Ken Cuccinelli - who launches investigations at the drop of a hat about climate change scientists and other things he doesn't like - to return a huge, $50,000 contribution he received from the U.S. Navy Veterans Association. On the conference call a few minutes ago, DPVA Executive Director Dickie Cranwell said it is "difficult to understand" why Cuccinelli won't do the same thing as McDonnell and Ticer and donate the money to a reputable veterans organization. According to Cranwell, "it's time, period."
Sen. Donald McEachin added that there are "incredibly serious allegations" against this group, and that the AG should have a higher standard than waiting until a group has been committed of a crime. That may or may not happen, but in the meantime, this group is being investigated by three other states. At the minimum, McEachin believes, the AG should return the $50,000 and encourage the Office of Consumer Affairs to investigate.
House Minority Leader Ward Armstrong noted that Cuccinelli is "not constrained by petty consistency," being quite willing to launch an investigation of a former UVA climate scientist with whom he "disagrees" on the science. Meanwhile, this supposed veterans organization is being investigated for fraud! Where is Cuccinelli on that?!? Apparently, according to Ward Armstrong, Cuccinelli can spend money going after professors, but can't go after this group. Perhaps, Armstrong mused, there's a connection between the $50,000 contribution and the fact that Cuccinelli isn't investigatin? There's certainly not the same "haste and zeal" in this case as in the climate scientist situation, that's for sure, even though there's - at the minimum - an "appearance of impropriety" here.
Finally, former Hampton Roads Veterans & Military Families for Obama leader Stephanie Marushia pointed out that the longer this goes on, the more it could hurt fundraising at legitimate veterans' organizations. That's why Cuccinelli needs to "donate that money now" to a legitimate veterans' organization, and also have the AG's office investigate. Right now, this is setting a bad example and demonstrating bad judgment.