Home
Tags
Virginia 5th Congressional District
Tag: Virginia 5th Congressional District
The recent
dismissal of a lawsuit challenging the GOP-led redistricting
of Virginia's congressional seats has Democrats in Central Virginia scrambling to adjust their campaigns to the new boundaries.
In the 7th District, candidates who had been courting Democratic Committees in Page, Rappahannock, and Madison Counties are shifting their attention eastwards to parts of Spotsylvania and New Kent Counties as the first three counties named were dropped from the 7th CD and all or a portion of the other two were added. In terms of party affiliation and performance there seems to be little difference between the old and new 7th, but there are a few voters in the new 7th that don't know Eric Cantor except through his recent high profile obstructionism, and that could work to the benefit of the Democratic challenger.
The situation in the neighboring 5th Congressional District may soon become complicated because of some opportunistic forum shopping by Northern Virginia Democrat John Douglass. A retired brigadier general turned lobbyist, Douglass had been conducting a vigorous campaign in the 10th Congressional District to challenge Republican incumbent Frank Wolf. Then one of Douglass' homes was redistricted into the 5th Congressional District and Douglass now seems to be mulling a switch to the 5th. Douglass might be afraid of taking on a veteran incumbent like Frank Wolf, seeing the 5th's current incumbent, freshman Robert Hurt, as an easier target.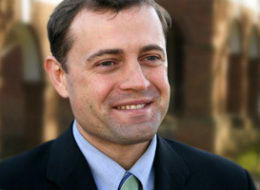 Another day,
another poll
(other than SurveyUSA) indicates a tossup race in Virginia's 5th Congressional district.
A survey of likely voters in Virginia's 5th Congressional District reveals a deadlocked race with Democrat Tom Perriello receiving 43%, Republican Robert Hurt 44% and Independent candidate Jeff Clark barely registering with 1% in the initial trial heat.

A representative sample of 500 likely voters was interviewed live, by telephone, from September 20 - 23, 2010...
The poll was commissioned by the League of Conservation Voters and the Service Employees International Union and conducted by Custom Strategic Research. According to the LCV:
Congressman Perriello's leadership in the House on clean energy issues has been unparalleled. We are encouraged by the results of this poll and will work hard to ensure that Congressman Perriello is re-elected so that he can continue working to bring clean energy jobs to Virginia and increase our national security.
The SEIU adds:
Tom Perriello has remained focused on three things - jobs, jobs and jobs - and his focus on the issues that matter to his district is paying off while Robert Hurt's refusal to hold a single town hall meeting is backfiring...Across the country, candidates who've focused on strengthening the middle class, as Perriello has with his Economic R.E.V.I.V.A.L. plan, are surging as we enter the last month of the election.
Good stuff, go Tom! Rep. Tom Perriello saw his bill that would provide rural homeowners with loans to pay for energy efficiency upgrades pass the House of Representatives this week. At the same time, the law - if it can get past the "Party of NO" in the Senate, and that's a big "if" - would also provide thousands of construction jobs in the parts of Virginia hardest hit by the Great Recession.
The Rural Star legislation would set up a loan fund for local electric co-ops, which would then lend the money to its customers to finance home efficiency upgrades. The homeowners would repay the government loans over time through a surcharge on their electric bills. Because of efficiency cost savings to the customers, there would be little or no change in their monthly bill.
Rural electrical cooperatives are the result of actions by the administration of Franklin Roosevelt to bring electricity to the nine out of ten rural homes without it in the 1930's. They are still an integral part of electrical service in the U.S., including many of the most rural parts of Virginia. The co-ops are owned by the members and are non-profit entities.
If the people of the 5th District, in some fit of misplaced anger, don't re-elect Tom Perriello to Congress, they will lose the most effective representative the district has ever had. Plus, they will lose a representative who cares enough about them to show up in every part of that huge district, holding town halls, meeting constituents, and...not ducking debates. Over at
Open Left
, Mike Lux is out with his list of "the general election races I think matter the most to progressives." Coming in at #1 is Virginia's 5th Congressional District, home of Rep. Tom Perriello. I strongly endorse what Mike Lux has to say (bolding added by me for emphasis):
1. VA-5. Tom Perriello vs. Robert Hurt. I put this at the top because I think it is symbolically the most important race of the year: can a Democrat who voted with progressives on virtually every major issue from this kind of southern conservative working-class district win in a year like this? The odds are long, and Tom is behind right now, but if anyone can do it, he can. Perriello is a great campaigner who has raised a ton of money, and his appeal to values-based economic populism is compelling. Because Tom has raised so much money, other candidates probably need your contributions more, although as tough as this race is, he can still use help. But if there is anything else you can do, including recruiting volunteers and signing up to make calls, please do so.
To volunteer for Tom Perriello,
please click here
, and remember, you don't have to live in his district to help him out!
P.S. I don't think I can make this event (unfortunately), but this coming Sunday afternoon at 4 pm, Arlington County Treasurer Frank O'Leary is holding a pizza party for Perriello at "Casa O'Leary" at 239 North Highland Street. If you're interested in pizza with Perriello, click here. Telling members of the Democratic Party of Virginia that "the truth is on our side," Rep. Tom Perriello (D-5th) energized the members of the party Central Committee, which met in Charlottesville today. Today also marked the kickoff for the Perriello campaign of seven canvassing drives throughout that geographically large district.
Rep. Perriello emphasized that his campaign will be one of person-to-person contact, nothing that his campaign volunteers had already made 60,000 phone calls and knocked on 5,000 doors.
The basic themes of Tom Perriello's re-election campaign will focus on the need to rebuild the competitive advantage of the American economy and rebuilding the strength of the hard-working middle class, while putting our nation "on the right side of history."
More Perriello remarks after the "flip"