November 7th, 2017 will go down in history as the day Virginia fired the opening volley in a war against hate and division in...
I'm hearing rumors, from a number of solid sources, that State Senator Barbara Favola (SD-31; Arlington/Fairfax/Loudoun) will quite possibly be headed into the Ralph...
Check out the following visual by VPAP, which shows the Virginia State Senate districts won by Ralph Northam and Ed Gillespie last Tuesday. The...
by Josh Stanfield of Activate Virginia The recent Roanoke Times editorial questioning the necessity of the lieutenant governor got me thinking: what has LG Northam...
First, see In the Virginia Senate, an airing of grievances on conflicts of interest (excerpt below) for some background on the video I've posted below...
Before the 2014 election
I wrote about specific areas to watch
for sorting out ongoing political trends in Virginia. After Mark Warner's nail-biting reelection night,
I tore apart the Warner campaign's claim
that they ran significantly ahead of other Democrats in Virginia's rural areas, with
a follow-up diary
comparing Mark Warner to Tom Perriello. Today, I want to take the time to follow up on some of the areas I picked as canaries in the coal mine of Virginia politics. While dissecting Election 2014 by House of Delegates and State Senate district is
still being finalized by the good people at VPAP
, here are some preliminary findings.
9th House of Delegates District (Franklin, Henry, Patrick Counties): The 9th had been at the center of Warner's crossover support in 2008, and featured a lively fight by Ward Armstrong after Republicans targeted him in their gerrymandering. The result in 2015? Mark Warner received 36% of the vote, just marginally above Obama's 34% in 2012.
12th House of Delegates District (Montgomery and Giles Counties, Radford City): Warner received 52% of the vote here, higher than Obama's 50% but behind Kaine's 54%. This is a unique district, the influence of Virginia Tech makes it very different than other Southwest districts. It also remained one of the best districts for Libertarian candidate Robert Sarvis.
6th House of Delegates District (Wythe, Carroll, Smyth Counties): Warner's 34% of the vote is behind Democrat McGrady's 37% from his 2013 delegates race, which somehow House Democrats convinced themselves was in the bag. About the same as Tim Kaine's 34% in 2012, but not an impressive showing based on prior Warner claims about Southwest popularity.
14th (Danville City; Pittsylvania and Henry Counties) & 16th (Pittsylvania and Henry Counties; Martinsville City) House of Delegates Districts: Warner received 48% of the vote in the Danville based 14th, marginally better than expected given his near defeat statewide. His 43% in the 16th was similar; better than normal Democrats, but only by a few points.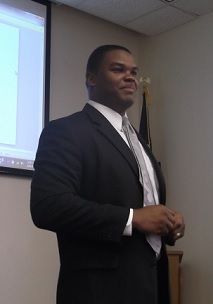 There is a refreshing candidate in Southwest Virginia ready to take on Ralph Smith for the 19th District state Senate seat.
Mike Hamlar
is a Roanoke native who excelled at athletics in high school, earning a football scholarship to Wake Forest. Returning home he's become an established high energy local entrepreneur.
Mike has three businesses. He is a third generation co-owner of Hamlar-Curtis Funeral Home which has been serving the community for 62 years. In 2009, Michael started Hamlar Enterprises, which is a business brokerage firm. The firm has engaged in multi-million dollar deals across the region, handling mergers, business acquisitions, business evaluations etc. In 2012, Michael and his wife, Katina, established Hamlar Properties, which is a property real estate firm that manages and oversees real estate transactions. Mike is also an adjunct professor at American National University in Salem, VA. He has been recognized by The Blue Ridge Journal as one of the "Top 20 leaders under 40."
At Wake Forest University Mike played football under Jim Caldwell and was on the Seattle Bowl championship team that defeated the University of Oregon. He is accustomed to winning and wants to take this race to the Republican incumbent, Ralph Smith.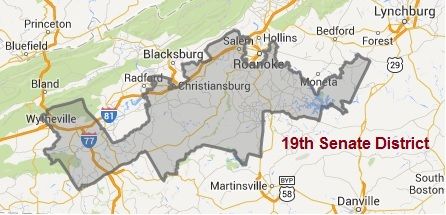 A family man with three young children, Mike is faith-driven and confident that he can win this race. That will be a task. Mike likes to say that if you look at the 19th district, it is as though his one-year-old drew it. It encompasses part of Roanoke County, all of Floyd County, all of Salem, part of Montgomery County, all of Wythe and Carroll Counties, and part of Bedford. From end to end it stretches about 120 miles from end to end, not the way the crow flies, but the way the SUV drives, and it takes at least three sweeps to hit every location in it. That is why he has started early. He plans kickoffs in every locality.
Recently appointed by Governor McAuliffe to the Secure Commonwealth Panel, Mike is involved in the community both in business and local civic organizations like the Kiwanis Club, so he is hardly starting from a standstill or without connections. And quite frankly it seems he is always in motion, with clear aims. Right now his goal is to become as well known throughout the district as he is in Roanoke. He is certainly well liked among local Democrats.
His priorities are education, Medicaid expansion (which he hopes is accomplished before he makes it to the Senate), and economic development. He points out that a program like Marketplace Virginia would create 30,000 jobs while providing necessary preventive healthcare. Not yet the official Democratic nominee, he is eager to gain that distinction so that he can focus solely on Republican Smith.
Sensing a rising tide of sentiment against the prospect of Mayor Jones' candidacy for DPVA chair, it seems the "powers that be" have chosen to short-circuit the process. This further solidifies the argument that Jones is no more than a strawman for whomever feeds his self-perceived competence.
While this certainly will save the Central Committee substantial time and effort at the meeting on March 15, if true, the announcement will come as a pre-emptive strike that is not so surprising, yet will serve to allay any illusion that the DPVA functions for the benefit of its members. And it will be good news for the Republican Party of Virginia, despite themselves, because it would guarantee that the DPVA will lack the focus required to maintain control of the State Senate beyond 2015.
The best part of this ham-handed move is that it alienates the party members who reside in districts that are currently held by Republicans; as in the grassroots members who the DPVA needs the most to accomplish any gains anywhere. While a competent, experienced, incumbent Executive Director would be able to manipulate a marionette Chair with one hand, it will probably require both hands just to keep the ship steady in the heavy rolls that can be anticipated with the staff changes that have already taken place.
Advice to the powers that be: don't ask for unanimous consent or acclamation at the Central Committee. It doesn't exist.
Update: The revised version from the RTD.
This is the third part of a twelve part series looking at the challenges, obstacles, and future possibilities of Virginia Democrats. Day one focused on challenges facing Virginia Democrats in competitive districts, Day two focused on problems with turnout. Thank you for reading, make sure you vote on the poll at the end!
On the third day of Christmas, the Commonwealth of Virginia gave to me...FLASH!
Hark! I am the Ghost of Christmas Past! I represent poor choices, mistakes, and questionable judgment. Let us travel first to 2009, the year in which eight Democratic incumbents were defeated during a landslide Republican election. Listen to my warnings!
In 2009, the Democratic Caucus spent almost $100,000 assisting Democrat Carole Pratt's campaign in the 6th District, an overwhelmingly Republican district where Bush had won over 60% of the vote in 2004 and where Anne Crockett-Stark had knocked off Democrat Benny Keister in 2005. In 2008, Obama managed just under 38% of the vote, 1% ahead of Kerry's 2004 performance. Yet the House Democratic Caucus led by Matt Mansell decided to prioritize this race where his mother was running ...
The result? Pratt received less than 35% of the vote. And elsewhere, incumbent Democrats dropped left and right, for a total of eight defeated incumbents, including some by the narrowest of margins: Mathieson by 14 votes, Valentine by 209, Nichols by 269, and Vanderhye by 422.
(This is the second part of a twelve part series looking at the challenges, obstacles, and future possibilities of Virginia Democrats. Check out day one. Please join in by commenting below your thoughts on some of the topics raised in the diary, and please vote in the poll at the end on which rematch you'd like to see in 2015!)
On the second day of Christmas, the Commonwealth of Virginia gave to me ...
A system of odd-year elections, shared mainly by Southern outliers and hotbeds of two-party democracy (hah!) like Mississippi and Louisiana that depresses voter turnout from high profile elections in even-years.
In 1948, the great American political scientist V.O. Key wrote that Virginia was a "political museum piece . . . more akin to England about the time of the Reform Bill of 1832 than to any other American state."
Have we changed much since then?