From the Democratic Party of Virginia: TOMORROW:  Rep. Scott Taylor subpoenaed to VA-02 fraud hearing  Richmond, VA – Tomorrow, the voters of VA-02 will have their day...
Just a few minutes ago on a conference call with reporters, Attorney Marc Elias discussed (see audio below) the lawsuit by Virginia House Democrats...
From the Virginia House Democratic Caucus: House Dems Call on State Board Not to Certify Election in HD-28 RICHMOND, Va. – Following release of a report that 147...
I just got off a call (see audio below) with Virginia House Democratic Leader David Toscano and Marc Elias of Perkins Coie's Political Law...
From the VA House Democratic Caucus: Joshua Cole Campaign Files Federal Lawsuit to Demand 55 Ballots Be Counted The Virginia House Democratic Caucus today issued the...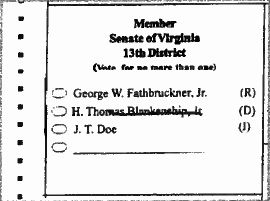 While the iron is hot, there are a few observations that should be taken concerning elections. While paper ballots provide a tangible record, it turns out they are not slam dunk evidence. The cost of optical scan and paper methods is unjustifiable except in distinctly unique cases. DRE is optimal.
The Direct Recording Electronic (DRE) method of casting and recording ballots removes subjectivity. There is natural discomfort with a black box recording and storing election results but that is not reason to challenge the reliability of this method. Something on the order of 75% of Virginia jurisdictions use DRE. There is not one case of an election being challenged because DRE was the balloting medium.
Three things that stand out in the Attorney General recount:
Virginia elections are reliably supervised and adjudicated
Paper ballots in any form invite error
Marc Elias is one cool operator
Why is paper less reliable? Here is an example of a marked paper ballot. The standard published by the Virginia State Board of Elections (SBE) requires a positive affirmation in order to count a vote. According to SBE, this mark is a strike-through; negative. But did the voter really intend an underline making it an affirmation? You'd have to channel the voter's intent. That's no way to determine election outcomes.