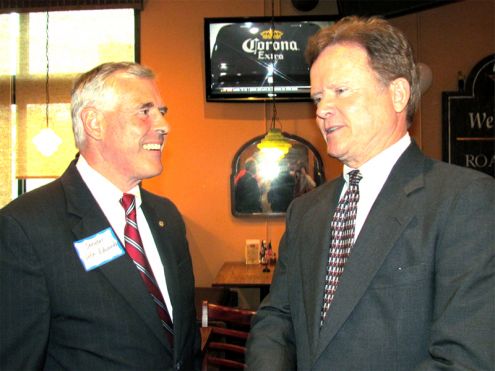 In a visit to Roanoke recently to support the re-election of fellow ex-Marine State Sen. John Edwards, as well as in testimony before a Senate committee, Sen. Jim Webb raised serious questions about how for-profit schools and colleges are benefiting handsomely from federal money but not producing decent results for veterans.
Webb noted that the average cost to taxpayers at for-profit schools is twice that at a state college or university, $10,900 vs $4,900, yet almost one-half of veterans who signed up at for-profits withdrew within one year of entering. Those schools got 37% of funds disbursed under the GI Bill, but only trained 25% of veterans using the bill.
"The World War II GI Bill, history shows, had a similar problem. In 1951, a GAO report found that 1,700,000 veterans had enrolled in courses offered by for-profit schools, 5,000 of which sprang up after the creation of the GI Bill…The abuses [of that bill], especially among for-profit vocational schools, led to…restrictions of that program and to even stricter restrictions under the program established after the Korean conflict and then eventually to the somewhat parsimonious GI Bill given to those who served in the Vietnam War," Webb told the Senate committee.
The Senate heard even harsher criticism from Ted Daywalt, a retired Navy officer who now operates an online job board. "When one looks at the evidence, [it is clear] the Post-9/11 GI Bill has been usurped by predatory for-profit schools."
Daywalt praised the University of Phoenix and American Military University as schools that weren't abusing the program, but he slammed Washington-Post-owned Kaplan as one that deserves federal scrutiny. He said there are perhaps 40 for-profit schools that are taking advantage of the generous Post-9/11 GI Bill, recruiting veterans simply for the federal dollars they bring with them and caring little about results for the students.
One Virginia example of how this situation needs vigorous oversight is Strayer University, with 11 locations in the state. It spends 52% of its revenue on marketing and profit, according to a staff analysis last month from the U.S. Senate Health, Education, Labor and Pensions Committee.
Jim Webb's main concern is that the rip-off of veterans by some schools in their quest for maximum profit will endanger the educational benefits our volunteer armed forces have earned and deserve. He's absolutely right.
I have found one bright spot in this mess. The Washington Post reported a sharp decline in its Kaplan profits for the first quarter of 2011. The drop was attributed in large part to falling Kaplan enrollment following critical reports on Kaplan's lousy educational outcomes, plus the Post's $30 million investment in Corinthian Colleges, a failing for-profit whose stock is now worth about $1.30 per share and falling.