Advertisement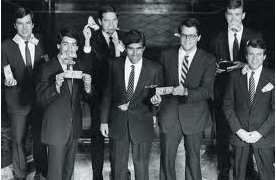 Obama for America Senior Strategist David Axelrod released the following statement in reaction to tonight's story in the Washington Post, which finds that "Mitt Romney's financial company, Bain Capital, invested in a series of firms that specialized in relocating jobs done by American workers to new facilities in low-wage countries like China and India." Nice, huh? Here's Axelrod's statement:

Tonight's story in the Washington Post exposed Mitt Romney's breathtaking hypocrisy. He has campaigned all over this country, vowing that he would be an advocate for American jobs. But tonight we learned that he made a fortune advising companies on how to outsource jobs to China and India. Maybe that explains why, despite his campaign rhetoric, Romney continues to support tax policies that would reward companies who send American jobs overseas.
In short, this story utterly demolishes the core of Willard's argument for why he should be president of the United States. Unless, of course, you're a big fan of maximizing profits to corporations by undercutting middle class security and shipping their jobs overseas. Oh, and just in case you thought Romney left those economic values behind at Bain Capital, remember that the Romney-Ryan budget includes tax breaks and economic rewards for companies that move jobs overseas. Sound familiar? Sensing a pattern here? Ya think?

P.S. You can see the Virginia breakdown of Romney Economics' state-level impact here. ("Hundreds of workers laid off" as "Gold Medal cut about 30% of its total workforce; Totes Inc. eliminated jobs at a plant in Blairs; Stage Stores closed a store in Virginia")