Advertisement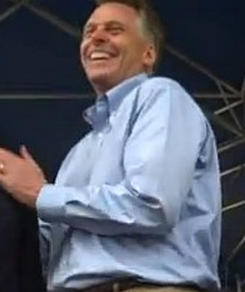 The Virginia Public Access Project (VPAP) is reporting pre-primary campaign finance disclosures that were due at 5 p.m. today. See the "flip" for a press release from the McAuliffe campaign, which announces that he raised $3.7 million during this period (85% of donors gave $100 or less). According to VPAP, McAuliffe had $5,406,481 cash on hand as of May 29. For his part, Teapublican gubernatorial nominee Ken Cuccinelli raised $2.2 million ($1.5 million less than McAuliffe raised) and had $2.7 million cash on hand (about half of McAuliffe's cash on hand). A few other highlights from the VPAP reports:
*Nearly half of Cuccinelli's money came from one source, the Republican Governor's Association – clocking in at a cool $1 million. Other big Cuccinelli donors included the usual assortment of polluters (e.g., $25k from Alpha Natural Resources) and bad actors (e.g., $50k from this guy and $25k from this close friend of Clarence Thomas).

*Aneesh Chopra raised $522,826 and had $427,265 cash on hand. His Democratic Party primary opponent, Ralph Northam, raised $334,102 (nearly $200k less than Chopra), but that included a $100,000 loan from Northam himself. Northam's campaign had $151,505 on hand, which is about $275k less than Chopra's campaign had. Not good signs for Northam at all.
*Chopra had more than 8 times as much cash on hand as Teapublican LG nominee EW Jackson, who had just $54,929 in the bank.
*Mark Herring raised $179,962 and had $229,180 on hand. Herring's Democratic Party primary opponent, Justin Fairfax, had $92,715 on hand — around $137k less than Herring.
*Mark Herring also had nearly four times the cash on hand as Teapublican Attorney General nominee Mark Obenshain, who had only $68,132. A good sign for the upcoming general election race!
McAuliffe Announces Fundraising Totals; Touts Republican Support

Virginia gubernatorial candidate Terry McAuliffe's campaign announced today that he raised about $3.7 million during the pre-primary period of April 1 – May 29. About 85% of donors gave $100 or less. Monday's endorsement of Terry McAuliffe by prominent Republicans Dwight Schar, former RNC Finance Chair, and Earle Williams, former candidate for GOP nomination for Governor of Virginia, reinforces the stark contrast between McAuliffe's mainstream agenda of growing the economy and Ken Cuccinelli and E.W. Jackson's focus on dividing Virginians with their extreme social agenda.

"Virginians from all walks of life are looking for their next Governor to be focused on growing our economy, improving education and reducing transportation gridlock," said Terry McAuliffe. "That is why we are continuing to see so much support from Republicans and Democrats across the state who want their Governor to find mainstream solutions to the problems they care about."

McAuliffe campaign spokesperson Josh Schwerin commented, "Republicans and Democrats alike are demanding candidates like Terry who will work across the aisle to tackle the challenges Virginians face. The GOP ticket of Cuccinelli, Jackson, and Obenshain has and will continue to divide Virginians by driving their own extreme social agenda." Schwerin added, "While Ken Cuccinelli is recruiting extremists like EW Jackson to partner with him on a divisive social agenda, Terry McAuliffe is recruiting mainstream Republicans and Democrats to join his campaign focused on putting jobs first."
There's no paywall on Blue Virginia, and we definitely want to keep it that way! If you want to help support our work, you can donate here - thanks!
Also, you can
sign up for our weekly email list here
.