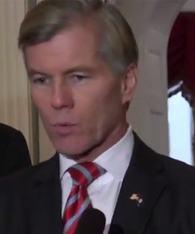 The collapse of a once-promising political career continues.

Former Virginia Gov. Bob McDonnell and his wife, Maureen, were indicted today by a federal grand jury on 14 counts stemming from the first couple's acceptance and solicitation of thousands in gifts and loans from a wealthy businessman during McDonnell's term.

[…]

Taken together, the charges, if they resulted in convictions and maximum sentences, could produce fines in excess of $1 million and put the McDonnells behind bars for decades.
By the way, my article almost a year ago on how both Rod Blagojevich and Bob McDonnell were both corrupt, but at least Blagojevich did some good things for his state, seems more true today than ever.
UPDATE: @omeola of the Richmond Times Dispatch tweets, "Frmr Gov @bobMcDonnell sez "emphatically" that he "did nothing illegal" for Williams in exchange for what he thought was personal friendship." Also, "McDonnell says he will use 'every available resource and advocate I have for as long as it takes to fight these false allegations.'"
UPDATE #2: Here's a link to the indictment. I've posted screen shots in the comments section of some of the most important pages.
UPDATE #3: Speaking of corrupt slimeballs, Speaker Bill "ALEC" Howell weighs in. (per tweet by @chelyendavis) as "'very disappointed' by news of McDonnell indictment, calls McD friend who 'made mistakes in judgement'."
UPDATE #4: Sen. Donald McEachin says, "Today is a sad day for the Commonwealth of Virginia. If nothing else, this speaks to the urgent need for comprehensive ethics reform."
UPDATE #5: I hear the word "sad" being thrown around a lot today. What's really sad? I'd say first and foremost, that the McDonnells did what they are alleged to have done, betraying the trust that Virginians placed in them (and lying about it, minimizing it, excusing it, etc, etc.). Second, it's sad (and anger inducing) that Virginia has such a pathetically lax system of legalized corruption, and that this system hasn't been reformed from top to bottom by now. That's what I'm really "sad"/angry about.
UPDATE #6: Josh Israel of ThinkProgress points out that "While this marks the first time the former Virginia Attorney General has been on the receiving end of a criminal indictment, this is not McDonnell's first time under ethical fire: in 2005, he exploited a loophole to evade disclosure requirements, hiding corporate contributors to his AG campaign."