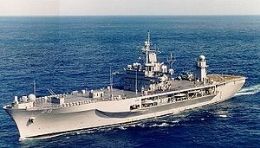 Sailing a couple of ships into the Black Sea accomplishes what? One is there to protect the other. The other is there to command and control…nothing. This is grandstanding. If tragedy occurs and Americans are involved, this self-licking ice cream cone will be revealed. What to really watch for?
The Russian "ring of steel" illustrates the dilemma faced when confronting an asymmetrical threat. The choice to harden a target is the choice to uncover others. There is only so much mass to go around and Russia's focus has been around the main venues and Sochi itself. But the greatest vulnerabilities are the routes to the venues on the slopes miles from Sochi. These are perfect targets for remotely detonated improvised explosive devices, the types of which Americans leaned to counter in Iraq and Afghanistan. But for pragmatic reasons, the United States has not shared that technology with Russia. To compensate, thousands of Russian soldiers guard those routes; a miserable assignment with many distractions.
That lack of cooperation has not been lost on the Russians and the situation in the Ukraine has washed over this event. If it comes time to react (and that is all we would be able to do since we are not integrated into the force end of the security plan) we can only wait for clearance from the Russians to respond. Sadly, that may be too late. We have observed the "lack of finesse" by Russian forces in hostage situations involving insurgents. Their doctrine is more focused on killing the perpetrators than saving the victims.
Are we are supposed to be reassured by the staging of military airlift aircraft in Europe? They are hours away and would compete with aircraft from any and every other nation for clearance and space at the airhead(s) in Sochi. A real capability in the Black Sea would include air and landing craft that are truly expeditionary with forces to conduct an evacuation to ships with hospitals at the ready. Instead, after waiting to gain access to Sochi, American aircraft will serve victims that may or may not be Americans (we always have protocols with other nations in these situations) and who may or may not have been properly triaged. These aircraft will not all immediately have access to medical personnel and equipment for care during transit. Hard choices could be forced on the tarmac in Sochi. Do you evacuate victims who may not survive the long journey leaving persons who would survive vulnerable to further violence while waiting for later evacuation?
We can only hope that whatever event occurs to leverage this Olympics, it is mitigated so that human casualties are minimized. From the perspective of the threat, an early incident provides the greatest payoff, gaining international attention for the duration of the games. Sochi proper is most closely defended, so it may not be the best target. In fact, some high profile target elsewhere in Russia may be relatively unguarded and provide a high enough payoff. Any successful defense of the games themselves also argues for an attack elsewhere. This is the best case for the security of Americans in Sochi.
However, if this develops into another Munich, we will have the worst of all contingencies. American and Russian Special Forces cannot work together on the fly and maybe not even on the crawl. Russia will not allow Americans to operate independently on Russian territory. They would not even be allowed to protect those waiting for the airlift to Europe. If some genius thought to deploy Special Forces on the Mt. Whitney, they are going to have some explaining to do when they are left to watch from the sidelines. Worse yet, if there are mass casualties and they are not evacuated to the Mt Whitney for any of a number of administrative reasons to include the failure to open and staff the operating rooms, it will leave the Russians blaming Americans for the failure to medevac.
Much of this is driven by the poor relations between the United States and Russia. But there seems to have been a reluctance to face the realities of this situation in the planning for securing the safety of Americans attending and participating in the games. Maybe we should have just stayed home. But now we are simply left to hope that all goes well. Hope is not an acceptable course of action.