Excellent job by Henrico County Commonwealth's Attorney Shannon Taylor (D) - also a widely rumored possible candidate for Virginia Attorney General in 2021 -...
by Lowell Here are a few national and Virginia news headlines, political and otherwise, for Saturday, March 16.  Students 'strike for climate' across the United...
Despite being just the chairman of the Prince William County Board, Corey Stewart is known far beyond the borders of Virginia. Last year, he...
Check out the following statement by LuAnn Bennett, who notes that the GOP-controlled Congress - of which Barbara Comstock is a member - has...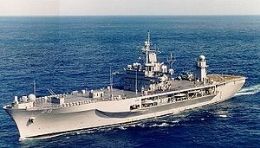 Sailing a couple of ships into the Black Sea accomplishes what? One is there to protect the other. The other is there to command and control...nothing. This is grandstanding. If tragedy occurs and Americans are involved, this self-licking ice cream cone will be revealed. What to really watch for?
The Russian "ring of steel" illustrates the dilemma faced when confronting an asymmetrical threat. The choice to harden a target is the choice to uncover others. There is only so much mass to go around and Russia's focus has been around the main venues and Sochi itself. But the greatest vulnerabilities are the routes to the venues on the slopes miles from Sochi. These are perfect targets for remotely detonated improvised explosive devices, the types of which Americans leaned to counter in Iraq and Afghanistan. But for pragmatic reasons, the United States has not shared that technology with Russia. To compensate, thousands of Russian soldiers guard those routes; a miserable assignment with many distractions.
That lack of cooperation has not been lost on the Russians and the situation in the Ukraine has washed over this event. If it comes time to react (and that is all we would be able to do since we are not integrated into the force end of the security plan) we can only wait for clearance from the Russians to respond. Sadly, that may be too late. We have observed the "lack of finesse" by Russian forces in hostage situations involving insurgents. Their doctrine is more focused on killing the perpetrators than saving the victims.
Are we are supposed to be reassured by the staging of military airlift aircraft in Europe? They are hours away and would compete with aircraft from any and every other nation for clearance and space at the airhead(s) in Sochi. A real capability in the Black Sea would include air and landing craft that are truly expeditionary with forces to conduct an evacuation to ships with hospitals at the ready. Instead, after waiting to gain access to Sochi, American aircraft will serve victims that may or may not be Americans (we always have protocols with other nations in these situations) and who may or may not have been properly triaged. These aircraft will not all immediately have access to medical personnel and equipment for care during transit. Hard choices could be forced on the tarmac in Sochi. Do you evacuate victims who may not survive the long journey leaving persons who would survive vulnerable to further violence while waiting for later evacuation? Washington, D.C. - Congressman Jim Moran, Northern Virginia Democrat, released the following statement on yesterday's bombing at a Jerusalem bus stop that killed one person and left dozens injured:
"Our thoughts and prayers are with the victims of yesterday's bombing in Jerusalem. The return of terrorist violence to Jerusalem is a disturbing and discouraging sign that too much time has passed since Israelis and Palestinians have engaged one another in a meaningful way to resolve their conflict.
"Along with the horrific murders in the West Bank settlement of Itamar and the escalating violence in Gaza, yesterday's attack is a reminder that innocent people suffer the worst effects of this conflict. Whatever message the misguided author of this act intended, the message for those of us who seek peace is clear: the Obama Administration, the Israeli Government, the Palestinian Authority and the international community must move urgently toward serious, substantive negotiations toward a durable peace before it is too late." Four men are on trial in New York for attempting to bomb Bronx synagogues and shoot down military aircraft. Successful counter-terrorism sting?
The prosecutors say so
. But what the funding says is that now that they have been targeted, the synagogues are permanent targets. The FBI placed crosshairs on them.
For our intellectually challenged wingnut readers, these four "Muslim conspirators" constitute social jetsam. Any hope of their redemption has now faded to naught. This isn't about them, though what they were before we made them terrorists is instructive. The unintended consequences of this kind of (anti and) counter-terrorism strategy cannot be justified except to legitimize the effort itself by showing "results."
FBI informant Shahed Hussain apparently approached James Cromitie, Onta Williams, David Williams and Laguerre Payen after he heard them discussing their hatred of Jews and a desire to hurt Americans. Hussain, known to the group as "Maqsood," provided the would-be bombers with non-working explosives and stinger missiles, after telling them he was a member of a Pakistani terrorist organization and offering to fund their efforts and supply the materials. He also told them that he would like to hit other targets, like the George Washington Bridge, a large military transport plane, or a synagogue. Until he met them, they were just violent losers. He, on the payroll of the FBI, crafted their terror cell and a terrorist threat.