Advertisement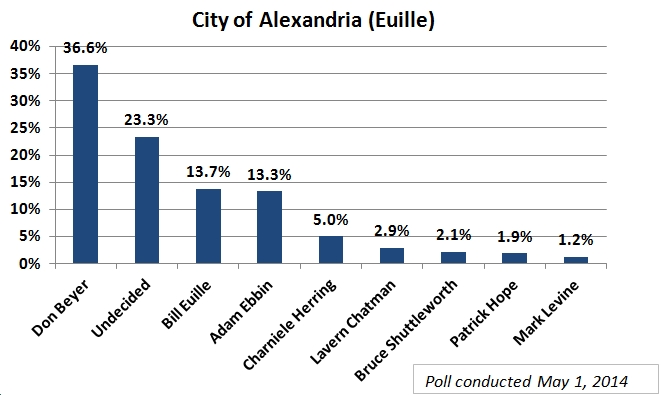 I posted the first installment of our exclusive 8th CD Democratic primary poll a bit earlier today. See here for more details on the poll in general (e.g., it was telephone/automated, with calls conducted by Voice Broadcasting), as well as on results for Charniele Herring's House of Delegates district specifically. Now, we turn to the city of Alexandria, where Bill Euille has Mayor since 2003. See the graph and comments (below) for my thoughts. Also note that there were 421 respondents specifically in Alexandria (out of 1,152 total responses). The margin of sampling error on this section of the poll is +/- 4.3 percentage points.
*Clearly, this is not the best news for Bill Euille, who the poll indicates receives just 13.7% in his own city, trailing Don Beyer by a whopping 23 points and "undecided" by 10 points, and basically tied with State Senator Adam Ebbin. Given that Euille has been Mayor of Alexandria for 11 years, as well as a member of the Alexandria School Board from 1974 to 1984 and the Alexandria City Council from 1994 until 2003, you'd expect Euille to do much better than 13.7%.

*The problem for Euille is that it's very difficult, if not impossible, to imagine another path to victory for him in this House of Representatives race other than racking up a big winning margin in Alexandria. Right now, at least according to this poll, he's not getting what he needs in his home town.
*Just as clearly, this is excellent news for Don Beyer, who is the clear front-runner in Alexandria (with 37% of the vote). Lavern Chatman is not showing any signs of traction in the city despite her fundraiser with Oprah Winfrey and the fact that she's a well-financed candidate from Alexandria who has been communicating heavily with voters (mostly via direct mail, as far as I can determine). Also not showing any particular signs of support in Alexandria are Bruce Shuttleworth, Mark Levine, Charniele Herring or Patrick Hope, none of whom have been doing any serious paid communications (to my knowledge).
*Adam Ebbin is doing pretty well in Alexandria, essentially tied with Mayor Euille there. The challenge for Ebbin is that there are so many Alexandria-based candidates that are dividing up the vote there, it's tough for any one candidate to consolidate support in the city.
*One question is whether any of the candidates not named "Don Beyer" has strength elsewhere – in the 47th House district, the 30th State Senate District, Falls Church, and/or parts of Fairfax County that don't fall into any of the districts covered in this poll. On that front, stay tuned for the results from Patrick Hope's House of Delegates district coming later this afternoon. 🙂
*It's also important to note that Euille has raised significant money, has been communicating in the mail and has even produced a TV ad. So, Euille's relative lack of support in Alexandria does NOT appear to be the result of not having started to communicate with voters. Plus, given the fact that Alexandria voters know Bill Euille very well, it's going to be hard to change their minds at this point anyway. In sum, it's not looking good for Bill Euille in this Democratic primary for Congress.
*Euille's supporters are about 60% White and 40% African American, and about 2:1 women over men.
There's no paywall on Blue Virginia, and we definitely want to keep it that way! If you want to help support our work, you can donate here - thanks!
Also, you can
sign up for our weekly email list here
.